Although fewer yachts are listed as "under construction" in the Global Order Book—692 compared to 728 yachts this time last year—the orders confirm a future full of activity at most yards, especially for pedigree yards and those building yachts over 40 meters and custom builds.
Even with recording fewer projects in build this year, we note larger yachts under construction throughout the Order Book, with 186 orders over 150 feet this year versus 179 last year, an increase of 3.9%, and 39 orders over 250 feet compared to 27 in 2012, that's an increase of 44.4%.
Get the report
Please complete the form below. You will then be sent an email containing the download link.
(*) All fields are compulsory
Sponsored Listings
43.00m (141'1")
141'1" (43.00m)
Eurocraft
2015
$6,076,000**
£3,895,500**
€4,900,000
34.34m (112'8")
112'8" (34.34m)
Nautor's Swan
1999 / 2006
New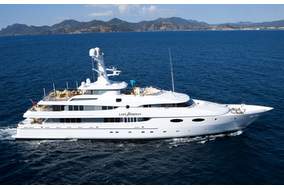 $58,900,000
£37,756,431**
€47,500,023**
57.91m (190')
190' (57.91m)
Abeking & Rasmussen
2007
* Not for sale to U.S. Residents while in U.S. Waters. ** Approximate price conversion.