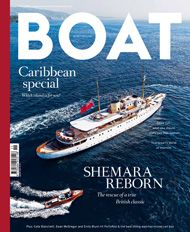 "When we go back to the sea," said John F Kennedy, "whether it is to sail or to watch it, we are going back from whence we came." The story of Shemara, returning to the water after 40 years, is suffused with the sense of romance, history and belonging that anyone who loves the ocean will relate to. This evocation of charm runs throughout this issue, I hope – from our fashion shoot at sunset, to Peter Lindburgh's stunning shots of Cate Blanchett et al in Portofino and designer Brunello Cucinelli's self-created Italian utopia. Which isn't to say there's no room for the fast life... this is a superyacht magazine, after all!
Eddie Jordan spices things up with his exploits, and new columnist Tina Green adds a splash of glamour as she talks us through her life in design. And if you're still stuck for inspiration, browse our Caribbean guide to find out which jet set suits you best... It's barefoot luxury all the way for me.

Sacha Bonsor,
Editorial Director

Our cover star Shemara and Victor Muller's Feadship The Highlander, which featured last issue, share more than a classic pedigree – both owners first spotted the yachts in the pages of Boat International. Those initial sightings sparked something in the men, a madness that saw them embark on remarkable quests to restore the yachts to pristine glory. It's this intimate owner contact that makes BI such a special magazine, and now we've amped it up with the launch of the Owners' Club. This month, I enjoyed the superb hospitality of Marco Vögele, owner of Inouï, which included a ride in his private jet from Sardinia to Zurich. Sadly, the easyJet flight home wasn't quite as much fun – even with an exit-row seat. I'd encourage all our superyacht-owning readers to sign up to our new club – there's a free sub (magazine, not sandwich) in it for you!
INSIDE THE MAGAZINE THIS MONTH
SHEMARA
The first pictures of the stunning restoration of classic superyacht Shemara – see them exclusively in this month's issue.
ON BOARD WITH MARCO VÖGELE
We meet the owner of the loudest boat on the regatta circuit and find out why he'd never do a circumnavigation.
SUNSET CHIC
Calvin Klein, Missoni and Orlebar Brown are just a few of the labels featured in this month's fashion shoot.

DRAGON KINGDOM
After moving to Indonesia, Patti Seery couldn't find the perfect yacht to charter – so built two of her own.
AN INCREDIBLE JOURNEY
Crossing Africa is difficult today – but in 1911 one intrepid explorer attempted by river it in one of the very first Lürssens.
CELLAR'S MARKET
With more and more owners keeping pricey wines on board, we uncover the clever solutions being used to keep it all in top condition.
Experience Boat International on the iPad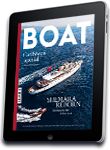 On the iPad this month and every month, find expanded photo galleries of our featured yachts, behind-the-scenes superyacht video tours, exclusive event coverage, interviews and more. Buy the iPad app now
Sponsored Listings
43.00m (141'1")
141'1" (43.00m)
Eurocraft
2015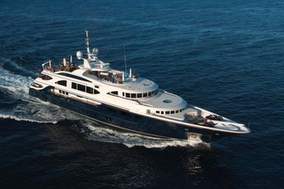 $46,990,000**
£29,230,000**
€37,000,000
60.00m (196'10")
196'10" (60.00m)
Benetti
2011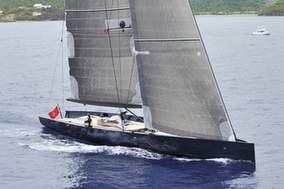 39.95m (131')
131' (39.95m)
WallyEurope
2009 / 2010
* Not for sale to U.S. Residents while in U.S. Waters. ** Approximate price conversion.