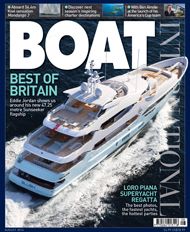 What an honour to take the helm of the world's best boating magazine. But before I get too self-congratulatory, I must first pay tribute to Tim Thomas, a superyacht writer and editor of rare quality. Tim's profound knowledge of the subject and his ability to turn that into compelling copy make him a very hard act to follow, but you'll be happy to know I've managed to lash him to the magazine for the near future, so we'll all continue benefiting from his insights.
Now to me: I have been in boat magazines for the best part of a decade, with the boats I've been covering getting ever bigger in size. It feels as though I've reached the editorial terminus in that respect, and I'm very happy to be there. I am also extremely happy to have inherited a fantastic team of journalists from Tim, and I'll be using every ounce of their considerable talent to bring you even better issues of Boat International.
But there's more. Change is afoot at your favourite boating magazine and you can expect our upcoming October issue to look and feel quite different to the Boat International you're used to. It's a hugely exciting project and one which will be made that much better by another new editorial appointment at the magazine. Sacha Bonsor, a journalist with vast experience and a contacts book to make Don Juan blush, is coming on board as editorial director. Together, we've been charged with taking Boat International to the next stage of its development, so settle in for what should be a very exciting ride.
To the August issue. As I write this the pavements outside our Wimbledon HQ are thronged with tennis fans, the World Cup is in full swing in Brazil and there's even a tan or two on show in the office – not sprayed on, I'm assured. Winter should be the last thing on anyone's mind, unless, that is, you're thinking charters. Now's the time to get booking, and to offer a bit of inspiration on where to head this cold season, we've put together a guide to some of the world's most beautiful charter destinations. Personally, I rather like the sound of cruising the islands of Indonesia on a classic two-masted phinisi sailing yacht.
With fewer masts but much more horsepower, our cover star Blush marks a new stage in the development of British yard Sunseeker, whose range now extends from 12.9 metres up to 47.25 metres. Offering the full ladder from entry level sportsboat to superyacht, lovers of the brand need never leave the family. One such devotee is entrepreneur Eddie Jordan, who Tim Thomas interviewed for the report, and from whom you'll be hearing a lot more in future issues. But that's for later. Right now I've got to figure out how to work a boat into my signature...
INSIDE THE MAGAZINE THIS MONTH
BLUSH
Entrepreneur and former Formula One boss Eddie Jordan explains why his family trust's new superyacht – and Sunseeker's flagship – the 47.25 metre Blush, is the latest chapter in a long-standing love affair with the marque
MONDANGO 3
Against the backdrop of an uncertain global financial climate, this stylish 56.4 metre ketch has satisfied the impressive ambitions of its owners, while offering a textured and comfortable interior
LUNAR
Conrad Shipyard's biggest boat to date is a convention-defying head-turner, and a finalist in both the 2014 ShowBoats Design Awards and World Superyacht Awards
SANLORENZO 118
The Italian yard's latest flagship combines efficient performance with a sumptuous interior, all while retaining the unmistakable Sanlorenzo style
SUPERYACHT DESIGN: RIZA TANSU
His latest yacht So'mar was only launched in June, but Istanbul entrepreneur Riza Tansu has already drawn an interesting concept that
extends her design
SUPERYACHT MARKET ANALYSIS
Industry insiders tell us why Taiwanese superyachts have proved so popular in 2014 and how the industry is developing there. There's also our regular round-up of yachts sold and new to the market, as well as the key new orders and deliveries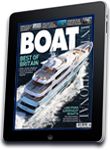 Experience Boat International on the iPad
On the iPad this month, we have all of the above, plus extended images of the new Norman Foster-designed Yacht Club de Monaco and the Foster + Partners' hotly anticipated Alen Yacht 68. Also, check out the iPad-only cruising guide to Curaçao to help plan your perfect charter.
Buy the iPad app now
Sponsored Listings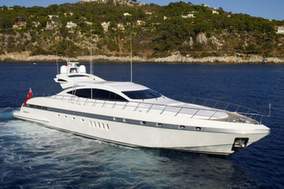 $2,025,000**
£1,185,000**
€1,500,000
28.27m (92'9")
92'9" (28.27m)
Overmarine
2004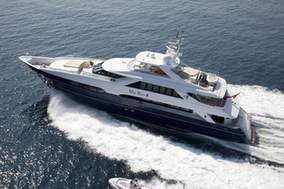 $12,825,000**
£7,505,000**
€9,500,000
39.40m (129'3")
129'3" (39.40m)
Heesen
2002 / 2008
$26,325,000**
£15,405,000**
€19,500,000
44.80m (147')
147' (44.80m)
Logica Yachts
2014
* Not for sale to U.S. Residents while in U.S. Waters. ** Approximate price conversion.