Of all the memorable moments in my yachting career, one day in August 1996 stands out. A keen fan of Roman history, I finally realised the dream of seeing the town of Pompeii in the flesh. Actually, let me clarify: the truth is my camera saw Pompeii while I and another deckhand from the large yacht I was working on managed a full, blurred tour in just under four hours at something of a sprint. I didn't get to enjoy the ruined wonders until a couple of weeks later when my photos came back from the lab.
We were nearly two months into a mammoth charter with a delightful elderly Spanish couple, who had decided they wanted to spend the summer exploring the west coast of Italy and beyond. We undertook our own odyssey, following in the footsteps of Greek myths and ancient history, starting in Portofino and visiting every island and coastal hideaway down to Italy's toe. We then circled Sicily, headed up to Cagliari in Sardinia, threaded our way up Sardinia's east coast and along the Costa Smeralda before sauntering through the Strait of Bonifacio and cruising over to the Balearics. It was a magical experience, not only for the charterers and the various family members and guests who joined them on the way, but also for us as a crew.
Not all charters ran so smoothly. There were a couple of occasions when our charterers were distinctly unpleasant. Whether through their own unrealistic expectations or through the manner in which they approached and treated us as crew, their experience, I'm sure, could have been so much better.
With the northern hemisphere in the grips of grisly winter, now is a fine time to look forward to that summer charter – perhaps to explore a new cruising area, or to experience a different yacht. In this issue, we look at ways to take your charter to even greater heights with a look at rendezvous charter, and also consider simple mistakes to avoid. In association with our charter website charterfleet.com there's plenty of inspiration for the coming year.
Meanwhile, you will also find an inspiring collection of yachts to explore, from our exclusive on-board feature on the 46 metre Vitters-built Ganesha, to the high-spec Hakvoort Apostrophe, Mondo Marine's 41 metre Nameless, the adaptable motor cat Quaranta and the first Horizon RP110 Andrea VI, heavily customised by her American owners.
Finally, we take up part two of the six-year off-the-beaten-track cruising of the yacht Metolius, and follow her from Maine to the Med, Ireland, Scotland and Scandinavia. One thing is clear: these are memorable moments for which sprinting was not required.
INSIDE THE MAGAZINE THIS MONTH
NAMELESS
Built for a discerning and involved owner, the eighth launch in Mondo Marine's 41 metre series shows a further step up in finish quality and, as a transition yacht, is a fine example of the aims and aspirations of the yard
QUARANTA
Designed for a flexible onboard lifestyle, Curvelle's 33.7 metre catamaran Quaranta offers a seemingly endless set of configurations as well as a large volume and airy, modern living spaces
GANESHA
Vitters' 46 metre performance yacht was designed by Dubois Naval Architects for an owner who understands intensive sailing. The result is a high performance, easy-handling boat with a light modern interior
APOSTROPHE
The build of Hakvoort's custom 39.7 metre motor yacht took five difficult years from signing to launch, but a refusal to compromise contributed to a contemporary and curvaceous boat with a high-spec art deco-influenced interior by Reymond Langton Design
LUNCH WITH... RICHARD MATTHEWS
The Oyster Marine founder discusses his lifelong passion for sailing, the many yachts he has owned and loved – including a former America's Cup boat – and why faster is sometimes more fun than bigger
THE GREAT ESCAPE: PART TWO
The second and final instalment in the global voyage of sailing yacht Metolius includes chatting up lobstermen in Maine, exploring the Greek islands, hiking in Skye and cycling in Stockholm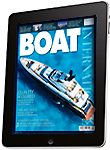 Experience Boat International on the iPad
On the iPad this month, we have all of the above, plus an extended gallery of images and walk-through video of Nameless, photos of Richard Matthew's yachts, a photo gallery of charter yachts and a video of a charter experience aboard a yacht in the stunning destination of Tahiti.
Sponsored Listings
43.00m (141'1")
141'1" (43.00m)
Eurocraft
2015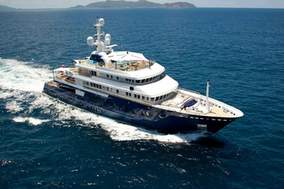 $76,450,000**
£45,650,000**
€55,000,000
63.40m (208')
208' (63.40m)
Lurssen
2005 / 2011
New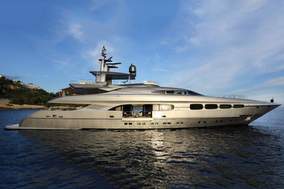 $26,271,000**
£15,687,000**
€18,900,000
50.80m (166'8")
166'8" (50.80m)
Mondo Marine
2009 / 2014
* Not for sale to U.S. Residents while in U.S. Waters. ** Approximate price conversion.