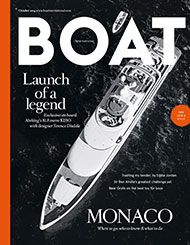 When I visited The Italian Sea Group in Pisa this summer, one of my first events as editorial director, I was unsure of what to expect; in my previous job, cruise meant a fashion season, "supers" referred to models, and nautical was a trend that is yet to leave London's Fulham Road. But quality transcends borders, and Pisa proved that the values underpinning the worlds of fashion and superyachts are identical: exceptional craftsmanship, extraordinary feats of perfection, unparalleled engineering and hospitality at its very best. It is this focus on excellence in all spheres of life that has guided the new look and feel of Boat International; we do hope you enjoy it. Personally, I'm now hooked on my new environment, although I draw the line at the engine room – what would I do with my heels?

Sacha Bonsor,
Editorial Director

It's been an eye opener for me, helping adapt the magazine to bring in fresh lifestyle content. Coming from a purely boat background, it's all very new, but I got a first-hand taste of all this fluffy high living on a recent trip to Monaco for the opening of the Brooks Brothers store. Endless Champagne, an amazing superyacht-lit dinner on the terrace of the new yacht club and even an appearance by a supermodel – it was Monaco at its rarefied best. I got a bit of a taste for it, to tell you the truth. You'll see me in the front row of a catwalk show next, air kissing everyone and wearing something Italian. On second thoughts, maybe I'll stick to boats. The clothes are cheaper.
INSIDE THE MAGAZINE THIS MONTH
KIBO
Designer Terence Disdale takes us on a tour of 81.8 metre Kibo, the second biggest launch ever by German yard Abeking & Rasmussen. From the beach club to sundeck, the level of detail on board is truly staggering.
AMERICA'S CUP
Sailing writer Patrick Kidd follows the money, and discovers the madness that consumes the superrich in their often vain attempts to win this most coveted of sailing prizes.
INFOGRAPHIC
Boat International's first ever infographic pages chart the rise and rise of the Monaco Yacht Show, as well as bring you our famous Global Order Book data in The Informer.
WATCHES
Another first for BI – a rundown of the coolest car-inspired watches to wear while on board. Simon de Burton tracks down as solid selection, from a £2,795 TAG Heuer to a £112,500 Richard Mille.
REMI TESSIER
Tim Thomas travels to Remi Tessier's Paris apartment to meet the man unafraid to say no to big commissions and big money. Tessier talks us through his past and what makes him one of the most exciting designers of the moment.
FASHION
Twelve pages of gorgeous fashion shot on board sailing superyacht Moonbird off Sardinia. Our models show off some of this season's coolest on-water wear.
Experience Boat International on the iPad
On the iPad this month and every month, find expanded photo galleries of our featured yachts, behind-the-scenes superyacht video tours, exclusive event coverage, interviews and more. Buy the iPad app now
Sponsored Listings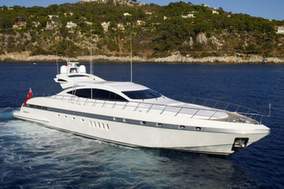 $1,657,600**
£1,010,100**
€1,295,000
28.27m (92'9")
92'9" (28.27m)
Overmarine
2004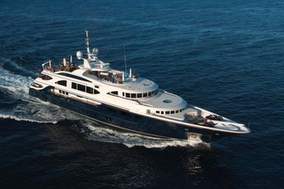 $47,360,000**
£28,860,000**
€37,000,000
60.00m (196'10")
196'10" (60.00m)
Benetti
2011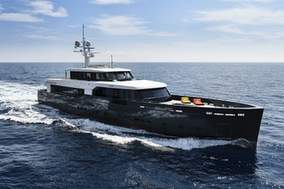 $24,960,000**
£15,210,000**
€19,500,000
44.80m (147')
147' (44.80m)
Logica Yachts
2014
* Not for sale to U.S. Residents while in U.S. Waters. ** Approximate price conversion.