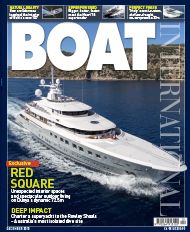 If the radius of debris around our table in the restaurant at Ruths Hotel in Skagen, Denmark, was anything to go by, our battle with the crab claws had been epic and hard fought. The smiles on our faces, redolent of the satisfaction of the victorious warrior, said it all. The effort was worth it – they really were that good. I was in Denmark visiting Danish Yachts to sail the racing yacht it had built fitted with the innovative Dynamic Stability System (DSS) – essentially a retractable horizontal foil that improves stability and performance, and which has been designed into a 30 metre performance sailing yacht called the Infiniti 100. But more on that in a future issue.
What I realised, though, is that the superyachts we cover are quite often like those extraordinary crab claws. I should clarify that I am not referring to that circle of debris, but rather the intense pleasure of getting inside them and discovering something really quite special. Take a couple of the yachts in this issue as prime examples.
Red Square – the 72.5 metre from Dunya Yachts, and the yard's first launch – certainly grabs your attention from the outside with her sleek lines, main deck pool and a host of exciting outside social spaces to explore. But step inside, and the real wow factor kicks in: her main deck saloon features an atrium to the upper deck, combining the two spaces and creating something rarely seen on a yacht of this size. Her finish, too, is something to behold and testament to the vision and perfectionist ambitions of yard owner Sedat Ergun. You can see what I'm talking about in our exclusive feature in this issue.
The custom Baltic 107 Inukshuk, also featured this month, is another yacht that delights on two levels. Her Germán Frers lines are sleek and graceful, but step below and you enter a world inspired by a wilderness that is close to her owner's heart. Designer Adam Lay has interpreted this wilderness and brought it on board through a selection of natural finishes and colours, right down to granite boulders in the saloon and the pigments of lichen and berries used to create the colour themes of the guest cabins. This is a yacht that really does convey a sense of place, art and soul.
The interior of Magic Carpet3, by contrast, is rather simple, conceived and designed as she was with a racing function as one of the three main criteria. She is, of course, the second WallyCento to be launched, and a real treat to sail. It's when you talk to her owner, Sir Lindsey Owen-Jones, that the inside story of her design and construction is revealed, and it is just as meaty as those crab claws in Skagen, although admittedly slightly less messy to extract....

Tim Thomas, Editor
INSIDE THE MAGAZINE THIS MONTH
INUKSHUK
Baltic Yachts' 32.64m carbon performance cruiser was designed with a colourful but chic nature-inspired interior by Adam Lay to offer a sailing yacht with a relaxing and highly personal character
RED SQUARE
The first yacht to emerge from Turkish builder Dunya Yachts, this 72.5m is full of surprises – from her innovative interior and exterior layout to the exceptional standard of finish the yard has achieved
MAGIC CARPET3
Wally's second WallyCento sailing yacht was built for an owner who has been deeply involved with the yard's projects for years. The resulting 30.47m has the performance and looks of a pure sailer, but offers comfort for leisurely family cruises
FINISH LINE
This 36.7m motor yacht from Trinity Yachts combines a shallow draught for cruising The Bahamas, a family-friendly layout and sporty looks in an impressive semi-custom build that eschewed compromise
LUNCH WITH... DONALD TOFIAS
From childhood summers in Cape Cod, through a successful career in real estate, Donald Tofias has nurtured a passion for sailing – one that has even driven him to develop a new breed of classic American yacht, the W-Class
DIVING WESTERN AUSTRALIA
Charter yacht Great Escape explores the Rowley Shoals on the Kimberley Coast, where pristine coral, steep drop-offs and a distinct lack of tourists make for an unforgettable underwater experience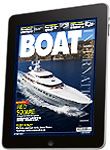 Experience Boat International on the iPad
On the iPad this month, we have all of the above, plus video aboard Red Square, more images from the America's Cup Regatta and the 34th America's Cup, and extended photo galleries of sailing yachts Inukshuk and Magic Carpet3.
Subscribe to our daily newsletter
Enter your email address
Sponsored Listings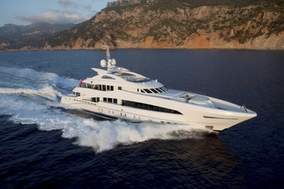 $38,083,500**
£23,352,300**
€27,900,000
49.80m (163'5")
163'5" (49.80m)
Heesen
2011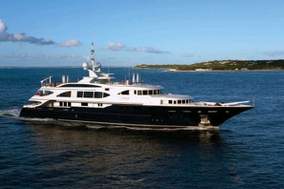 $53,235,000**
£32,643,000**
€39,000,000
60.00m (196'10")
196'10" (60.00m)
Benetti
2011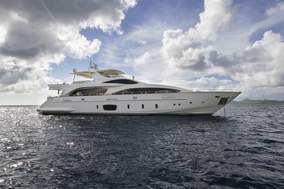 $5,800,000
£3,556,102**
€4,249,086**
32.00m (105')
105' (32.00m)
Azimut
2006
* Not for sale to U.S. Residents while in U.S. Waters. ** Approximate price conversion.