Unless you have been holidaying on Mars recently (and if you have, where's my postcard?), you will know that the mighty Project Azzam has taken to the water at Lürssen's Rendsburg yard, giving us the opportunity, finally, to see her in all her glory. This 180 metre project has been creating waves ever since news of a grand design emerged – even before the hull tasted the waters of the Kiel Canal. Of course, it would be very easy to dredge up the age-old question of whether size matters. So I will.
There's no doubt that Azzam will take the title of 'world's largest yacht' when she is delivered at the end of this year. But that is only on a measure of length. As many people will attest, length is not the only criterium – one could argue that width plays its part too. Azzam's four-jet propulsion package and projected 30-plus knots performance means she retains a somewhat slender hull form. Compare her to other vessels at the top of the 'largest' list, and the current top yacht – Roman Abramovich's Eclipse – still holds sway on a pure gross tonnage count. Al Said (at 155 metres, third in the list) is probably in with a shout too, and the 162 metre Dubai is not short on that count either. Hmm. Before I descend into the murky realms of double entendre, I should perhaps move on.
CRN's latest launch – the 60 metre J'ade – is a fine example of another age-old adage: that it isn't about size per se but what you do with it that counts. CRN has taken
a determined approach to developing new concepts and features, and the result is an innovative yacht with a very cool feature – a float-in tender dock at the forward end of
the beach club. Eclipse has one, as does the 126.18 metre Octopus and the 78.6 metre Pegasus V, but the idea has never been incorporated into a yacht so (relatively) small before. I can imagine the conversation at the bar now. 'Oh, a floodable garage, Mr Abramovich? Yes, I have one of those too.'
If you want a prime example of where what you do with it counts, you could do worse than follow in the wake of Nancy Mueller. Her 10-year, 130,000-mile global odyssey aboard her 42 metre yacht Andiamo not only gave her some extraordinary memories, but also has given us an extraordinary selection of stunning photographs and reminiscences to show you. Turn to page 134 to read her incredible story.
One last thing before I sign off. While enjoying the Loro Piana Caribbean Superyacht Regatta & Rendezvous in March, I was approached by a couple who were in Virgin Gorda with their 56-footer. They were bowled over by the spectacle of 20 sailing superyachts going at it tooth and nail, and awed by the glamorous fleet tied stern-to the YCCS dock. 'One day...' sighed the husband wistfully. It was a very timely reminder of just how lucky we are to be involved in this wonderful world of superyachts. So there you have it. Sighs matter.

Tim Thomas, Editor
INSIDE THE MAGAZINE THIS MONTH
J'ADE
J'ade, CRN's latest launch, is full of unusual features for a 60m – from the float-in tender dock to her creative outdoor spaces.
BE MINE
Lürssen's first private superyacht, the award-winning 39.9m Be Mine, gets a well-deserved refit
RENAISSANCE
The comfort of a power yacht and the romance of sailboat combine in 36m schooner Renaissance
TEN YEARS - 130,000 MILES
Nancy Mueller spent a decade on a global cruising adventure, which she documented with her own stunning photography
LUNCH WITH ED BOSARGE
Artillery and a piano might not be your everyday sailing yacht accoutrement, but Dr Bosarge isn't your everyday owner
LORO PIANA CARIBBEAN SUPERYACHT REGATTA & RENDEZVOUS
The fierce racing against a fabulous B.V.I. backdrop is all captured here
Experience Boat International on the iPad
On the iPad this month, we have all of the above, plus additional photos of the launch of Hakvoort's Apostrophe, the refit of Be Mine and additional photos of Azzam. There is also video of the Loro Piana Caribbean Superyacht Regatta & Rendezvous, diving adventures with Nancy Mueller and an interview with the sales director and project manager of CRN J'ade. All this is over and above those that appear in the print edition.
Subscribe to our daily newsletter
Enter your email address
Sponsored Listings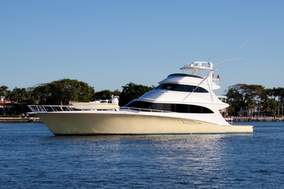 $7,950,000
£5,211,066**
€6,120,093**
28.96m (95')
95' (28.96m)
Jim Smith
2011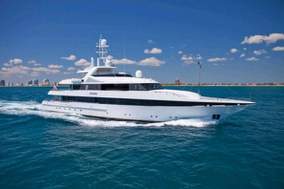 $29,750,000
£18,950,363**
€22,226,195**
53.35m (175')
175' (53.35m)
Feadship
2000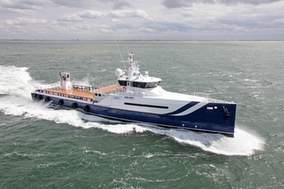 $14,991,312**
£9,549,232**
€11,200,000
50.00m (164'0")
164'0" (50.00m)
Damen
2010
* Not for sale to U.S. Residents while in U.S. Waters. ** Approximate price conversion.