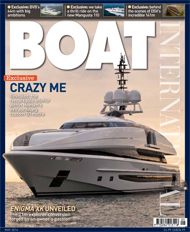 Our lunch, in a pleasant restaurant overlooking the water on the other side of the hill to the Dream Ship Victory yard in Turkey, seemed to go on forever. Course after course – and of course no chance to eat, rapt as I was by the engaging Valeriy Stepanenko talking about the background to his extraordinary 141 metre Dream Symphony project taking shape nearby.
Like the lunch we had, the frames of the Dream Symphony yacht – massive laminated wood constructions when seen up close, slender and elegant skeletal ribs when seen from afar – seemed to stretch on forever in her shed. That 20 people have built this yacht from scratch to where she is today is perhaps the most remarkable aspect of the project, which has superlatives flowing like the Turkish beer that accompanied our feast.
It is always encouraging to see people prepared to push the boundaries of what is possible, and to create unique and exceptional yachts in the face of the sceptics. Take Heesen's completely custom Crazy Me as another prime example. Radical exterior styling she may have – a real love-it-or-hate-it yacht, some might say – but see her interior, revealed here for the first time, and the whole yacht starts to make sense.
Making sense – it's a key criterion of any design. The 71 metre conversion Enigma XK made perfect sense to her passionate owner, who has forged a world explorer from a solid base. The 44 metre Bloemsma Van Breemen, while shorter on length, has also been conceived with big ambitions, showing clean design and a great standard of finish combined with exceptional interior volume.
Making sense also plays a key part in deciding the winners of the ShowBoats Design Awards, held this year off the back of our Superyacht Design Symposium in Kitzbühel, Austria. You can find a round-up of the SDS and an overview of the SBDA gala evening – held in the sparkling Swarowski Crystal Worlds – on pages 36 to 43.
While in Austria for the conference, I managed to sneak out for a day's skiing. Determined to make the most of my time on the snow, I ignored the sage advice of designer Bill Tripp, and ended the day attempting the long run from the mountain to the town. It was a torture of slush and sheet ice on a hateful piste that seemed to go on for ever. No elegance, no superlatives, no sense. I must be crazy.
INSIDE THE MAGAZINE THIS MONTH
SUPERYACHT DESIGN: DREAM SYMPHONY
The dream of one man, realised by three – we take an exclusive tour of the extraordinary Dream Symphony project, in build in a small village in Turkey.
MANGUSTA 110
We take a spin on the latest maxi open from Italian builder Overmarine and experience not only her dazzling speed, but also her unexpected quietness, stability and efficiency.
BVB 44M
Bloemsma Van Breemen's latest project offers surprising volume for its length as well as a chic, restrained and exquisitely detailed interior.
DISCOVER THE REAL GREEK ISLANDS
The Greek shipping magnate Harry Vafias shares his favourite spots among the hundreds of Greek islands he has visited through his life – plus when to go, what to take and even how to dress...
ENIGMA XK
This 71 metre explorer was converted from a Scottish Fisheries vessel by an owner who appreciated the looks of the original vessel. Using clever design techniques and a focus on adding light, the design and build team have created a luxurious yacht with character.
CRAZY ME
Built for an experienced owner, this 50 metre Heesen is an example of how bold customisation can push the boundaries of design – both in the extraordinary dimensions and technical sophistication of her interior and in her original and privacy-ensuring exterior styling
Experience Boat International on the iPad
On the iPad this month, we have all of the above, plus extended galleries of images of Enigma XK, Crazy Me and the speedy Mangusta 110, as well as insight into Ferretti Group's recent launches and Columbus Yachts' exciting new lines.
Buy the iPad app now
Sponsored Listings
New price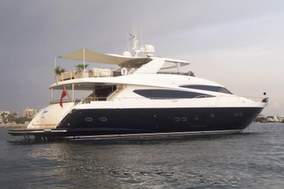 $4,990,100**
£2,979,700**
€3,590,000
30.00m (98'5")
98'5" (30.00m)
Princess
2009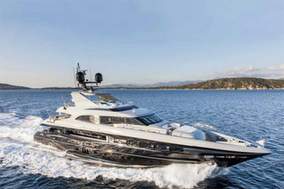 $27,105,000**
£16,185,000**
€19,500,000
40.50m (132'10")
132'10" (40.50m)
Mondo Marine
2013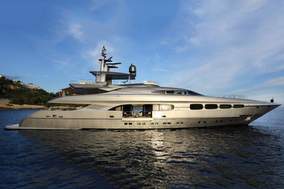 $26,271,000**
£15,687,000**
€18,900,000
50.80m (166'8")
166'8" (50.80m)
Mondo Marine
2009 / 2014
* Not for sale to U.S. Residents while in U.S. Waters. ** Approximate price conversion.