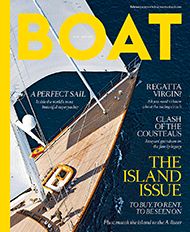 Even though I can't sail (something I intend to rectify in 2015) and rarely get to go (yes, that is a hint), for me nothing evokes a sense of romance, excitement and adventure better than a sailing yacht. The thought of heading towards the horizon with no more than the wind to guide me and the sea for company feels so much more than a fantasy – closer to a primeval longing to which one day I hope to return. It was with this in mind that we unwittingly themed our February issue, from the spectacular cover yacht to our definitive guide to racing and even the best sailing watches. It is also a dream that Fabien Cousteau, grandson of the famous Jacques, tells us that he is trying to preserve with his relentless efforts to conserve the ocean, even if his grandfather's estate begs to differ. And, of course, if I ever get bored of my fantasy horizon, I could do worse than take a brief detour to some of the world's most beautiful islands: I just need to save a copy of this month's Voyage section to help me find them.


Sacha Bonsor,
Editorial Director
There was plenty of groaning in the office when the pictures of Wisp landed. Good groaning – not the kind you emit when unwrapping socks at Christmas (thanks, Mum). We could almost have run a report with the words repeated: "Just look at it". Everyone involved in that build should be patting themselves on the back, and you can tell we loved every second of being on board. In fact all our yachts this month feature outstanding moments of design: Atomic with her big volumes; Kizbel's Hemingway-esque charm and the Mulder 98's whatever-weather hull. Each of these yachts would have appeared in our last Global Order Book, the complete chronicle of superyachts in build the world over. I urge you to spend a while staring at this year's graphical version in this issue. Now you know, for instance, that there's a 34m in build in Iran...
INSIDE THE MAGAZINE THIS MONTH

SISTER ACT
Identical but 30 years apart, sisterships Kizbel and Black Knight meet for the first time.

COUSTEAUS CLASH
Is Fabien Cousteau, grandson of the late Jacques Cousteau, the real deal?

SAILING WATCHES
From Rolex to Tag Heuer and Panerai, we present the best sailing timespieces.

REGATTA VIRGIN?
Get your superyacht regatta-ready with our handy guide to racing superyachts.

ISLAND ISSUE
The islands to buy, to rent and to be seen on. Plus: match the island to the A-lister.

FASHION
Start your year right in this season's most sumptious seafaring looks.
Experience Boat International on the iPad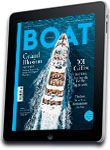 On the iPad this month and every month, find expanded photo galleries of our featured yachts, behind-the-scenes superyacht video tours, exclusive event coverage, interviews and more. Buy the iPad app now
Sponsored Listings
New price
$19,097,000**
£12,675,000**
€16,900,000
45.72m (150')
150' (45.72m)
Palmer Johnson
2009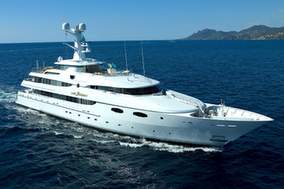 $58,900,000
£39,266,686**
€52,123,908**
57.91m (190')
190' (57.91m)
Abeking & Rasmussen
2007
New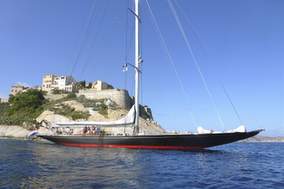 $11,808,500**
£7,837,500**
€10,450,000
39.95m (131'1")
131'1" (39.95m)
Holland Jachtbouw
2012
* Not for sale to U.S. Residents while in U.S. Waters. ** Approximate price conversion.