"Adornment, what a science!," said Coco Chanel. Adornment on a yacht, however? A necessity, according to uber jeweller Glenn Spiro, whose passion for rare gems is matched only by his love of the sea, as he explains to Annabel Davidson in the new issue. Our annual top 101 list of the world's largest super superyachts is a different kind of science, but no less rare and beautiful. Lists can be a little like popcorn, I find – easy to digest, but ultimately leaving you feeling empty – so we were determined to make sure that in this case, substance matched style. I hope we pulled it off.
One boat that would make our top 101 every year were it 20 metres longer is the classic Riva, so we gave it a run for its money, literally, by asking if it really is the great investment everyone says it is. And last but by no means least, we met Christian Liaigre, the ultimate designer's designer, whose ever-expanding yacht interiors are taking him to award-winning heights. We can't wait to see what he does next.

Sacha Bonsor,
Editorial Director

A funny thing happened in the queue for the gents at the launch party for our Megayachts book (available now!) at the Fort Lauderdale Boat Show. There I was, happily talking nonsense to the man next to me, when he introduced himself as the owner of Golden Compass. "No way!" was my suave response. Golden Compass is one of my favourite yachts and picked up our Voyager's Award at the 2012 World Superyacht Awards. Decorum dictated that our conversation ended at the toilet door, but not before I snagged him for our Owners' Club. In fact, he features this month. Chapman Ducote also features. No one else could talk with such insouciance about fighting off sharks in the Bahamas. I lose it when I can't find a seat on the train; Ducote keeps his cool when aiming a right hook at a deadly predator. An amazing guy.
INSIDE THE MAGAZINE THIS MONTH

SILVER WIND
Find out why ISA's 43 metre yacht Silver Wind is the world's most advanced superyacht, boasting both beauty and brains.

CLASSIC RIVAS
Some say owning a classic Riva is one of the wisest investments on water, but is it really true? Find out in the January issue.

BEST BY SPA
From island luxe-outs to beach-side yoga retreats, we reveal the finest spas worth leaving your superyacht for in 2015.

SO'MAR
Discover how Tansu has created a whole new design genre – military-chic, which is exemplified beautifully in So'mar

FLIGHT-INSPIRED WATCHES
In the new issue we present a selection of the finest flight-inspired timepieces to wear when boarding your jet.

FASHION
Be sure to make a splash in the Caribbean with our pick of this season's smouldering, stylish and sexy swimwear.
Experience Boat International on the iPad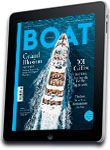 On the iPad this month and every month, find expanded photo galleries of our featured yachts, behind-the-scenes superyacht video tours, exclusive event coverage, interviews and more. Buy the iPad app now
Sponsored Listings
$18,297,200**
£11,622,000**
€14,900,000
45.72m (150')
150' (45.72m)
Palmer Johnson
2009
$6,017,200**
£3,822,000**
€4,900,000
34.34m (112'8")
112'8" (34.34m)
Nautor's Swan
1999 / 2006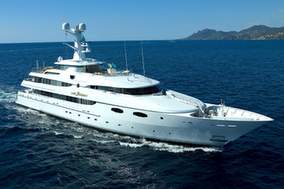 $58,900,000
£37,515,943**
€47,964,155**
57.91m (190')
190' (57.91m)
Abeking & Rasmussen
2007
* Not for sale to U.S. Residents while in U.S. Waters. ** Approximate price conversion.