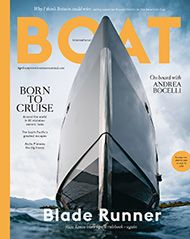 Few boats embody their potential like Iceberg. Decades of cruising experience have been poured into the design, resulting in probably the most capable sea boat on the water. A rogue wave hits you mid-Pacific? No problem. Iceberg will either slide down its face or capsize and roll back up. And she will simply slice through anything coming from the front. Steve and Linda Dashew are the brains behind the yacht and its smaller siblings, all known as FPBs (functional power boats).
It does something to me, this yacht. I spend my life cooing over boat designs, but this one provokes a visceral reaction, something like a "Yeeaaaw", and it's hands-down the yacht I'd want to take me around the world. And I know how to do that now, having read our feature in the April issue. Just avoid icebergs, crazy crew, submerged containers and apparently the whole country of Egypt and you're golden.


Sacha Bonsor,
Editorial Director
The first time I went diving, off the Exumas in the Bahamas (it's been downhill ever since), I came away feeling overawed – and somewhat ashamed. How could I have spent my entire life believing that the earth above water was the whole story? The extraordinary beauty of life below, the colour, variety, magnificence and very aliveness of it all – was a salutary lesson in humility. "Travel makes one modest," said Flaubert. "You see what a tiny place you occupy in the world."
People own yachts for a variety of reasons, but if I were ever lucky enough to keep my own, I would do so for the same reason that I like to dive: to remind myself of my own insignificance. The owners of Arctic P obviously had the same idea. Their second trip to the Antarctic, chronicled in the April issue, took them to the remotest reaches of the Ross Ice Shelf, to a place that few had been before, and that would have seen them perish with no hope of help had there been a problem. The ultimate challenge. And ultimately humbling.
INSIDE THE MAGAZINE THIS MONTH

GIGRECA
The world's first test of The Italian Sea Group's Gigreca

THE BIG FREEZE
Arctic P ventures further south than any vessel in history

WATCHES
Get off the beaten track with the finest adventure watches

ALYSSA
Riza Tansu tears up the rule book again with Alyssa

SOUTH PACIFIC PARADISE
New Caledonia is a South Pacific paradise just off the radar

JET SET
The looks to take you from private jet to superyacht
Experience Boat International on the iPad
On the iPad this month and every month, find expanded photo galleries of our featured yachts, behind-the-scenes superyacht video tours, exclusive event coverage, interviews and more. Buy the iPad app now
Sponsored Listings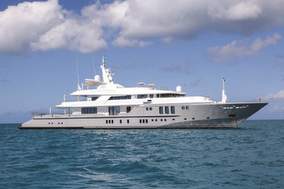 $63,547,000**
£43,164,000**
€59,950,000
73.50m (241'2")
241'2" (73.50m)
Nobiskrug - Thyssen...
2008
$17,914,000**
£12,168,000**
€16,900,000
45.72m (150')
150' (45.72m)
Palmer Johnson
2009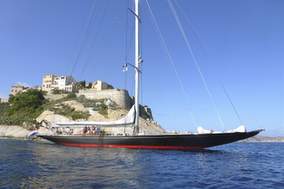 $11,077,000**
£7,524,000**
€10,450,000
39.95m (131'1")
131'1" (39.95m)
Holland Jachtbouw
2012
* Not for sale to U.S. Residents while in U.S. Waters. ** Approximate price conversion.