People say that owning or chartering a superyacht is so much more than a mode of transport – it is a way of life. I would go even further and argue that owning a yacht is the realisation of a dream and, for many, the ultimate creative outlet. We aim to reflect this at BI by matching what I call our "strictly boaty" content (the Holy Grail of the magazine) with the most inspiring and often otherworldly stories and images we can find. We hope that our Hollywood Issue, timed to coincide with awards season, does exactly that. For who can fail to be moved by the immortal glamour of Bogart, Burton, Sinatra and Flynn as they took to the waves?
And I challenge any true yacht enthusiast to read our guide to boats on film and not go out and buy 10 box-sets on the spot. As for me – I'll be feasting on the true story behind Daniel Craig and that shower scene for months.


Sacha Bonsor,
Editorial Director
I'm thinking about buying the rights to the story of Graceful and pitching it to a few studios. Take a look at this video and tell me it wouldn't make a good movie. That brief clip was taken after the hull of the 82 metre broke free of her tow and pitched up on the rocky coast of Norway. From that, to starring in this issue. For all our talk of Hollywood, I reckon the Oscar for best production goes to Blohm+Voss. And if there was an Academy Award for beyond-the-call bravery, it'd go to the yacht's skipper, who was so protective of the project he took a swim in the frigid North Sea to help reattach the tow lines. Best location is awarded to Galatea, which I visited in a balmy Beaulieu-sur-Mer in January, giving me a very welcome break from London's relentless grey. As for best dramatic performance? Easy – Jim Clark's wunderboat Comanche.
INSIDE THE MAGAZINE THIS MONTH

HOLLYWOOD ICONS
We take a closer look at the boats owned and loved by Hollywood's stars

AMAZING GRACE
The story of Graceful almost ended when the project hit the rocks - literally

ON BOARD WITH 007
We meet the owner of Regina, who gave Daniel Craig an unforgettable experience

HOLLYWOOD AT SEA
Do films about yachts accurately capture the pleasures and challenges of life at sea?

BUILT TO WIN
Can software mogul Jim Clark's radical supermaxi take line honours?

ON LOCATION
Film locations that produced perfect scenes are now waiting to welcome you
Experience Boat International on the iPad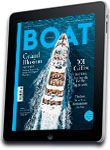 On the iPad this month and every month, find expanded photo galleries of our featured yachts, behind-the-scenes superyacht video tours, exclusive event coverage, interviews and more. Buy the iPad app now
Sponsored Listings
$19,249,100**
£12,337,000**
€16,900,000
45.72m (150')
150' (45.72m)
Palmer Johnson
2009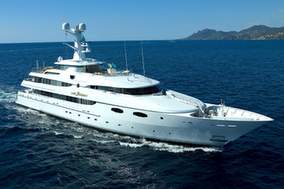 $58,900,000
£38,246,774**
€51,712,021**
57.91m (190')
190' (57.91m)
Abeking & Rasmussen
2007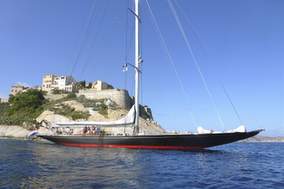 $11,902,550**
£7,628,500**
€10,450,000
39.95m (131'1")
131'1" (39.95m)
Holland Jachtbouw
2012
* Not for sale to U.S. Residents while in U.S. Waters. ** Approximate price conversion.