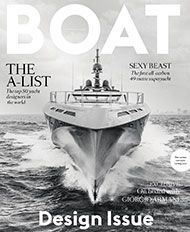 What is the mark of great design? Coco Chanel put it down to proportion; Charles Eames thought it was detail. "How it works," said Steve Jobs. But when it comes to the ultimate design challenge, I've come to believe there is only one qualifier: yacht design. There is no compromise here, no wiggle room: when yacht designers are in a tight spot, they cannot add a space, lengthen a hem, or tweak the size. Space is finite, specs are precise, to the last millimetre. Name another product that requires the technical prowess of a Formula One car, the bespoke skills of an haute couture atelier and the interior demands of an eight-star hotel. This is why yacht design so excites every designer I have ever met, and why increasing numbers are trying to break into its world. It is also why I do not shy away from stating that the following pages are not confined to the best designers, and designs, in the yachting community, but reveal the best designers in the world. Book them now. Their time has come.


Sacha Bonsor,
Editorial Director

You don't know fear until you've asked some of the biggest boat designers in the world to get out of bed at the crack of dawn after a late night and assemble them on a freezing cold rooftop in the middle of the Alps for a photo shoot. I survived, but only because coffee was available, I think. The designers took everything in great humour, and actually seemed to enjoy the process of getting a bit of make-up slapped on (no comment).
No diva tantrums, no ego – for a bunch of precious creatives, they were all incredibly low-maintenance. Perhaps that's because they don't get photographed and celebrated enough; perhaps it's because this treatment is a novelty, not a chore. It should be the other way around, of course: they do amazing things and deserve the headlines. Either way we'd still love them, even if someone threw a coffee pot at my head.
INSIDE THE MAGAZINE THIS MONTH

KHALILAH
World's first report on the Palmer Johnson SuperSport 48 Khalilah

ULTIMATE DESIGN JOB-SWAP
What happens when you ask boat designers to go lifestyle

SWEDE DREAMS
Sweden's islands are a pick and mix adventure for foodies

GIORGIO ARMANI
Exclusive: we talk yachts with fashion legend Giorgio Armani

FARFALLA
Years of research have gone into crafting this Southern Wind

STATEMENT MENSWEAR
This season's best statement menswear in focus
Experience Boat International on the iPad
On the iPad this month and every month, find expanded photo galleries of our featured yachts, behind-the-scenes superyacht video tours, exclusive event coverage, interviews and more. Buy the iPad app now
Sponsored Listings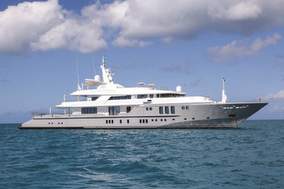 $62,947,500**
£43,164,000**
€59,950,000
73.50m (241'2")
241'2" (73.50m)
Nobiskrug - Thyssen...
2008
$17,745,000**
£12,168,000**
€16,900,000
45.72m (150')
150' (45.72m)
Palmer Johnson
2009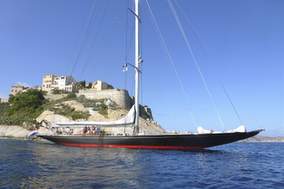 $10,972,500**
£7,524,000**
€10,450,000
39.95m (131'1")
131'1" (39.95m)
Holland Jachtbouw
2012
* Not for sale to U.S. Residents while in U.S. Waters. ** Approximate price conversion.