| | | |
| --- | --- | --- |
| The complexities of megayacht registration, and particularly of Classification, can be challenging for new and experienced owners alike. We take a look at the implications of luxury yacht registration, explore the various Classification Societies and Flag States, and break down some of the arcane language and abbreviations that you may encounter on your journey through superyacht ownership. | | |
Registration & Class Highlights
| | | | | |
| --- | --- | --- | --- | --- |
| Part of the armoury against today's security threats, the ISPS code is examined for its relevance and application to superyachts. | | Choosing the flag that best fits your planned use and your financial situation is a key decision when buying a superyacht. | | Paolo Moretti of the Italian classification society RINA, looks at the definitions, certifications and rules that apply to large pleasure yachts. |
Latest Registration & Class articles
5 February 2013
Classification societies set the construction and maintenance standards for all ocean-going vessels.
29 January 2013
Statutory certification during shipbuilding aims to ensure a high-quality builds. But some owners and shipwrights see these rules as unnecessary and the organisations enforcing them profiting at the builders' expense.
15 January 2013
Classification societies offer unparalleled technical knowledge of the shipbuilding process. However, they can make mistakes. And if a boat should fail, suing the society who certified it as sea-worthy can be very difficult.
15 January 2013
Regular surveys for a yacht that seems to perform perfectly well should not be viewed as an inconvenience, says barrister Benjamin Maltby, who explains why and when classification is necessary and the societies' vital role in keeping owners, guests and crew safe.
20 July 2012
Choosing the flag that best fits your planned use and your financial situation is a key decision when buying a superyacht.
20 July 2012
Part of the armoury against today's security threats, the ISPS code is examined for its relevance and application to superyachts.
20 July 2012
Chartering your yacht can mean complying with a bewildering number of safety codes. Paolo Moretti from Italian classification society, RINA explains the basics
20 July 2012
Paolo Moretti of the Italian classification society RINA, looks at the definitions, certifications and rules that apply to large pleasure yachts.
20 July 2012
Environmental protection regulations on yachts are becoming increasingly stringent, but they offer the opportunity for owners to reduce the running cost of their vessels.
19 July 2012
We visit the 74.8m motor yacht Leander to discover exactly what goes during a Lloyd's survey
Subscribe to our daily newsletter
Enter your email address
Sponsored Listings
$19,249,100**
£12,337,000**
€16,900,000
45.72m (150')
150' (45.72m)
Palmer Johnson
2009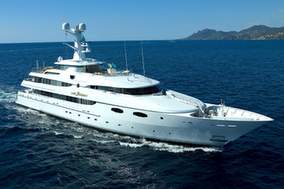 $58,900,000
£38,246,774**
€51,712,021**
57.91m (190')
190' (57.91m)
Abeking & Rasmussen
2007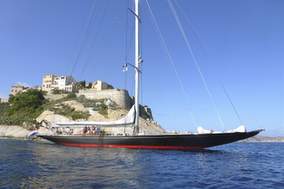 $11,902,550**
£7,628,500**
€10,450,000
39.95m (131'1")
131'1" (39.95m)
Holland Jachtbouw
2012
* Not for sale to U.S. Residents while in U.S. Waters. ** Approximate price conversion.