FORTHCOMING EVENTS
Loro Piana Superyacht Regatta 2013
3-7 June, 2014
Fierce racing and racy fun is what this regatta is all about – hardly surprising when the venue is the Yacht Club Costa Smeralda (YCCS), hang-out of European glitterati and the jet-set since the heady days of the 1960s.
The Superyachts Launch Party
25 September, 2014, Monte-Carlo, Monaco
The not-to-miss party during the Monaco Yacht Show! The Superyachts book launch brings together owners, designers and builders for a glamorous cocktail reception to toast the new edition of the industry bible for the best in private superyachts.
Dockwalk Captains' Hideout
24-27 September, 2014, Star Deck (above Stars 'N' Bars), Monaco
The Dockwalk Captains' Hideout at the Monaco Yacht Show is a refuge for superyacht captains and crew to relax away from crowds in the busy show. Complimentary meals and refreshments are on offer as well as free high-speed internet.
The Megayachts Launch Party
1 November, 2014, Fort Lauderdale, Florida
Hosted during the Fort Lauderdale International Boat Show, this elegant cocktail reception celebrates the launch of the latest volume of The Megayachts – Concept, Design, Construction.
Latest events news
25 July 2014
Oceanco will once again sponsor the Young Designer of the Year Award, presented by Boat International Media during the ShowBoats Design Awards in 2015
21 July 2014
The America's Cup world is left stunned by the withdrawal of Team Australia and Hamilton Island Yacht Club from its intention to compete in the next edition of the Cup in summer 2017
16 July 2014
Nominations are now open for the 2015 World Superyacht Awards, which will be held on Saturday 9 May, 2015, in Amsterdam's Het Scheepvaartmuseum
14 July 2014
The world's first solar boat world championship, the Solar1 Monte Carlo Cup, took place in Monaco over the weekend
9 July 2014
It was announced today that the island of Bermuda and San Diego, California, have been shortlisted as potential venues for the next America's Cup
8 July 2014
Three superyacht industry leaders are currently taking part in Raid Pyrenees, a 760-kilometre classic French cycle challenge, to raise funds for the Andrew Simpson Sailing Foundation
Subscribe to our daily newsletter
Enter your email address
Sponsored Listings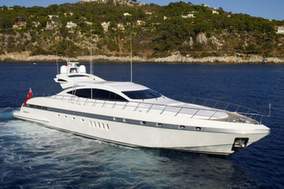 $2,025,000**
£1,185,000**
€1,500,000
28.27m (92'9")
92'9" (28.27m)
Overmarine
2004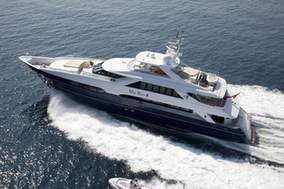 $12,825,000**
£7,505,000**
€9,500,000
39.40m (129'3")
129'3" (39.40m)
Heesen
2002 / 2008
$26,325,000**
£15,405,000**
€19,500,000
44.80m (147')
147' (44.80m)
Logica Yachts
2014
* Not for sale to U.S. Residents while in U.S. Waters. ** Approximate price conversion.