UNTOUCHED INDONESIA
Sun-soaked beaches and vibrant culture awaits on a yacht charter in Indonesia, and
Pelorus Yachting
is now offering an unrivalled cruising experience on board Asia's largest Phinisi. 
Indonesia's cove-studded shores and emerald-green anchorages are the perfect recipe for a yachting holiday. On shore you'll find remote temples, lush rainforests and footprint-free beaches as far as the eye can see, while below the surface, the seas are a kaleidoscope of colourful coral reefs and filled with manta rays, whale sharks and turtles. The region is also perfect for escaping the winter blues in Europe.
Pelorus Yachting knows this area better than anyone, and its team of dedicated travel and conservation professionals have unparalleled connections to help take your boating experience to the next level. Get ready for an extraordinary journey into the heart of Indonesia's breathtaking archipelago on board Lamima, Indonesia's largest Phinisi-style yacht.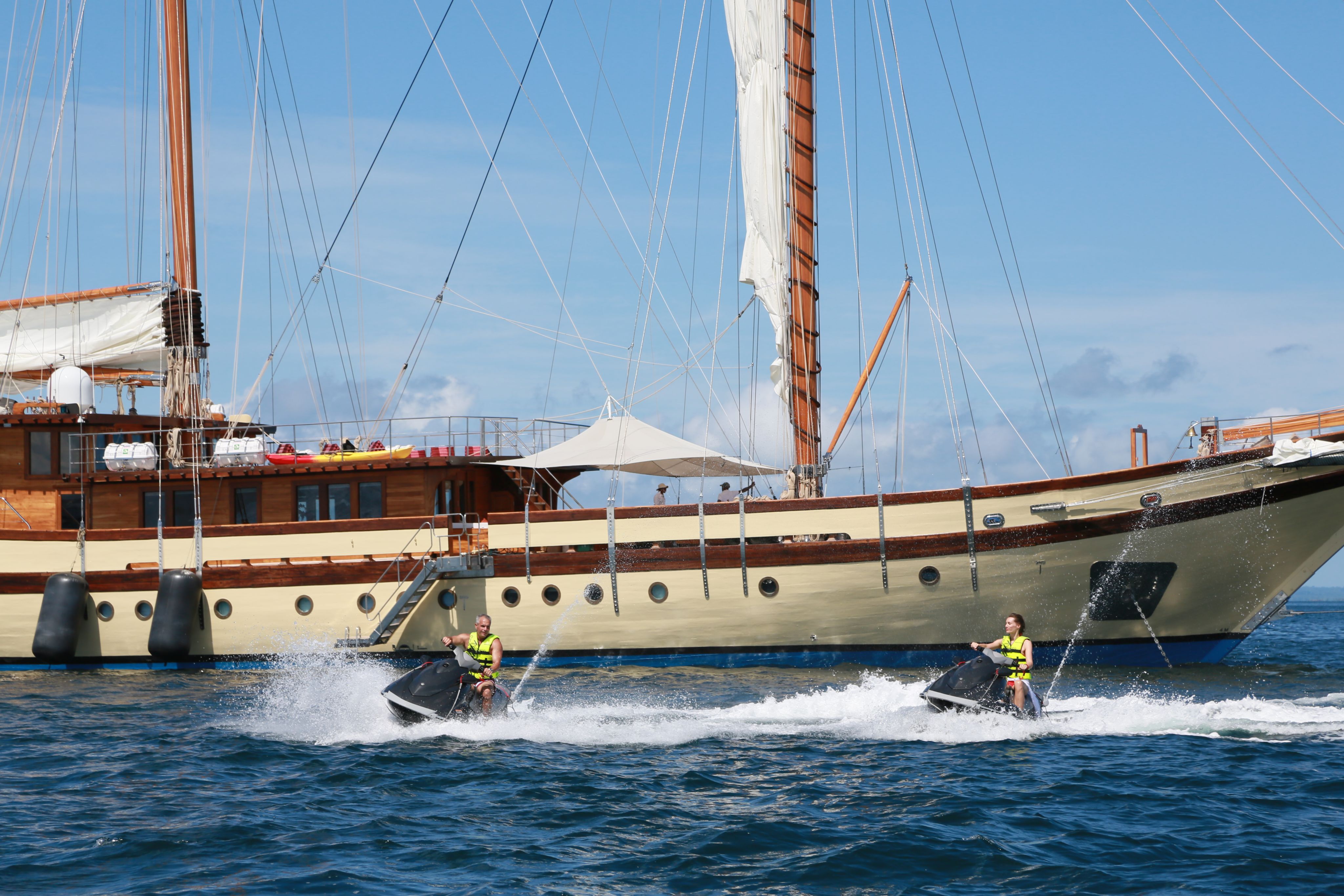 Item 1 of 3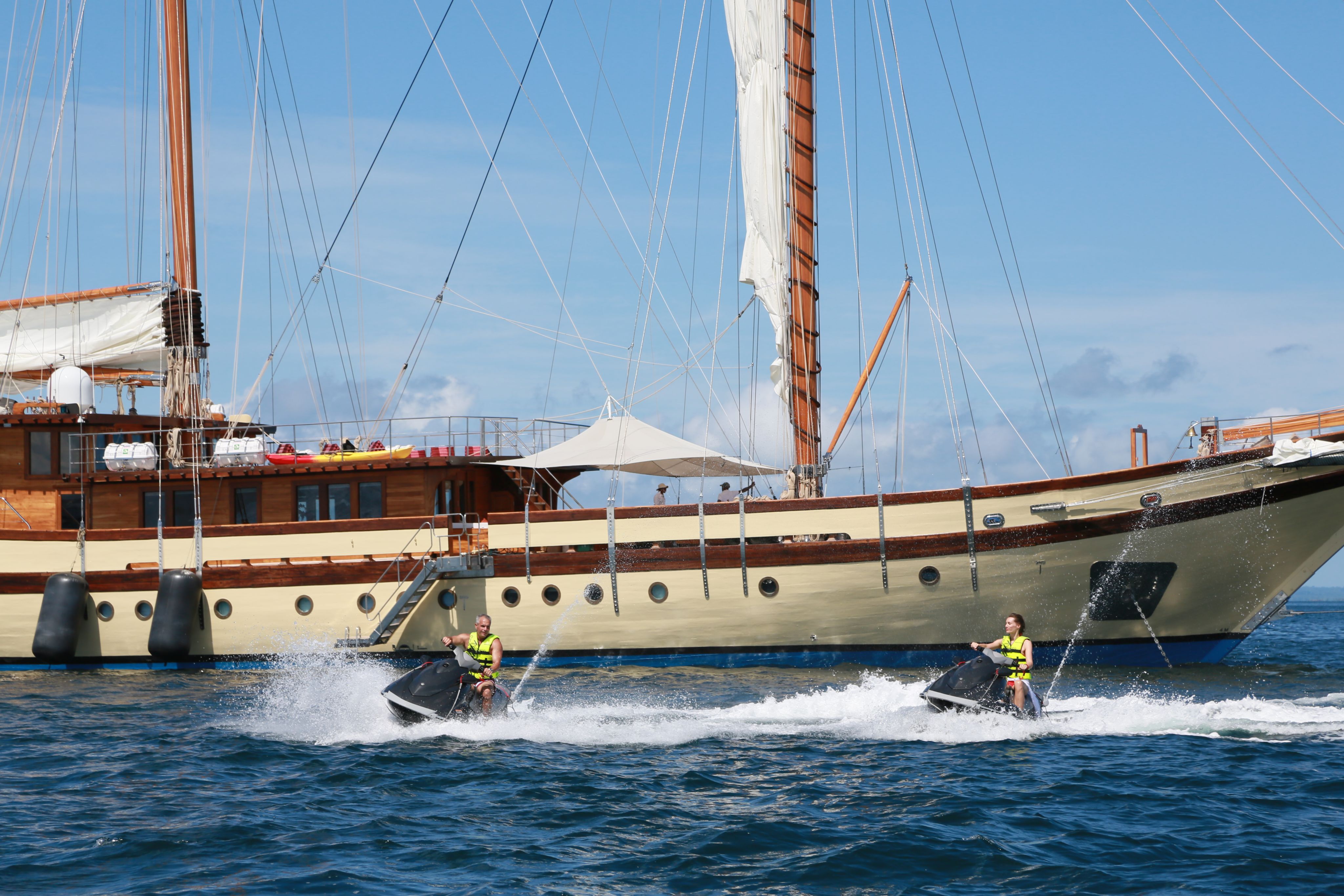 Raja Ampat, often referred to as the "Four Kings", is an archipelago of unmatched beauty. Towering, forested peaks, powdery-white beaches and crystal-clear waters create a paradise that looks like it's been lifted from a postcard. But there's more to Raja Ampat than meets the eye. Pelorus Yachting has teamed up with conservationists to offer you a chance to protect the manta ray population in this region, making your yacht experience truly rewarding.
AN UNFORGETTABLE ITINERARY
Batanta Island
Begin your adventure by boarding Lamima in Sorong and cruising towards Batanta Island, the smallest of Raja Ampat's four islands. Get acquainted with the mesmerising reef and rainforest, setting the tone for your journey.
Kawe Island
Visit the spectacular white sand beaches of Kawe Island and snorkel above rainbow-coloured coral, encountering an abundance of vibrant marine life. Join Pelorus guides from the Manta Trust and learn how to identify individual species of manta rays. Here you will assist in a worldwide conservation and research project that aims to prevent the loss of manta ray populations by monitoring factors that affect migration and diving behaviours.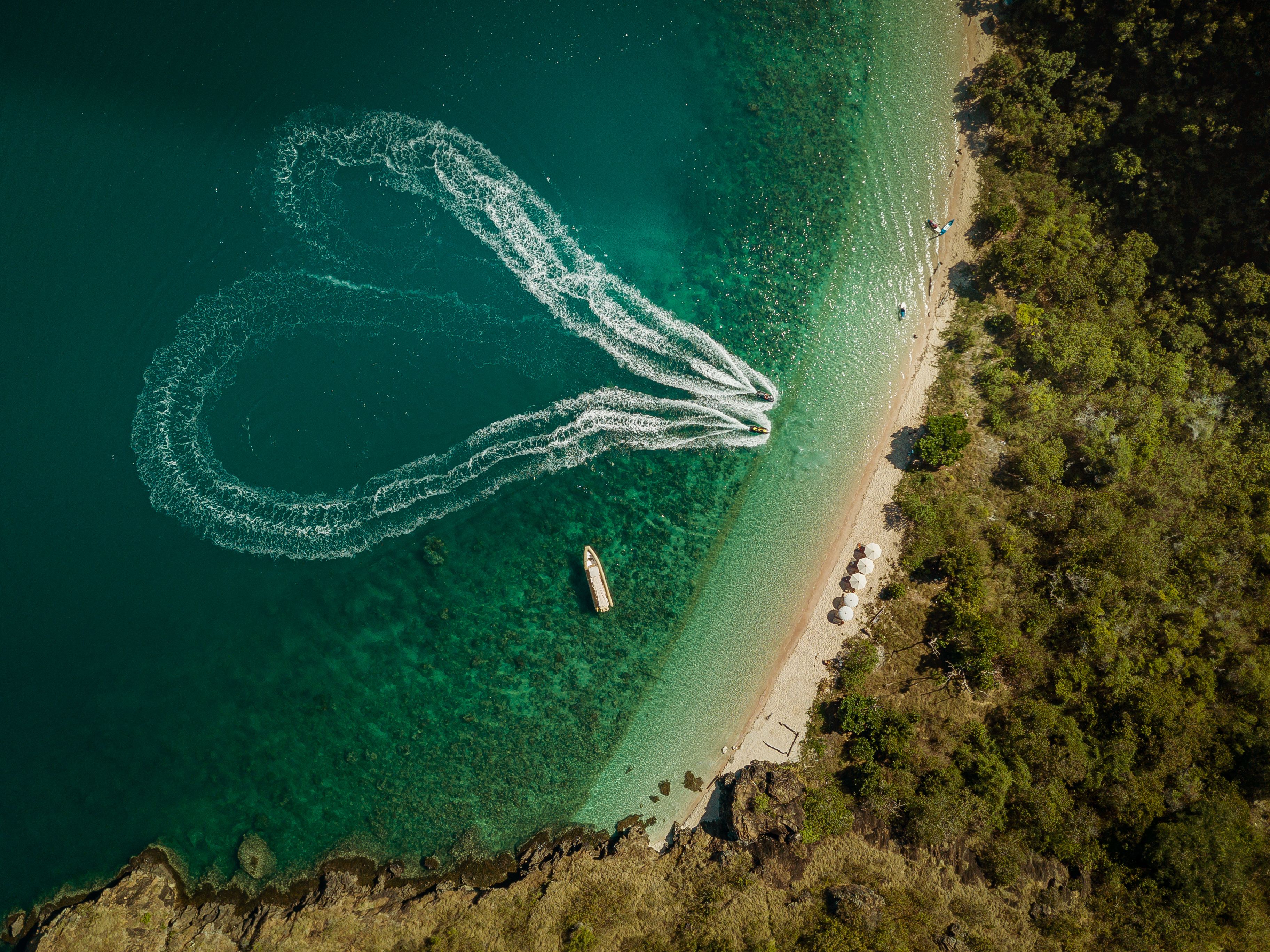 Wayag Archipelago
Journey to the jewel of Raja Ampat, the Wayag Archipelago. Led by an expert Pelorus guide, climb one of the many island peaks to be rewarded with stunning panoramic views of the surrounding landscapes. Take time to appreciate the incredibly rich marine life with guided diving trips and paddleboarding adventures and join local conservation rangers to feed the Blacktip Reef Sharks.
Misool Island
Explore the spectacular Tomolol Bay at Misool Island, a maze-like paradise that bristles with hundreds of small karst formations. Pelorus has negotiated with the local village leader to gain special access to explore the mystical Thousand Temple Islands. Visit unexplored sacred temples, remote pearl farms and deep stalactite caves among wondrous landscapes that few have been privileged enough to see before.

Kiti Kiti
Cruise to Kiti Kiti, a beautiful bay with a powerful waterfall that cascades directly into the sea. While it has long been used by locals to replenish their water supplies, you can use it for an invigorating natural shower or snorkel to find undiscovered species endemic to this region. Relax and unwind on the beach or choose to explore the rainforest for the chance to spot a tree kangaroo.
Triton Bay
Head towards Triton Bay, a remarkable region that extends for many miles into the jungle. Only partially explored by marine scientists in 2006, the area remains to this day virtually unexplored. Far from modern life, the forest-fringed bay is scattered with castle-like islands of karst limestone speckled with orchids. Here you will find an abundance of flora and fauna from insect-eating Nepenthe flowers to parrots and hornbills. The bay not only supports the corals and reef fish but also provides a safe spot for sharks, turtles and Bryde's whales to nurture their young.
Namatota
In Namatota, a truly authentic experience awaits. Visit the charming village of Maimai, where you can ask the chief for his permission to swim with the whale sharks. Here you will have a rare opportunity to encounter these majestic animals in their natural habitat. As you swim, keep an eye out for sperm whales too, as they are often spotted in this area. "We aim to wow our clients and show them something different," says Gayle Patterson, director of yachting at Pelorus Yachting. "We bring the world of Pelorus to the yacht charter and the charter management industry to share our love for adventure with our clients and prove that chartering a yacht can be much more than what is currently offered."
Lamima, the yacht of dreams
Crafted in 2014 to Rina Class and LY2 compliance, Lamima is not just a yacht; it's a masterpiece that blends traditional and modern luxury. As the largest Phinisi yacht in Asia, Lamima offers unparalleled comfort and safety with a dedicated crew of 20 who epitomise the spirit of generous Indonesian hospitality. With seven spacious cabins, the yacht has much to offer up to 14 guests. The onboard saloon boasts a well-stocked bar, a sociable lounge area and a grand dining table, setting the stage for cherished evening gatherings.
A world of adventure
Lamima allows you to explore a world of aquatic excitement. Embark on thrilling adventures with an array of exceptional tenders and water toys. Glide across the waves on a jet ski, feel the rush of a banana boat ride or test your skills on jet surfboards. Immerse yourself in local culture as you navigate the pristine waters aboard small, traditional boats. With a PADI diving centre and two experienced dive masters on board, you can delve into the mesmerising underwater wonders of Southeast Asia at any skill level.
Item 1 of 3
Lamima's expansive 400-square-metre deck areas provide ideal spaces for dining al fresco, soaking up the sun on plush sun pads or finding solace in a good book beneath the Bimini. Onboard wellness is also a priority, offering ice baths, yoga and guided meditation. An outdoor oasis features a secluded spa where expert onboard therapists are on hand to provide a range of treatments. For an enchanting cinematic experience, gather your loved ones for al fresco movie nights under the stars.
THE WORLD, RESIDENCES AT SEA
THE WORLD, RESIDENCES AT SEA
THE WORLD, RESIDENCES AT SEA
THE WORLD, RESIDENCES AT SEA
THE WORLD, RESIDENCES AT SEA
THE WORLD, RESIDENCES AT SEA
THE WORLD, RESIDENCES AT SEA
THE WORLD, RESIDENCES AT SEA
Item 1 of 5
THE WORLD, RESIDENCES AT SEA
THE WORLD, RESIDENCES AT SEA
THE WORLD, RESIDENCES AT SEA
THE WORLD, RESIDENCES AT SEA
THE WORLD, RESIDENCES AT SEA
THE WORLD, RESIDENCES AT SEA
THE WORLD, RESIDENCES AT SEA
THE WORLD, RESIDENCES AT SEA
"What really struck me when on board was the history behind this extraordinary Phinisi yacht," notes Geordie Mackay-Lewis, co-founder of Pelorus Yachting. "Lamima was built over a period of nine months using traditional Indonesian techniques that were launched with a ceremony and involved transporting the boat to water over a two-month period on wooden rollers. It is remarkable to have the opportunity to stay on board a modern-day yacht that was created with such incredible techniques, rich in culture and history."
Lamima is available exclusively through Pelorus Yachting, with charters starting at $175,000 this winter in Raja Ampat, Triton Bay and The Spice Islands, Indonesia.
To book your Lamima charter with Pelorus Yachting, enquire now
.