Exploring Bermuda
There is much to see and do over the 181-island archipelago – by land and by sea
Famed for its diverse coastline and exceptional beaches, Bermuda is primed for superyachts. But beyond its glittering shallows and immaculate beaches, there are plenty of attractions to keep those on visiting yachts entertained. Bermuda has buzzing bars and restaurants, the highest density of world-class golf courses in the world, and tennis courts dotted around the island. With so much to choose from, here's just a taste of what's on offer…
Sport
On the east side of the island, Rosewood Tucker's Point is home to a private tennis club nestled among Bermuda's lush vegetation. Here visitors can embark on an itinerary of internationally recognised tennis lessons with Cliff Drysdale Tennis to advance their game.
The property is also home to the scenic 18-hole Tucker's Point Golf Course, which offers undulating fairways and dramatic coastal views. The facility has a driving range and a vast practice green and short-game area, so you can perfect your play before you take on the challenging course.
Hamilton Princess & Beach Club
Lying on the beautiful Sinky Bay, a private cove on South Beach, is the Hamilton Princess' Beach Club. Set right beside the water, the facility has tennis courts and visitors can book private tennis lessons with professional James Collieson. The former Bermuda number one, he is the only Bermudian to have held an ATP World Ranking. You can also try your hand at Pickleball, a fast-paced racket game that is easy for all ages to have a go at.  
Home to the Bermuda Championship PGA Tour event, the Port Royal Golf Course is positioned on the most westerly point of the island. The immaculate 6,256-metre-long course – the longest in Bermuda – is favourite of the legendary Jack Nicklaus and has a famous 16th hole that overlooks a dramatic cliffside that falls away to the clear Atlantic Ocean.
The Hamilton Princess & Beach Club
The Hamilton Princess & Beach Club
The famed Port Royal Golf Course in Southampton
The famed Port Royal Golf Course in Southampton
Bars and restaurants
From typically Bermudian barefoot hangouts to effervescent fine-dining establishments, there is something for everyone in Bermuda's eclectic culinary scene. Home to a diverse range of influences – including Caribbean, African, British, Native American and Portuguese – the archipelago is experiencing a gastronomic revival, which is manifesting across its many bars and restaurants.
Surrounded by lush tropical foliage, Huckleberry is a luxurious and typically Bermudian restaurant housed in the Rosedon Hotel in the city of Hamilton. Set on the hotel's grand whitewashed porch on the garden terrace, Huckleberry has a sea- and farm-to-table philosophy with a creative menu, eminent service and exquisite backdrop. A tribute to Mark Twain, Huckleberry's menu draws inspiration from the author's Southern roots while staying true to island flavours. Alongside locally sourced organic produce and sustainable seafood, much of the vegetables, fruits, herbs and edible flowers are plucked from the restaurant's very own garden. Here, intricate Bermudian food is embellished with global influences and a natural bounty of fresh produce and seafood.
Located at the heart of the historic town of St. George's on the eastern end of the island, Wahoo's is a laid-back waterside spot for those in the know. Here at this buzzing bistro overlooking the glittering turquoise water, guests can enjoy indoor and patio dining and indulge in a variety of local culinary delights, including the award-winning Bermuda Fish Chowder, daily blackboard specials and homemade desserts.
Set overlooking Hamilton Harbour this sophisticated steakhouse is named after entrepreneur Harry Cox, with the menu reflecting his appreciation for fine-dining. Stop by the bar to sample Harry's Special Rum Blend or opt for Harry's Classic Meal, which includes Shrimp Cocktail and 10oz New York Strip Steak.
Some of the fare on offer at Huckleberry's
Some of the fare on offer at Huckleberry's
Woody's Sports Bar and Restaurant
Woody's Sports Bar and Restaurant is a must-visit for those venturing out to the West End or the Royal Naval Dockyard. Easily accessible by car, moped or tender, it's another "if you know, you know" destination that's hugely popular with locals and regular travellers to the area. Expect a warm welcome, lively banter and home-style island dishes. Make sure you order Woody's famous fresh fish sandwich made with raisin bread.
While there are several high-end cocktail spots peppered around the island, those after an authentic taster of true Bermudian aperitifs should make their way to its oldest and most famous pub – Swizzle Inn, housed in a 17th-century roadhouse in Bailey's Bay. It was here in 1932 that Bermuda's national drink, the Rum Swizzle, was concocted, using a potent mix of Gosling's rum and fruit juices, shaken until frothy and strained into a cocktail glass. This lively, low-key spot is the place to discover why the Rum Swizzle remains a firm favourite, among other delicious pub-style fare.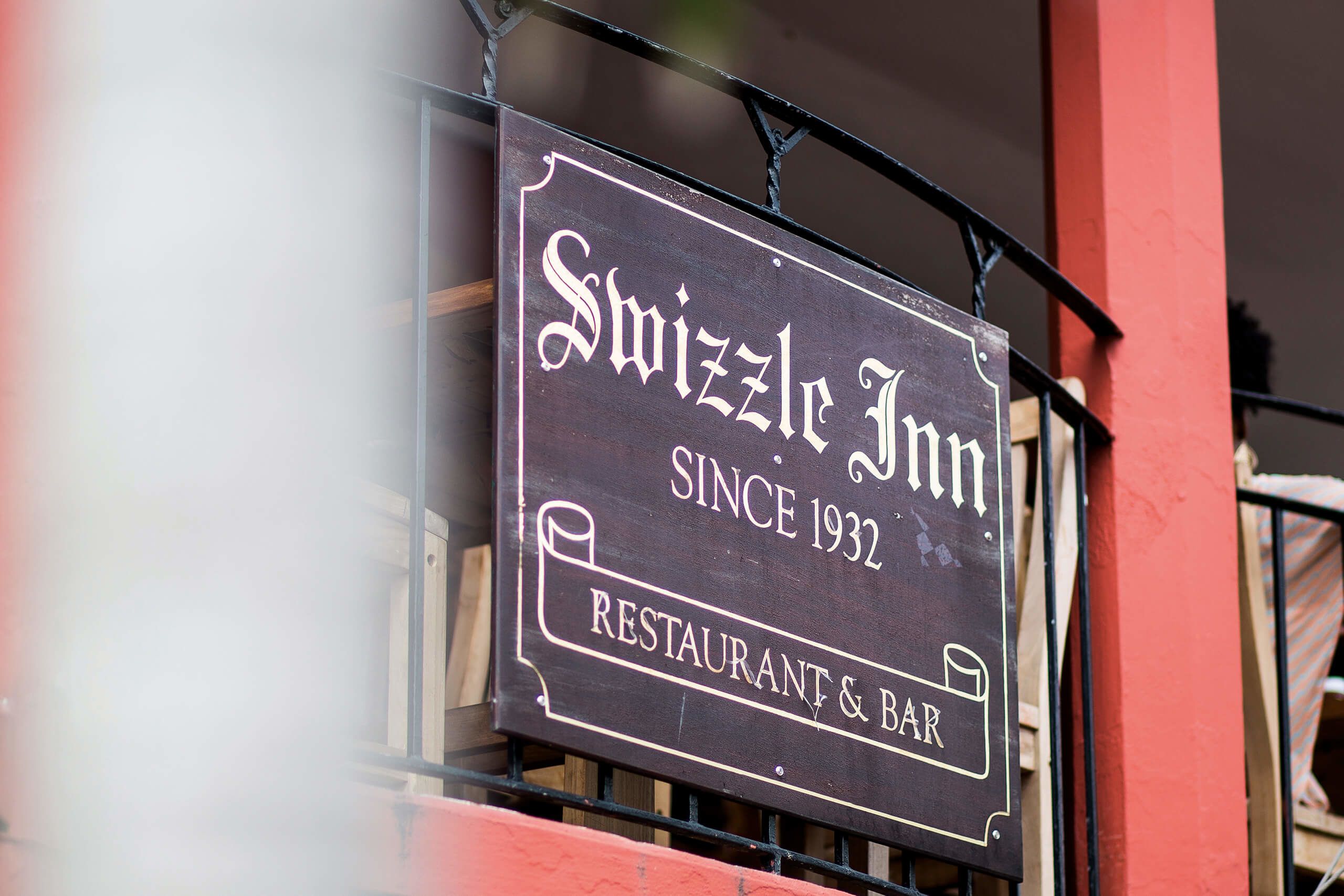 Shipwrecks
Bermuda's reef-laden shallows have more diveable shipwrecks per square nautical mile than anywhere else on the planet. There are more than 300 mysterious sunken treasure troves waiting to be explored, each with their own unique history. It's no wonder that Bermuda attracts snorkellers and divers from all around the world.
The Cristóbal Colón
Lying scattered across 9,300 square metres of the sea floor, this is the most expansive shipwreck in Bermuda's waters. Cristóbal Colón was a luxury liner of more than 10,000 gross tonnes and more than 150 metres LOA, she crashed into a coral reef just east of North Rock in 1936.
The King George
A fine choice for the inquisitive diver, this dredger that now lies on the sea floor is Bermuda's largest, fully intact wreck, offering hours of fascinating exploration of the ship's colossal fixtures and wealth of marine life.
Snorkelling the many shipwrecks and scuttled vessels that lie among Bermuda's coral reefs is a popular pastime
Snorkelling the many shipwrecks and scuttled vessels that lie among Bermuda's coral reefs is a popular pastime
Item 1 of 2
Sailing
While much of its vibrancy can be found along its shores, adrenaline-fuelled activities can also be found on Bermuda's turquoise waters. Widely considered a magnet for sailing enthusiasts, Bermuda's temperate climate, crystalline waters and calm sea-state make it a must for thalassophiles. It's also the destination of choice for a calendar of sailing events. Annapolis to Bermuda Ocean Race and the famed Newport Bermuda Race, both returning in 2024.
Those who wish to spend their days on the water can choose to island-hop around the archipelago or take private lessons to perfect their sailing skills. Several beaches are only accessible by boat, so those that spend their days on the waves can finish their day indulging in a picnic on a secluded stretch of powdery sand or soak up views of the island as the sun sets.
Conservation and marine life
With its glittering expanse of flawless waters, thriving reefs and long stretches of silky sand, Bermuda is passionate about protecting and maintaining its sublime environment. To this end, there are a series of sustainable plans and conservation initiatives that support the archipelago's surroundings and keep it thriving for years to come.
Living Reefs Foundation is the first organisation dedicated to the conservation of Bermuda's invaluable coral reefs. Thanks to a recent partnership with Rosewood Bermuda, the Coral Garden Workshops invite travellers to join the team on a snorkelling mission, planting coral for themselves and supporting the foundation's efforts to maintain and grow the archipelago's precious coral reef system.
Home to the rare species of fauna and flora on the eastern end of Bermuda, Nonsuch Island Nature Reserve is a shining example of ecological restoration. The project is on a mission to restore an entire ecosystem, with all of its associated plant and animal communities in their appropriate habitats. Having been underway for more than 50 years, the project is now home to many of the island's rarest and most endangered plant, animal and bird species.
Located in Southampton, Wadson's Farm is a 16-hectare farm that supplies many of the restaurants and grocers in Bermuda with fine organic produce. It has also pioneered various cropgrowing techniques and sustainable practices in Bermuda.
Above the water, there are gorgeous beaches like Horseshoe Bay
Above the water, there are gorgeous beaches like Horseshoe Bay
Item 1 of 2