LOVE AT FIRST SAIL
An owner's long-distance love affair with the schooner Athos
It started with instant attraction and became a labour of love for Athos's new owner, who reshaped the schooner into the ideal yacht for his around-the-world adventure. He tells Kate Lardy why she was "the one"
Sometimes, you simply know. "I just absolutely fell in love with her," the new owner of Athos says, recalling his first charter of the 62-metre schooner in Greece. He wasn't new to charter and had been holidaying on superyachts for nine years at that point, but mostly on motor yachts. He owned a powerboat as well, a 13-metre Magnum Marine that he kept in the South of France. Sailing was what made this charter special. 
"It felt like you're very much closer to the water. And I think the crew just love sailing, which really helps as well. It was a different experience and one that I wanted to take further and go on a proper adventure," says the owner, who describes himself as a little hyperactive. "I'm not good at just sitting and sipping gin and tonic or anything like that. I'm a bit more of an adventurer. I love diving, freediving, spearfishing and kite surfing. You name it, I like doing it."
Athos, like her new owner, is a doer, not a boat to sit in port looking pretty. She had already been around the world with Captain Tony Brookes, who has been on board since her 2010 launch. "When Tony was telling me the stories of where he'd been with the boat, I thought, 'That is absolutely what I want to do,'" the owner says.
OLIVER RILEY The enlarged guest cockpit can now seat up to 16 to dine
OLIVER RILEY The enlarged guest cockpit can now seat up to 16 to dine
He and his family have now sailed away on the yacht's second circumnavigation, but getting to this point wasn't straightforward. First the owner took her for a year-long charter, then, after the boat officially changed hands, there were 14 months at Huisfit, which transformed key guest and owner areas, crew operation and the vessel's overall look.
"I'd kept in touch with the captain, and when Covid-19 hit, I saw an opportunity to take a longer-term rental, so I took the boat for 12 months from the previous owner with an option to buy." 
By all accounts, it was a magical year. A particular highlight was spending time in Norway, which was less affected by the pandemic. With cruise ship travel temporarily halted, the winding waterways lay empty. "We were there alone," says Captain Brookes. "It was amazing. We didn't see any other boats of any description, except one other yacht." 
The year of charter solidified the soon-to-be-owner's initial impression that this was the boat to take him on a global adventure, but it wasn't perfect and he used his time on board to write his refit wish list. After the purchase, a summer in the Balearics refined the brief before Athos checked in to Huisfit in September 2021. 
Item 1 of 2
By choosing the Dutch facility, the owner was returning the yacht to her birthplace. She was launched at Holland Jachtbouw, whose Amsterdam yard was later leased to Royal Huisman for its dedicated refit division Huisfit. As such, many of the same workers who built Athos also worked on her refit. The owner also turned to the original designer and naval architect, Andre Hoek, to handle the redesign inside and out, as well as to manage the weight, stability and class calculations.
The first-hand expertise, access to the original build plans and a lengthy and comprehensive planning period meant this was a rare refit that didn't offer any unpleasant surprises. Other than a few items added to the to-do list along the way, Athos's refit progressed on schedule. The yacht re-emerged last November 1.25 metres longer and with major changes to her exterior and interior design, which are so seamlessly integrated into her classic style you might think she's always looked like this. 
Firstly, a new deckhouse replaces a crew companionway forward of the main mast. The navigation and secondary steering station was moved here from the main deckhouse, giving crew their own space and freeing up the main deckhouse for guest-only use. 
The owners plan to charter Athos in addition to exploring the world further themselves. Post-refit, there plenty more spots for relaxing on deck, a decision sure to please charterers
"It gives the crew a little bit more privacy, which I think is really important, and also allowed us to turn that (deckhouse) into a great entertaining space that I think we will really use as a family," the owner says. 
The original deckhouse also had a large dining table behind the nav station that no one used, according to the owner, and a multi-level floor with raised social areas to port and starboard. The new layout by Peter Mikic Interiors, which worked alongside Hoek on this deckhouse's redesign and did all the new decor, is raised to one level that revolves entirely around guests. An elegant white marble-topped sit-down bar takes the place of a steward station in one corner; light upholstered sofas hug the room's edges under tiger mahogany-trimmed windows, and a pair of sheepskin armchairs cosy up to marble coffee tables. The overall effect is lighter and brighter, less utilitarian and far more sociable. 
Just outside is a larger dining table able to seat 12 – or 16 with an extension leaf – which negates the need for additional dining inside. The refit widened and lengthened this main cockpit to accommodate the table and make it easier for crew to serve here. The massive helm lies just behind the head of the table, flanked by two new teak steering consoles that gleam under 11 coats of fresh varnish. Both boast the latest touchscreen tech to manage the navigation and operational functions.
Item 1 of 3
Further aft is the owner's private domain. His cockpit and deckhouse, both reconfigured and renewed, lead to a new, longer aft deck for him and his wife to sit on cushions and watch the sun dip into the ocean. The entire stern was reshaped to give them more deck space and improve the aesthetics. "I think she just looks prettier. And also obviously, from our perspective, we've got another 1.25 metres of space for enjoying the outside," the owner says.
Optimising the deck for guests was one of his priorities, as Athos will charter as she voyages around the world. "We wanted more space to sunbathe and for people to be able to enjoy the space," the owner says. "So we've created a lot of sun areas with lovely big cushions. From a chartering perspective, we thought that was key."
Below deck, the biggest change is to the owner's cabin, which was gutted. Hoek redrew it from scratch to reposition the bed and incorporate his-and-hers en suites, plus a walk-in wardrobe and seating area. "The whole layout is completely different and improved quite a bit," Hoek says. Soft carpeting now blankets the floor, a new porthole brings in more light and a soundproof door closes off the cabin from the deckhouse above, which houses an office. 
The first-hand expertise, access to the original build plans and a lengthy and comprehensive planning period meant this was a rare refit that didn't offer any unpleasant surprises
The refit didn't touch the four guest cabins just forward quite so dramatically. "We wanted to get more light into two of the cabins, which we did with prisms," the owner says. Inserted into the deck, these reflect light down into the interior. Removing a dayhead made room for a queen berth and more floor space in one cabin, but otherwise each retains its layout and its original, distinct joinery – cherry, pear, maple or anigre – but complemented with new fabrics. Amidships, a new bulkhead divides the galley and the lower saloon, again separating the crew and guest functions. This allowed for a steward station on the galley side that keeps interior crew out of the chef's way. Replacing the black Silestone work surfaces with white Corian has brightened the galley, which is naturally lit from above with a cathedral effect from the
large barrel-shaped hatch. 
On the other side of the bulkhead is the media room, with new everything: "new flooring, new upholstery, new layout of the sofas, new lighting, blinds, decoration…" says the captain. Bookshelves that replaced a faux fireplace are lined with a tempting collection of Lonely Planet travel guides.
Timing all these changes to get Athos relaunched in just over a year took careful planning and coordination. "For example, the modifications to the owner's cabin and guest cabin could not begin until the new stern was welded into place. It was the same with the crew deckhouse and galley changes," says Stefan Coronel, Huisfit's refit manager.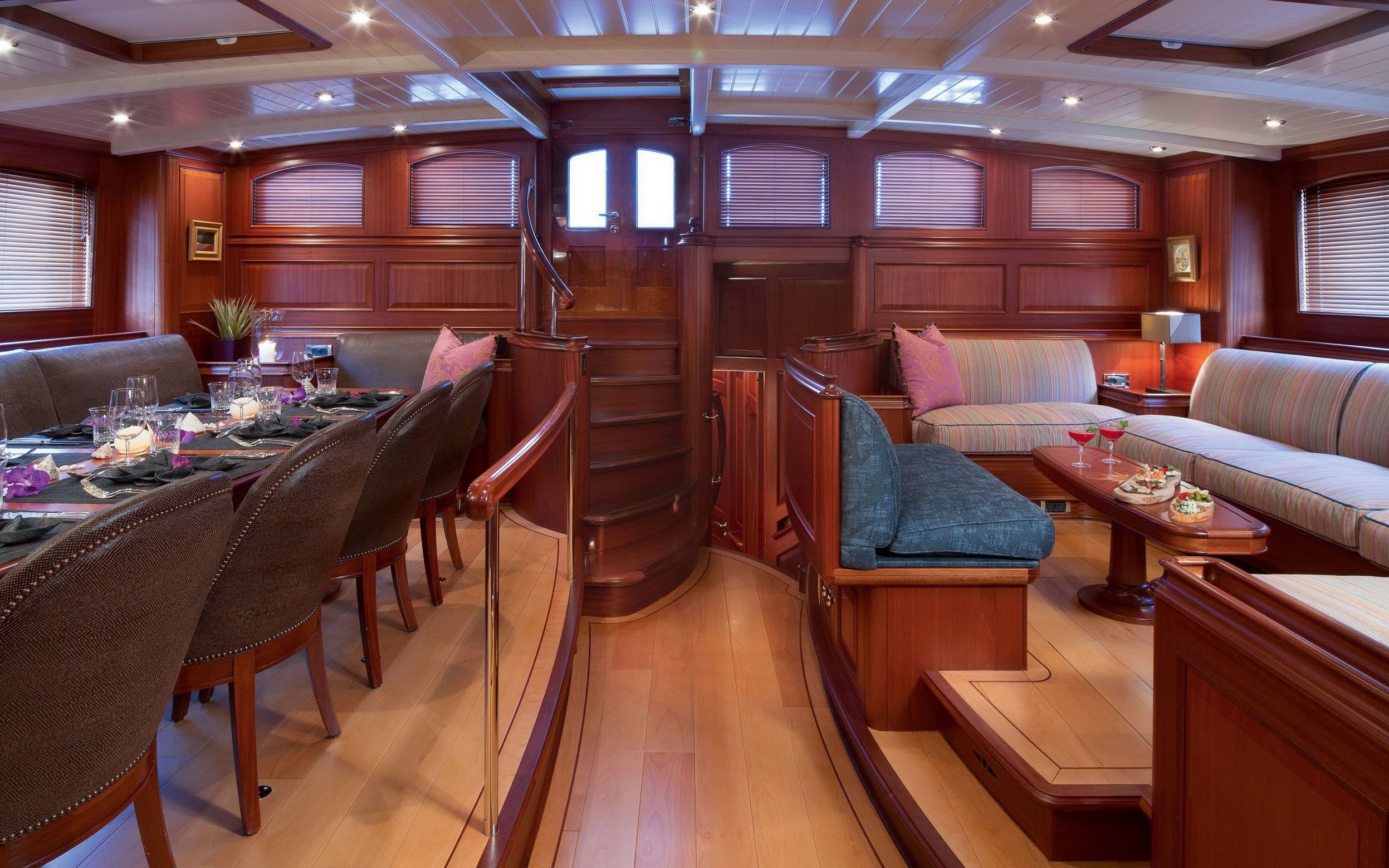 Item 1 of 3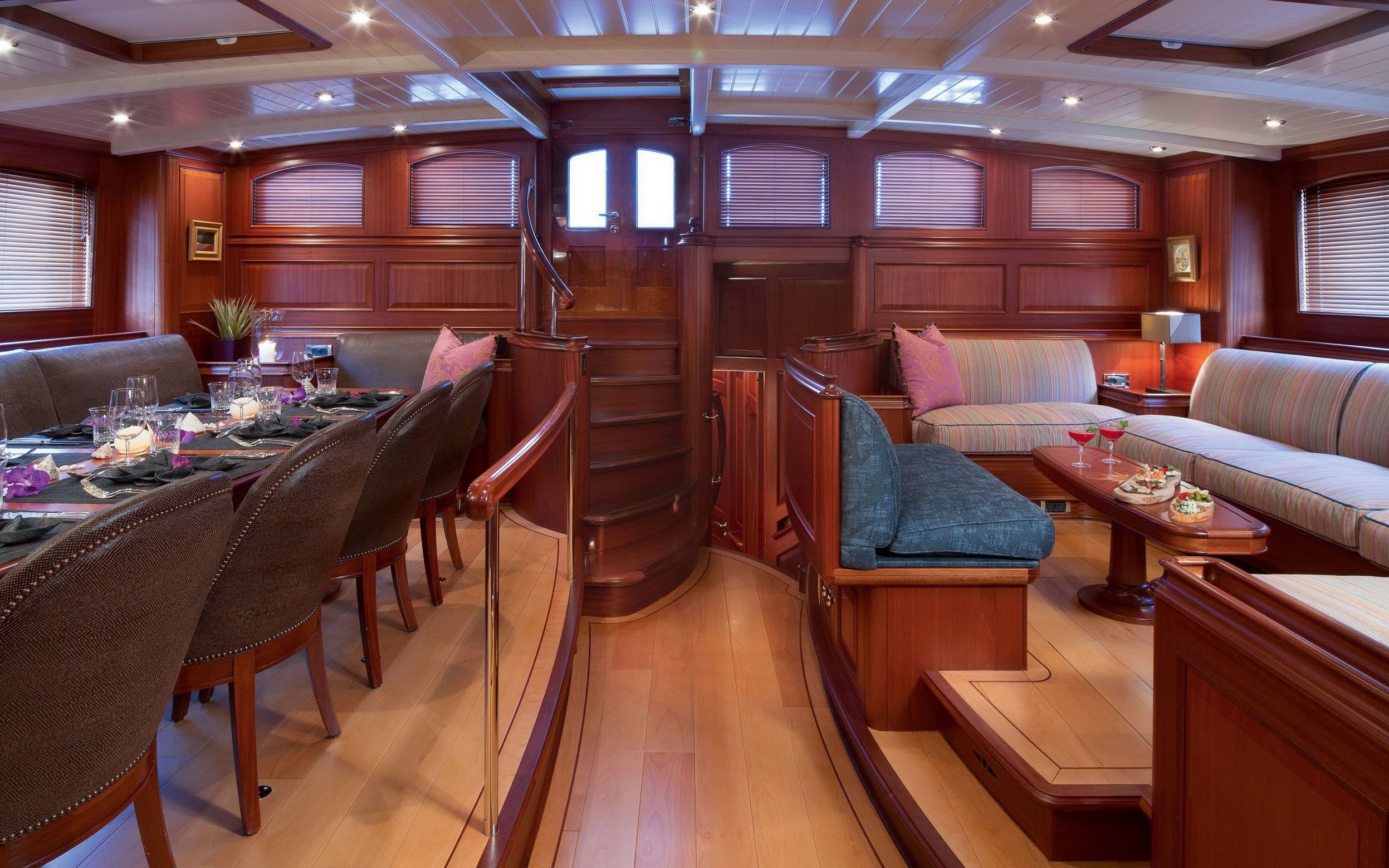 Back on deck there's something else that greatly changed Athos's look – new booms. The 27-metre-long spars are much more slender than the originals. "They had awnings that were intrinsic to the booms, which increased their actual size by about 80 per cent," says Captain Brookes, who has stayed on with the new owner, along with six of his nine crew. 
The consensus all around is the boat looks a lot better now. "We never really liked the booms aesthetically, because they were just so big," Hoek says. "The new booms look a lot better in proportion." The owner, who also opted for new sails, calls them one of the refit's biggest successes. "Southern Spars and North Sails worked really hard together to make that work for us," he says. 
New rigging completes the transformation. "We used to have PBO, but it's been found to not have very much longevity in it. So after 10 years, we changed it out and it's all carbon now," Brookes says. 
Below the waterline are the improvements the captain is most interested in – "the ones that made the boat faster", he says. "We used to have a forward-looking sonar, which was basically a concave dustbin lid facing forward for detecting things like icebergs and containers, which the original owner wanted to put on because he was in shipping and knows how many containers get dropped over the side by boats. We never saw one and it never detected one." Brookes adds that its removal has made the boat quieter too. "There was more cavitation and chatter before and now it's silent. It's amazing the difference."
The new crew deckhouse is visible as Athos pulls out of her shed at Huisfit. It contains a navigation station and a secondary steering station as well as a sofa that converts to a spare crew bunk. The design of the new deckhouse improved the flow of the engine room ventilation system and reduced the subsequent noise considerably, says the yard. Athos also benefits from a new alarm and monitoring system with one-click diagnostic assistance from the shipyard should anything go wrong.
Item 1 of 3
"I've done everything from nine months to four years around the world. The only truism is the longer you take, the better it is"
There also used to be a stern anchor that dropped out of a hydraulic pocket. "But having done a circumnavigation in the boat and never having used it once, we decided that was probably unnecessary," the captain says. "So we got rid of that. It also improved our lines and has made us faster."
How fast exactly was not yet determined when we spoke to Captain Brookes and the owner soon after the yacht arrived in the Bahamas following the post-refit transatlantic. Speed was never a refit priority but the owner, who now has his Yachtmaster certificate, has a new interest in racing "for a bit of fun".
For now, he and his family are taking it slow, drawing on their captain's experience of traversing the globe six times in his 42-year career. "I've done everything from nine months around the world to four years around the world, and I think the only truism of the whole lot is the longer you take, the better it is," Brookes says. 
The renewed Athos's next voyage might prove to be Brookes' longest circumnavigation yet. "Maybe five, six years," the owner says. "It might even be longer. Tony keeps telling me about places in the Pacific that I've never heard of. And I'm like, I want to go there as well. I keep adding months and months on." It seems he's found an enduring love.  
First published in the June 2023 issue of BOAT International. Get this magazine sent straight to your door, or subscribe and never miss an issue.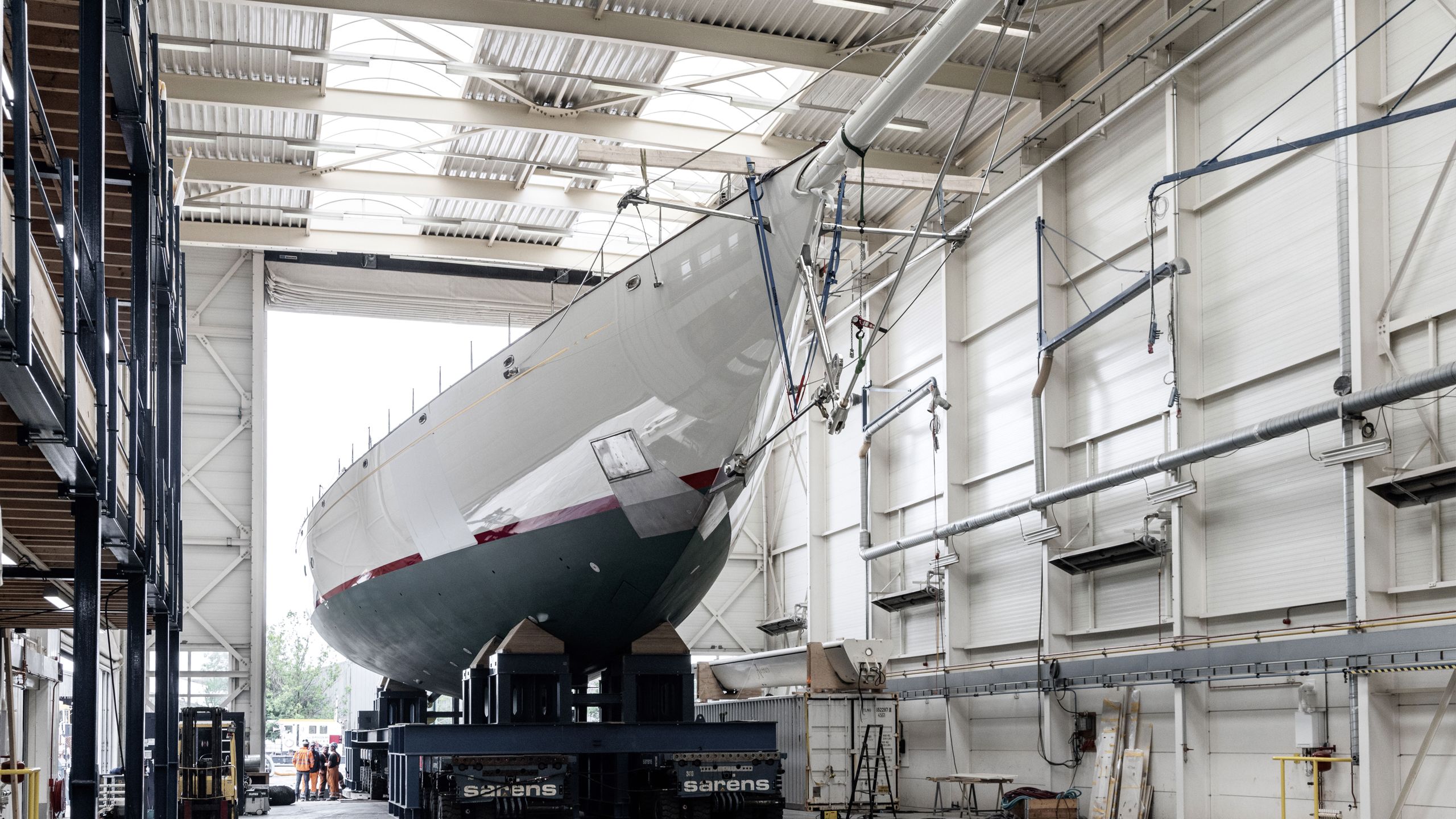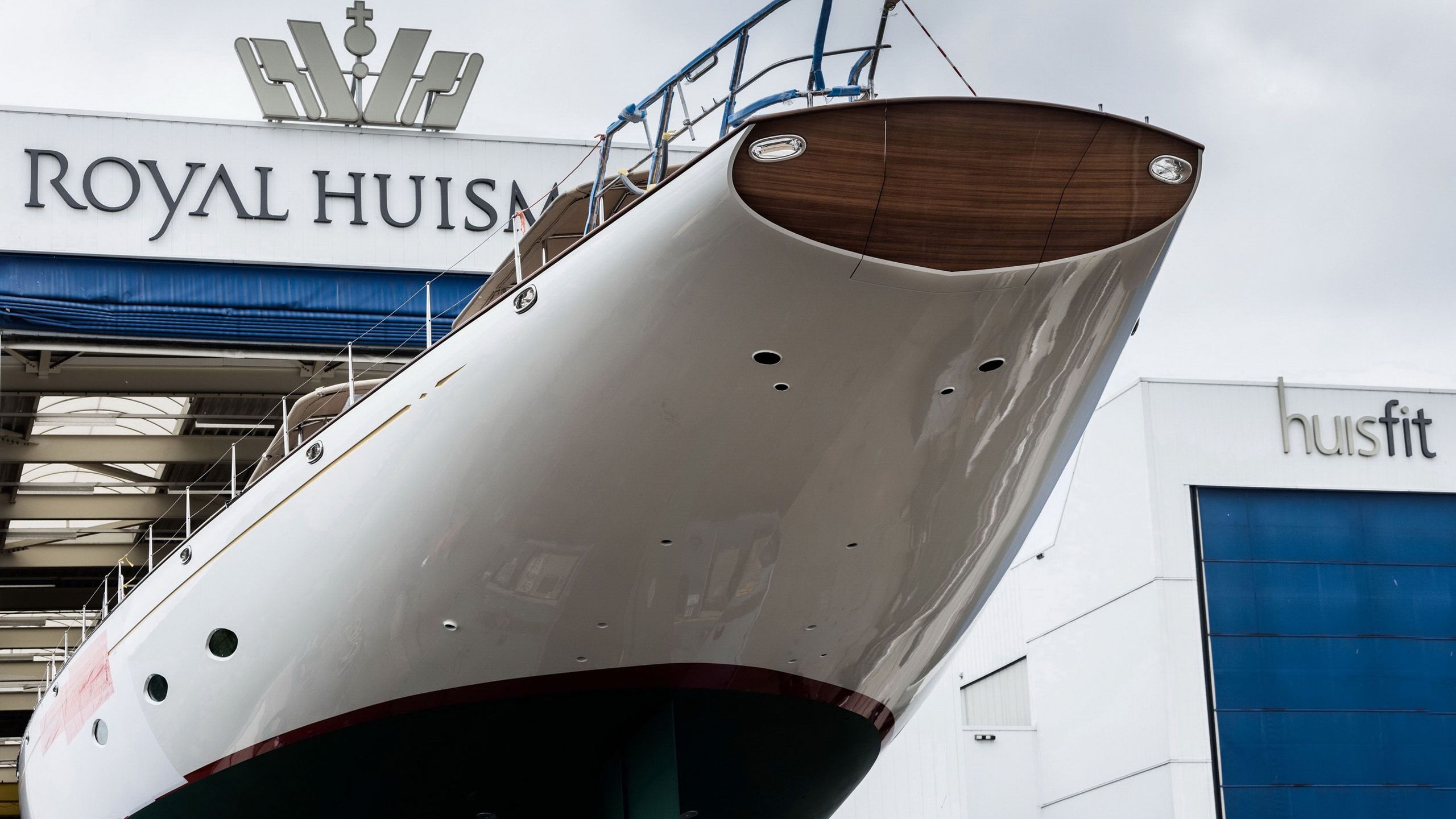 Item 1 of 2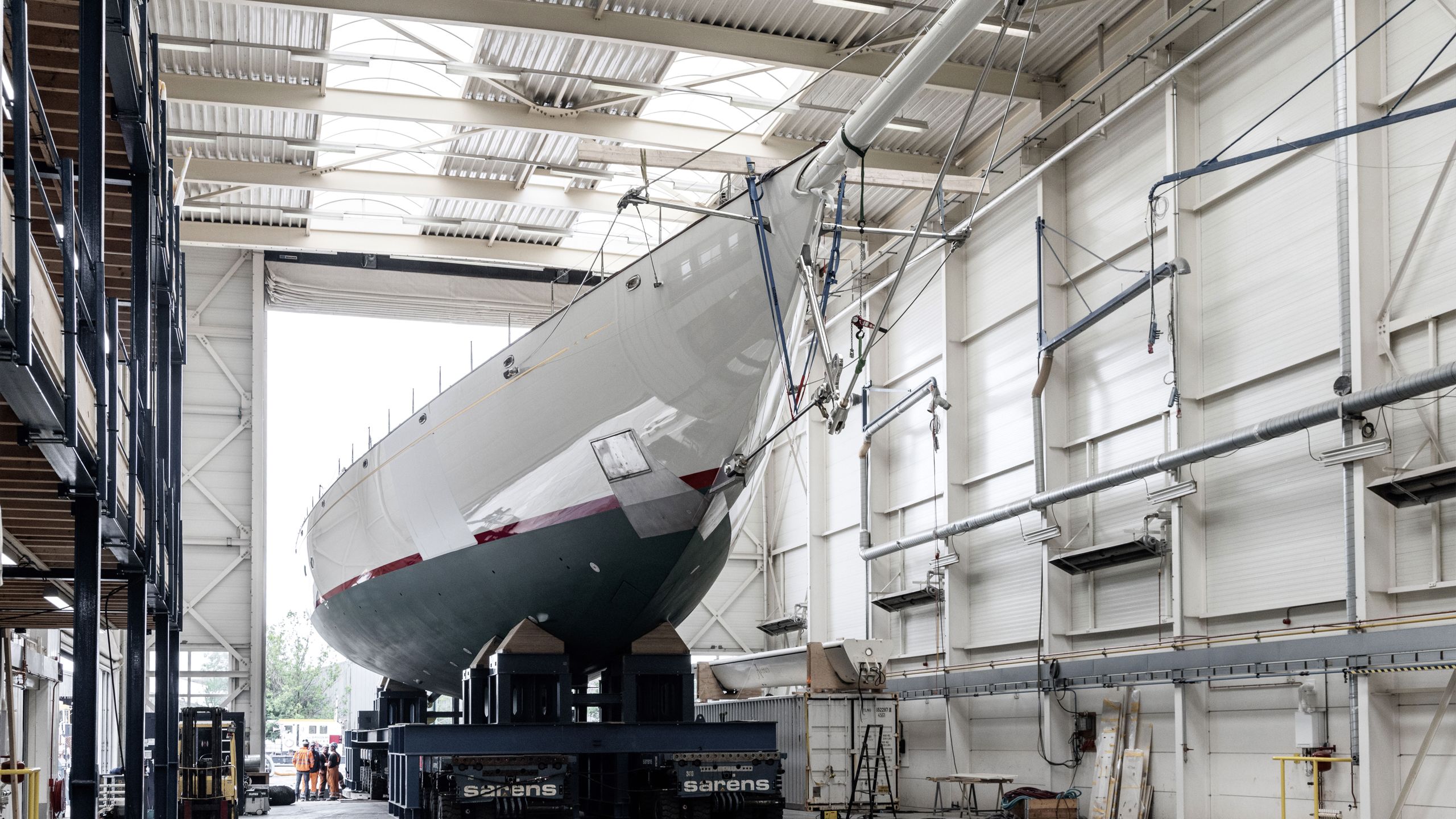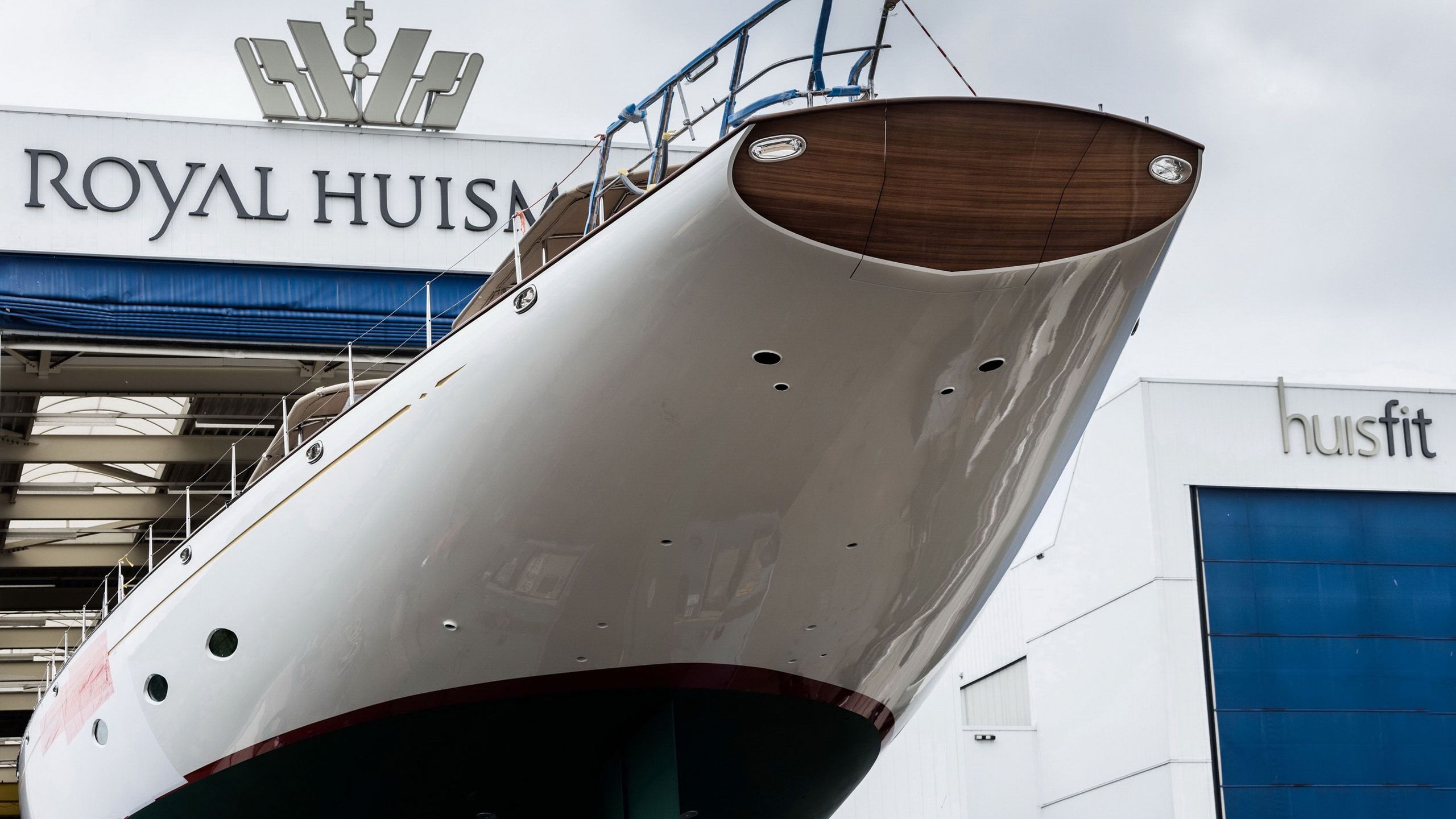 Athos is fitted with 200hp swing bow and stern thrusters

A deckhouse replaced the old crew companionway

The new main saloon with sit-down bar is for guests only

An extension leaf means 16 can dine in the open air

The owner's deckhouse is a private saloon with desk and television
The bulkhead built to separate crew and guests created a new stew station

Removing a dayhead from the port aft guest cabin made room for a queen berth