HIGHER PLANE
On board the 2023 World Superyacht Awards' Motor Yacht of the Year 75m Kenshō
Years of research, a curious mind, a professional team and a couple of newcomers to the world of yachting have produced Kenshō, a yacht Sam Fortescue discovers under the Tuscan sun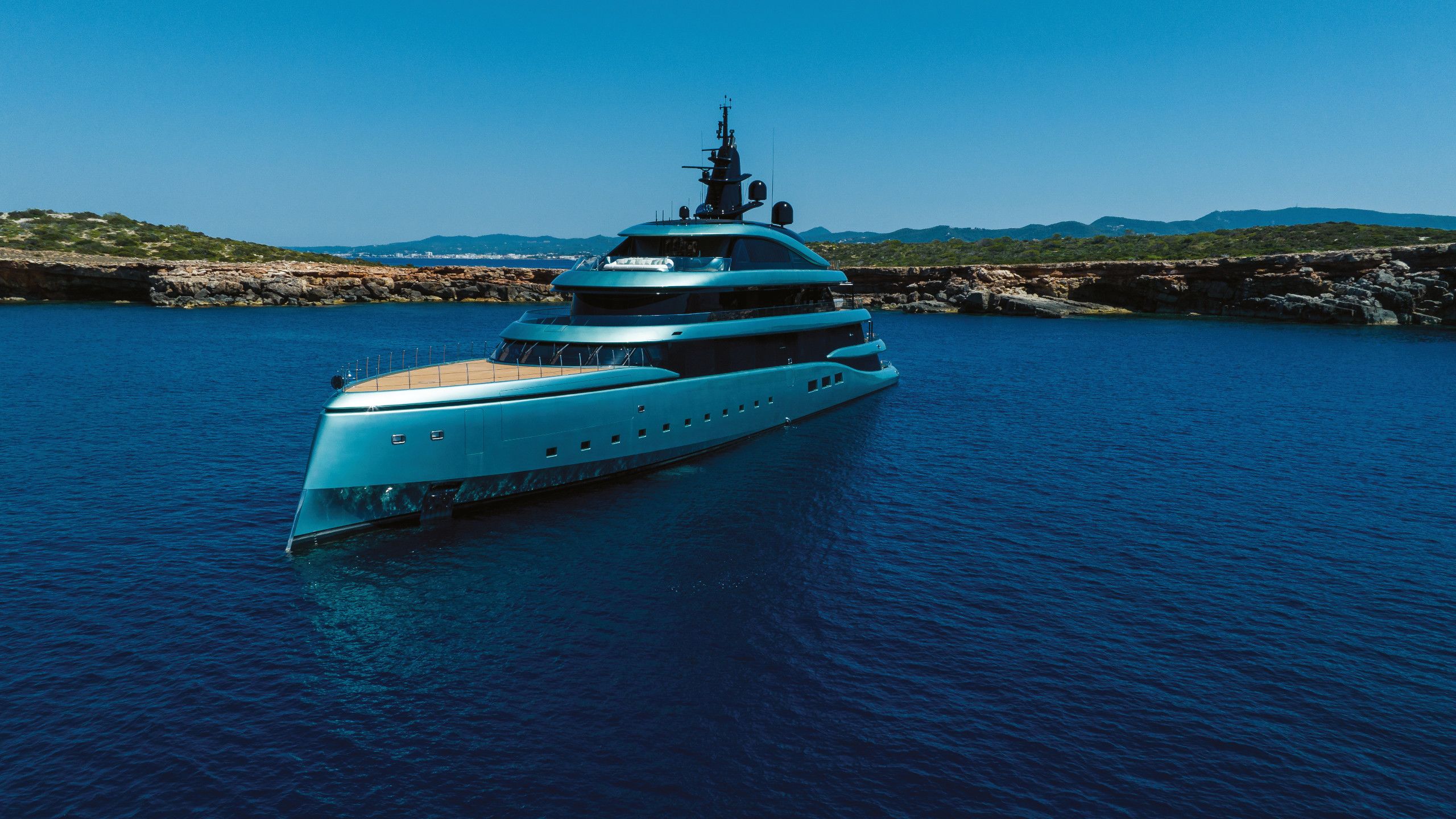 Gleaming in the golden light of a Tuscan evening, there is absolutely no mistaking the boat I have travelled so far to see.
A much larger 140 metre Lürssen nearby should dominate the view at The Italian Sea Group's (TISG) shipyard in Carrara, but the eye is instantly drawn to the flowing lines and metallic blue-green hull of Kenshō lying quietly in her shadow. It is apparent before I even step aboard that this is not a normal yacht.
Don't think for a second that Kenshō is small. She measures just over 75 metres from stern to slightly bulbous reverse bow, filling 1,989 gross tonnes. She is the most significant launch to date for the ambitious TISG.
Kenshō was awarded the Neptune for Motor Yacht of the Year at the World Superyacht Awards 2023
To understand what this boat is really about,
you have to step aboard
While no such project can be successfully launched without efficient collaboration between many parties, Kenshō was an owner-driven project. His relentless questioning of the status quo and smart design work mean that all four of her guest decks are entirely given over to accommodation, with all the technical space fitted onto the tank deck. She offers seven guest cabins – two that can also be used for staff – and a vast owner's suite, leaving room for 23 crew.
But these are all just numbers. To understand what this boat is really about, how she took six years to create, and why her hyper-engaged owner chose to name her with the Japanese word meaning "seeing one's true nature", you have to step aboard. And step back in time to 2016, when the foundations for this project were laid.
"The owner was involved throughout, probing for better solutions, pushing for a yes when the first answer was no"
It began with a relentless programme of yacht visits by the owner and his broker, Will Christie, who sold the yacht when he worked for Y.CO, but has since set up Christie Yachts. Together, they saw perhaps 100 of the world's great boats.
"I investigated many landmark motor yachts to find out what they did better than others," remembers the owner. "Will and I even measured the interior dimensions of every area of these yachts with a digital tape measure, which caused more than one surprised face from the crews over the years. They thought we were on some kind of industrial espionage mission, but we learned a lot through this process."
Item 1 of 2
It allowed him to build up a picture of what he prized in a boat: high deckheads and minimal side decks; efficient interaction between crew and guests; large, calming volumes; and no main saloon.  It brought him to the understanding that nothing yet afloat would do.
"I wanted to do something really new, something better from my point of view, and I knew that would be possible only with a radical and disruptive move."
It took time to assemble the team that would create this disruptive yacht. First came the experienced designers at Dutch design and naval architecture firm Azure, who, in concert with Berlin-based archineers.berlin, penned the exterior of the  boat.
"We approached this project from the inside out, as we optimised the layout for maximum guest spaces, great views and a standard 2.7-metre ceiling height," says Azure's director Onne Logger. "The overall shape started as a monolithic solid shape, which looks like it is shaped by the forces of the sea – making it look dynamic and smooth."
The trick was to disguise the physical height of the boat, created by those incredible deckhead clearances inside.
And to achieve that, Azure and archineers.berlin drew lines that seem to rise from the aft deck up towards the bow, defying the standard wedding cake geometry. Holger Schulze-Seeger, founder of archineers, describes how the bulwarks or "ribs" help to make the boat look lower.  
"The top of the aft part of these ribs is always higher than it is forward," he says. "It's like an asymmetrical arrow, developed over months to create a streamlined design. It reminds you of an element of something that is living, organic."
Side rails are in glass, with no side walkways on the main deck where the superstructure stretches across the full beam.
"On most yachts they use main deck side decks for crew access, but we concluded that these took up a huge amount of valuable real estate that could be used for guest cabins with fantastic views from large windows," the owner explains. He also eschewed the standard choice of a formal saloon aft, choosing instead to put the only internal dining space here.
Jouin Manku was retained to design the detail of the interiors. Like archineers, this would be the Paris studio's first yacht project, but its approach of creating homogeneous spaces that favoured extraordinary experiences won over the owner.
"He thought there were lots of good things in architectural design that could be brought into yacht design to achieve something really special," says Christie. "He found the yachting industry was really conservative."
Item 1 of 3
The forward half of the main deck superstructure is occupied by the four rooms that constitute the owner's suite: cabin, bathroom, a palatial dressing room and a private living room. The dimensions are breathtaking with the full 12.8-metre beam coming into play and very large windows seeming to frame the views on either side.
Teak cabinetry, woven metal panels encased in glass, a louvre-effect leather ceiling and sliding doors all work harmoniously together to create a deeply relaxing space with a delicate Asian feel to it.
The centrepiece of the owner's en suite is a bathtub carved out of a solid block of Carrara marble that features dramatic veins
But chief among the many feats of artisanal design is the bath, sculpted from a solid block of deep white Carrara marble with grey-blue veins. Its creation was a journey in its own right, according to Sanjit Manku.
"At first, the stone was to come from Iran – onyx. But something was not quite right. At a certain point, we asked why are we looking around the world, when we're in the historically most significant place for stone since the dawn of time? Something had been winking at us since those early drawings."
They scoured the local stone yards for something suitable, until they found a block that the yard's owner had been saving for his son to realise a career-defining project.
"It had big, beautiful veins running through it like Japanese calligraphy," says Manku. "They haven't found any blocks like that for a couple of generations, but we managed to persuade the [yard's] owner that we were the project he was waiting for."  
The edge of the bath is as soft as a baby's skin,  he says. "Every day you're going to caress it, and you're not going to know why."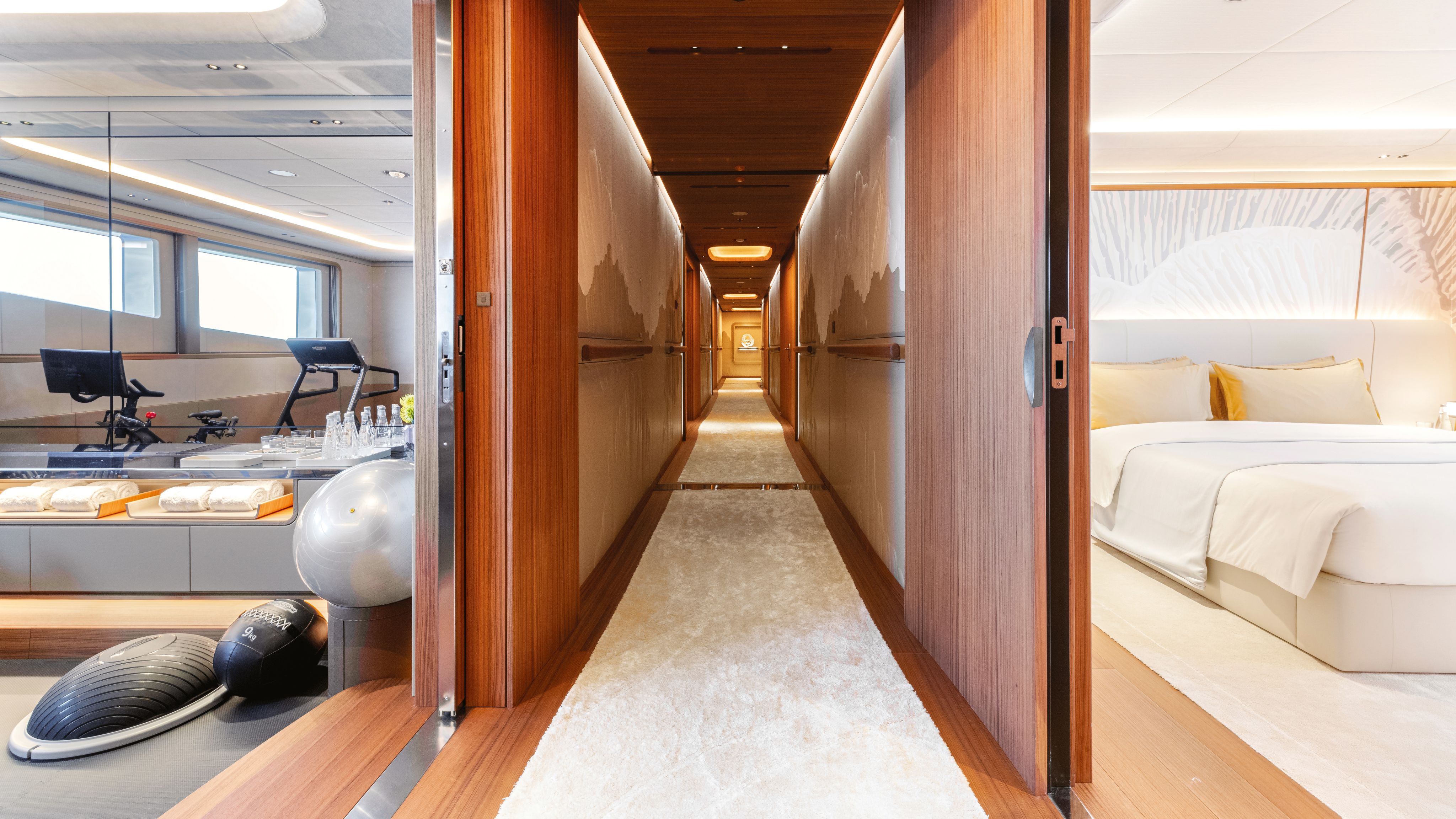 Corridors get short shrift on Kenshō.  Wherever possible, rooms connect directly to eliminate what the owner sees as wasted space. This is especially true in crew and technical areas on the lower deck.
"As a result, we have enormous guest areas, which result in guest interior spaces and cabins more akin to boats in the 90-metre-plus size range," says the owner. "I'm sure we have the only owner's deck with zero wasted corridor space."
Item 1 of 2
That said, there are connecting spaces on this boat. A corridor links the five guest cabins on the lower deck, while the 85-square-metre living room area that fills the forward section of the upper deck is linked to the aft saloon via a gallery showcasing works of art.
Jouin Manku has used the same palette of soft, natural tones in leather and teak, glass and metal throughout the boat. It is built up of layer upon layer of detail.
"It's a little bit inspired by the notion of Samurai armour," says Manku. "You had six or seven layers, with steel on the outside that protected you. Then it's leather, wool, cotton and the last thing to touch your body was silk.  As you get closer to intimacy, you've got a finer material; closer to your relationship with the outside world, you get to metal."
Item 1 of 5
Elements such as the door handles and the paintings on the silk wall panels in the heads change according to which deck you're on. Lower down, the handles resemble coral cast in brass, with jellyfish painted on the walls. Progressing up to the main deck, between sea and air, it's leather handles and painted trees with flamingos; then above that, stone handles (hewn from mountains) and swooping swifts. The lift features buttons in mother-of-pearl.
Numerous small reminders connect the boat  back to its briny environment. There are the stylised glass and steel storm lanterns on the upper deck, and the relief on ceilings resembles the depth contours found on marine charts. Even the woven metal mesh used to add a flash of gold to wall panels throughout the boat is encased in sheets of glass, which are irregular with wave patterns.
"It's not just that the materials come from the seven capitals of the universe," says Manku drily. "It's got to be authentic. Every project we do, people come to us because we use 80 per cent normal things, then 20 per cent we invent incredible things."
Item 1 of 3
An interesting quirk of Kenshō's design means that the bright owner's cabin on the main deck purposely has no view ahead because the wheelhouse has been positioned forward of the owner's quarters. The pay-off for this design choice is immediately obvious above, where the upper deck's forward living room enjoys 270-degree views. In fact, if you factor in the broad, unobstructed sight lines aft through the saloon, every point of the compass is visible from here.
Step out onto the open space on the upper aft deck, and the sensation is even more pronounced. "On Kenshō, we tried to create a sailing yacht feeling for the aft deck lounge areas on every deck," explains the owner. "The full glass and open railings allow views in every direction while we have a radical design solution for the outside sofas with no aft backrests."
Item 1 of 3
At each step, the owner and his team have sought to eliminate the duplication of functions. So, the aft decks provide a pool, social seating, dining and party space as you progress up to the sundeck. The pool is located on the lower deck, right by the water dominating the beach club. And the sundeck has been carefully laid out to create different social spaces.
Forward, there is a cosy round table for two or three to eat an intimate meal together. Here also is an integrated spa pool with cut-away glass side and a large sunbed, with a shape inspired by a manta ray. Aft past the lift, the deck opens out to provide sinuous seating, an oval dining table and a relaxed sofa area.
All this is under the shell-like expanse of the 3.4-metre-high domed hardtop, which has been hand painted inside and artfully lit. All the furniture is loose and can be removed to turn the deck into a VIP party space.  A DJ-quality sound system, which includes speakers built into the awning poles, can bring it to life with 120dB of noise.
"People come to us because we use 80 per cent normal things, then 20 per cent we invent incredible things"
With the wealth of unusual finishes and the Zen-like effect they combine to create, it would be easy to forget that the yacht is far more than an architectural project.
Underneath Kenshō's impressive skin lurks a smart 2,850kW propulsion system, which earns the boat its Eco classification. The diesel-electric system is based on five variable-speed generators totalling 3.5MW and a pair of Veth azimuth drives hooked up to permanent-magnet Danfoss motors. It is a supremely flexible system that seamlessly switches between any combination of the three large and two small generators to provide the required energy for hotel load and propulsion. There's no shaft drive to accommodate and therefore less noise and vibration to manage, while all the hardware can be tucked away on the tank deck. All this brings a 13-knot cruising speed.
"We've had lots of interest from superyacht industry colleagues as several more are already in-build," says Stuart King, director of Technical Marine UK, which acted as the owner's technical manager and surveyor. "The casing and ventilation space was restricted, which we resolved by very significant forced air cooling in the generator room. Additionally on the tank deck there is a fully class-approved battery room, and the system is fully ready to incorporate silent running batteries for the future."
Here again, the owner was involved throughout, probing for better solutions, pushing for a "yes", when the first answer was "no". "Bringing in people who didn't necessarily look at everything with the same yachting goggles on," is how Christie sums it up. Kenshō stands as testimony to the success of that approach – a yacht, the owner hopes, that might inspire others.
The pride is evident when I visit the build team at TISG. The yard made waves with its previous big yacht launch, Geco, but Kenshō is an important milestone. The builder owns interior company Celi, which does about 30 per cent of its work for TISG. It handled part of the interior of Kenshō, the joinery and quartz work on the library steps, for instance. The yard also works with universities to develop new ideas around propulsion and materials, says the group's founder and CEO Giovanni Costantino.
"We confirmed our know-how and specific competencies in the construction of megayachts with  such innovation and beauty," he says. "Working on this masterpiece full of detail and research has been a wonderful experience for all of us."
It is a pride shared by the owner, but there is something more besides delight that he has succeeded with exactly the boat he wanted – his vision of true self.
"Kenshō is a life and natural discovery platform," he finishes. "The 75 metre Kenshō concept provides us with perfect spaces while guaranteeing the intended sailing boat-like experience of nature."
Kenshō is offered for charter with Y.CO starting from €850,000 per week.
First published in the October 2022 issue of BOAT International. Get the magazine sent straight to your door, or subscribe and never miss an issue.