"Well, you can't just buy a piece of the moon," says Paul Costerus, senior yacht designer and partner at Sinot Yacht Architecture & Design, matter of factly. "The pieces brought back by the Apollo missions are owned by federal governments. What you can buy are moon meteors…" You might not expect a conversation about a Heesen to begin with buying pieces of the moon to decorate a coffee table, but this is a yacht with plenty of eccentricities, a staggering level of customisation, and a design and build team who achieved it all with the same unflappable pragmatism that Costerus displays.
In addition to the lazarette tender garage, there is further tender and toy storage behind the main deck shell doors, which have been described as "like a bird's wing". All three tenders are from Boston Whaler
Aside from its successful range of five 50-metre-plus series platforms, Heesen offers two custom approaches: clients can start from a blank sheet of paper, or they can start from one of the Dutch yard's concept designs. Ceres is one such design – a new steel 60 metre with a Van Oossanen Fast-Displacement Hull Form. It appealed to one Middle Eastern client, and the process of fashioning the concept into his own vision began. The yard design team and Frank Laupman, founder of Omega Architects, together reviewed the exterior and layout in detail, effectively redesigning the whole vessel.
Perfectly positioned to work these changes into stylish exterior lines, Laupman had a long-standing relationship with the yard. Laupman studied architecture and city planning at Eindhoven University of Technology and developed his industrial design expertise in different managerial positions. He guest-lectures at the Delft University of Technology. 
His relationship with yachts started with Heesen's pelican-beaked bows such as those of 50-metre Satori and 37-metre Lady Ingeborg in the early 2000s, moving on to a different approach a decade later with aluminium fast-displacement 65-metre Galactica Star and, later, fuel-efficient hybrid Home. Yet another reinvention wasn't such a stretch. For the interior, Sinot Yacht Architecture & Design got involved at the suggestion of the yard and the team was complete.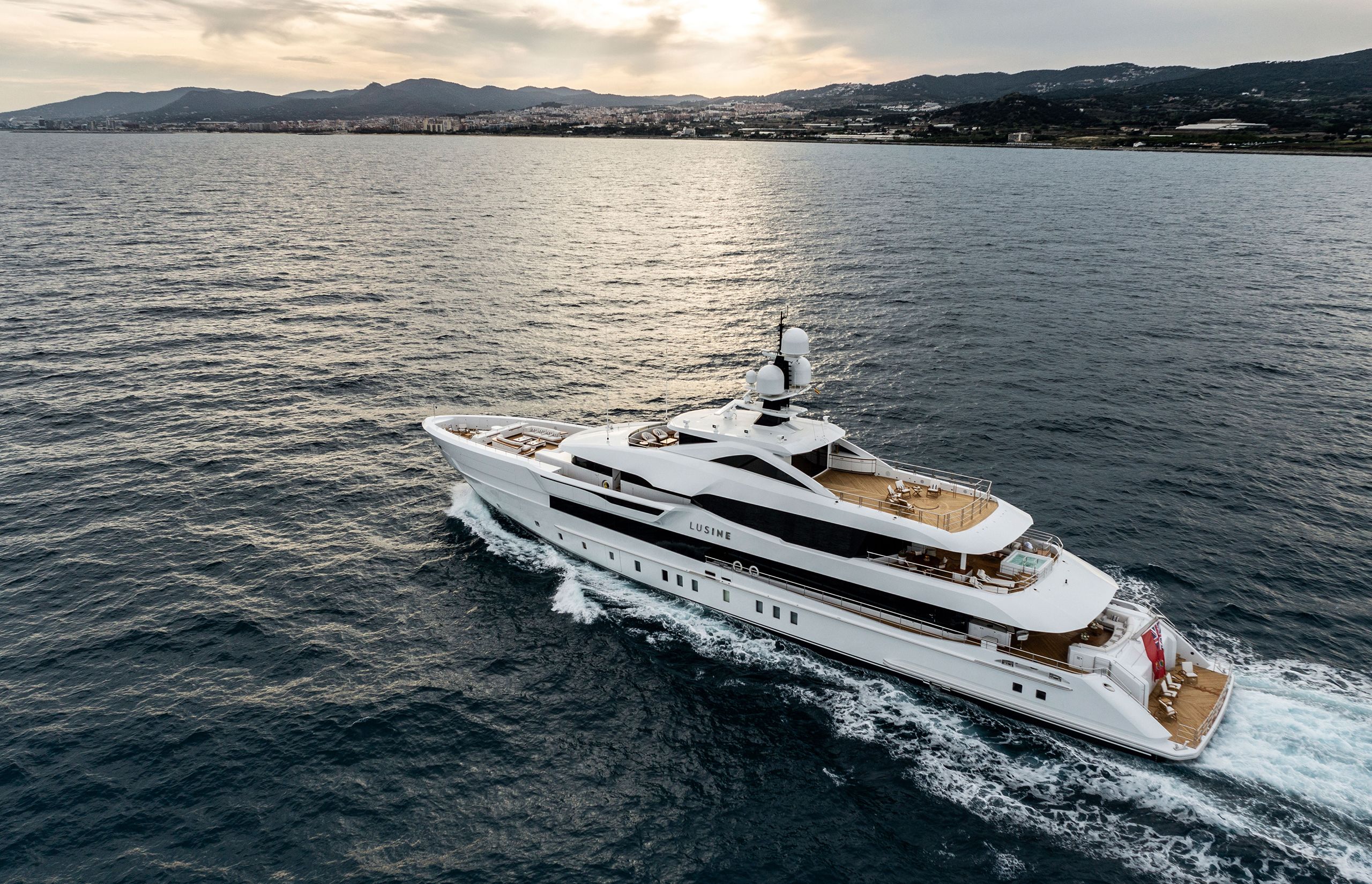 Item 1 of 5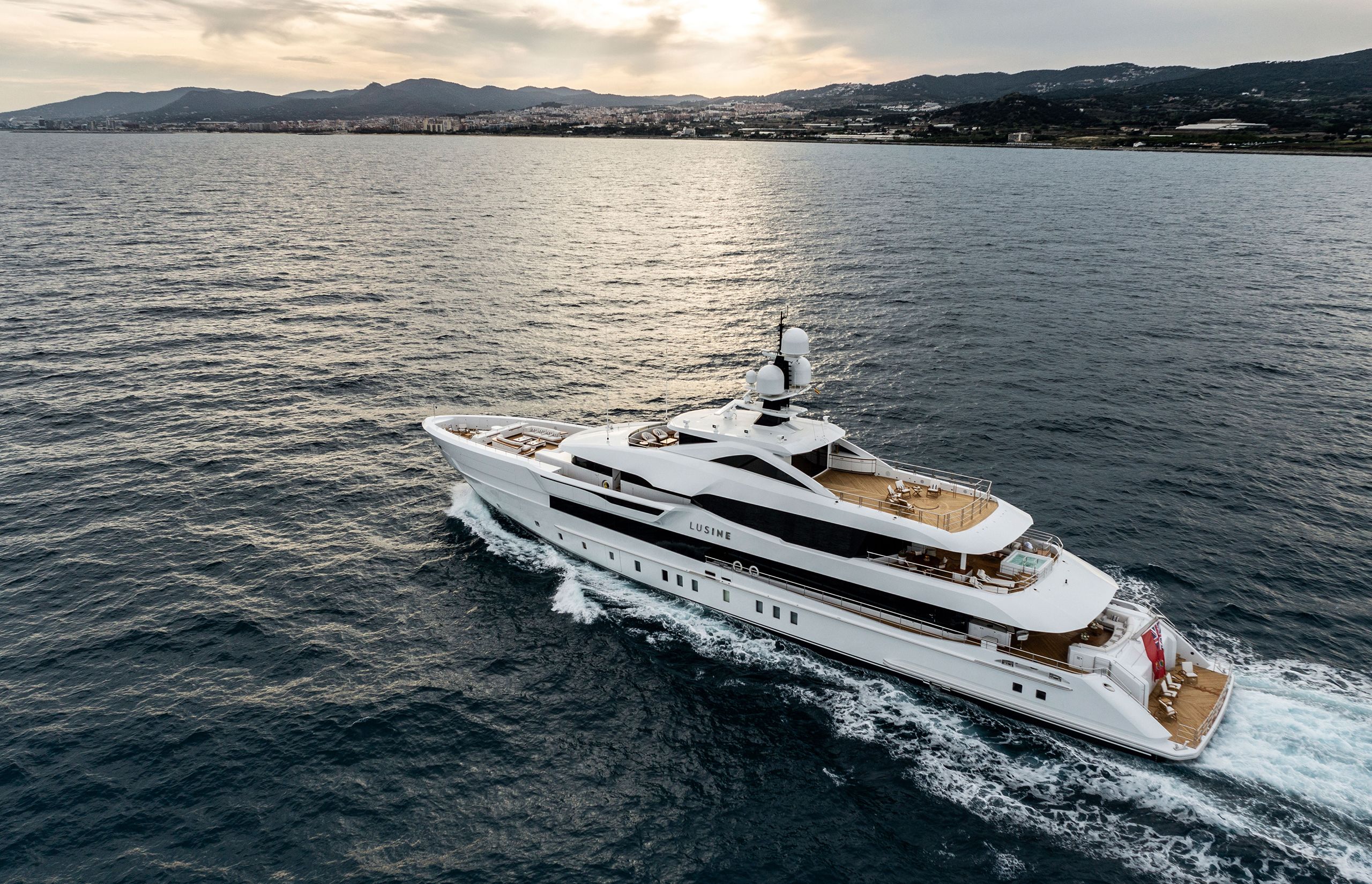 The sundeck's touch-and-go helipad features a crescent moon symbol, which is present on all the exterior decks. Behind it, the mast is enclosed by an atrium to receive arriving guests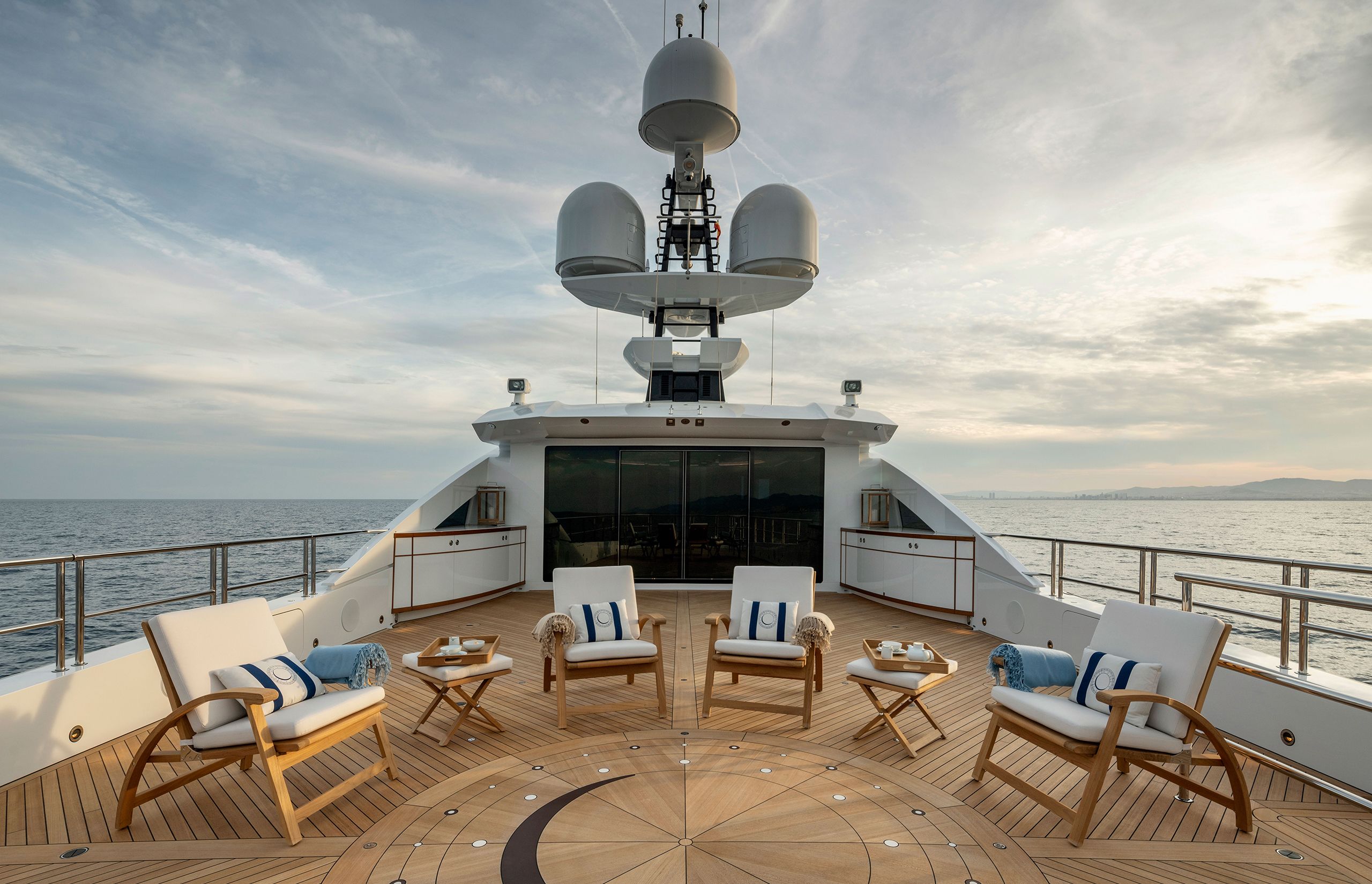 Lusine was awarded a Judges' Commendation in the Displacement Motor Yacht, 500GT to 1,499GT category at the World Superyacht Awards 2023
The layout was a central point of work. "This was a Middle Eastern client. He liked to be with a lot of people on board, so he wanted to have a private owner's deck," says Peter van der Zanden, general manager of design and development and engineering at Heesen Yachts. This relocated the master suite to the upper deck, where Heesen would ordinarily place an upper saloon. 
He also wanted a touch-and-go helideck, "so we made the sundeck heavier for a landing area and we enclosed the mast with an atrium for the guests who arrive with the helicopter". Placed where Heesen might have put a spa pool on an open deck, this is a spacious area with a lift and pilot's cabin. The yacht was originally designed with three decks, but these changes necessitated the fourth – making this Heesen's first four-deck boat.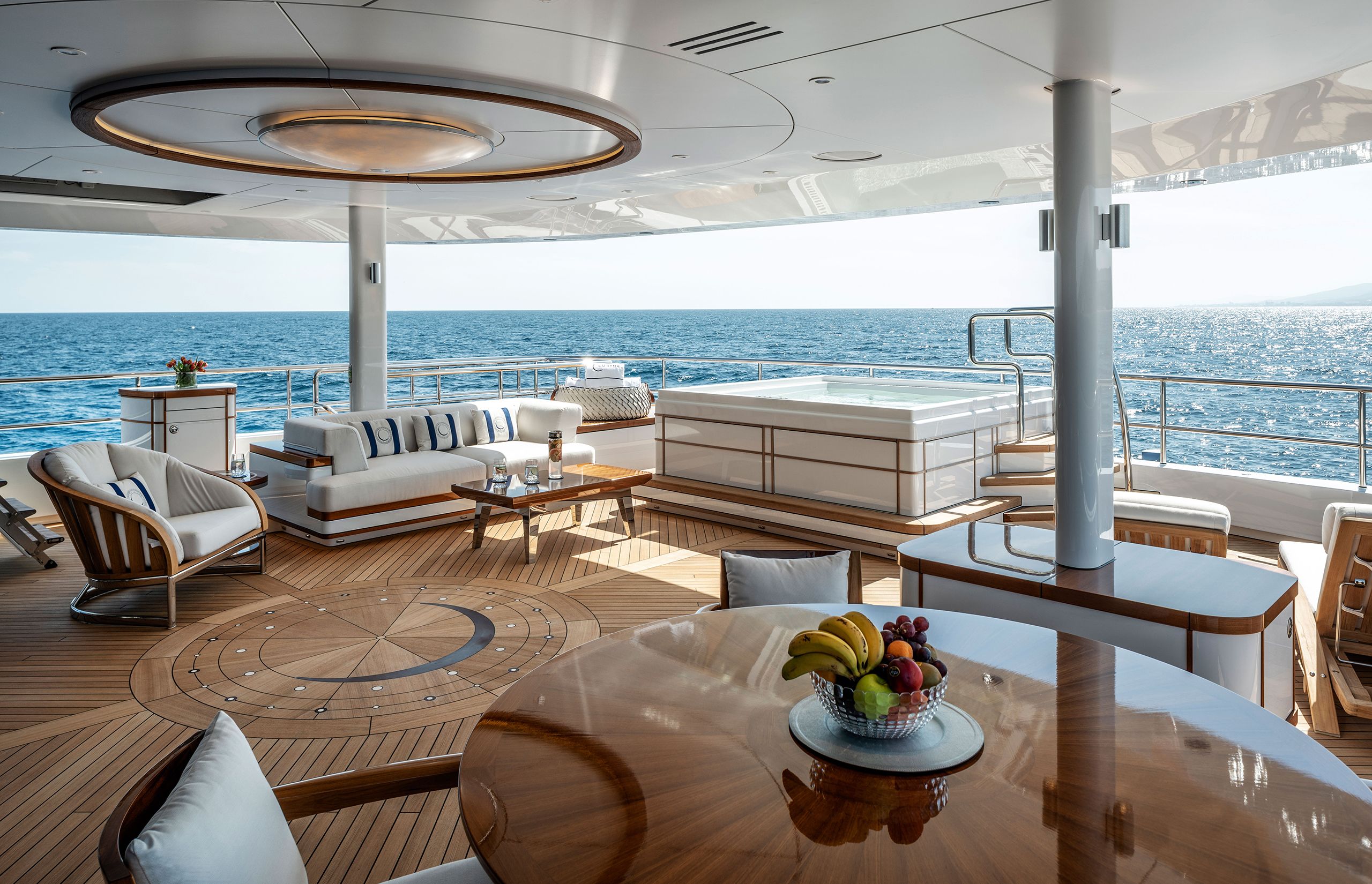 Item 1 of 3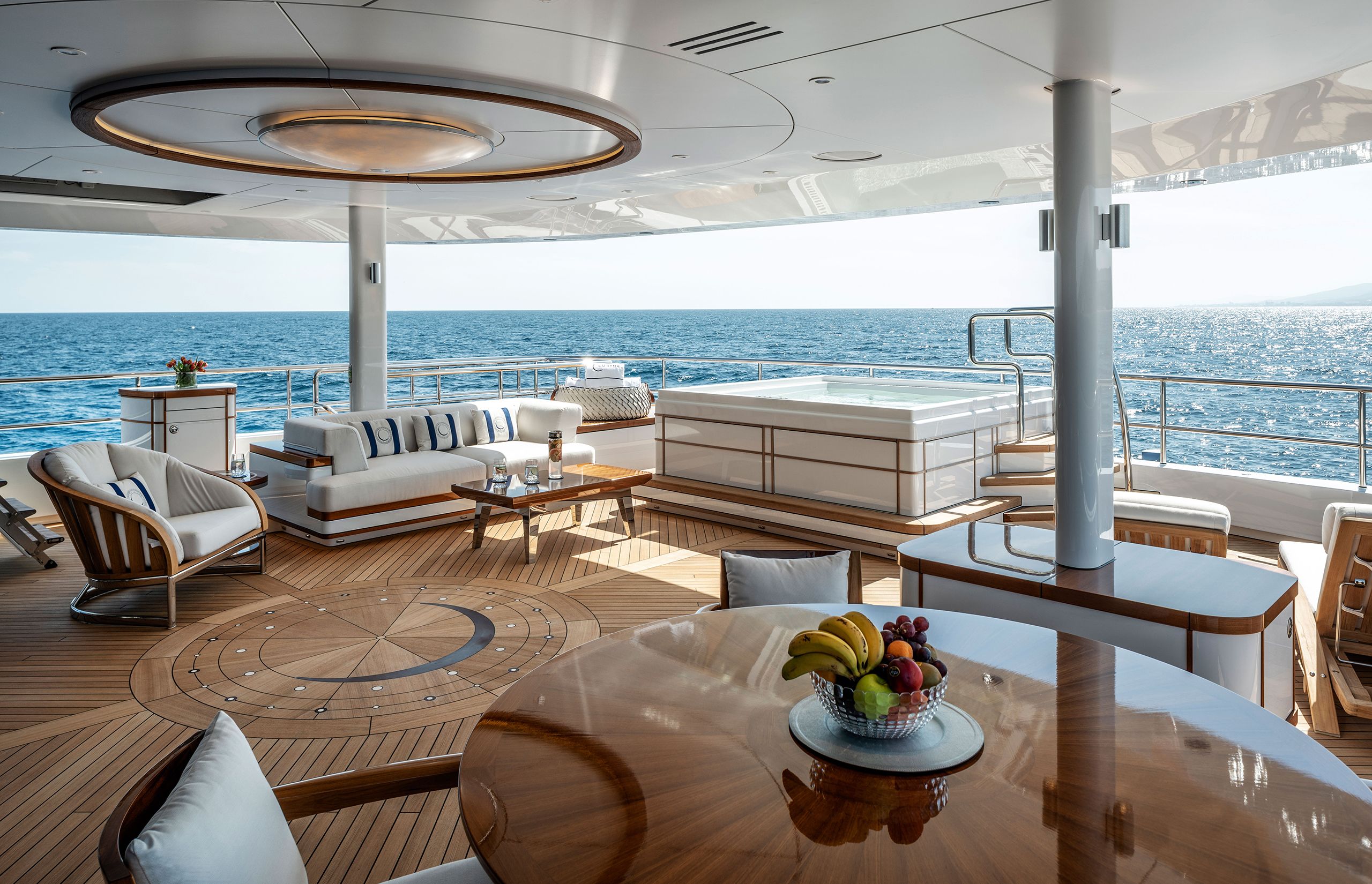 All this had a knock-on effect on the exterior design. "We put the superstructure of the fourth deck a little bit more forward," says Laupman, "which gives the yacht a soft aggressive appeal." Laupman made features of the wing stations and the overhang of the wheelhouse deck, and the sloping angles of these connect visually with the shearing haunch of the enclosed mast. "There's a 45-degree line that runs down from the mast over these two overhangs – someone said it looks like a bird's wing. It's an exposed detail that defines the character of the yacht," he says.
"[The interior is] very rich, with a m ix of materials, a lot of layers of detaili ng within the materials and the finishes – all very much on a high level"
As far as the interior went, says Costerus, "[the owner felt] it should be a western-oriented interior with a high level of detail." The result is, he says, "very rich, with a mix of materials, many layers of detailing within the materials and the finishes – all very much on a high level". Materials include stainless-steel detailing, inlays of pufferfish skin and gold leaf, "but not like your standard yellow gold leaf – toned down, more resembling a bronze colour". Dark high-gloss wood veneers of species such as walnut, mahogany and Macassar are balanced with milky-white onyx marble in the central stairwell, and off-white upholstery and lighter oak parquet flooring in the main saloon.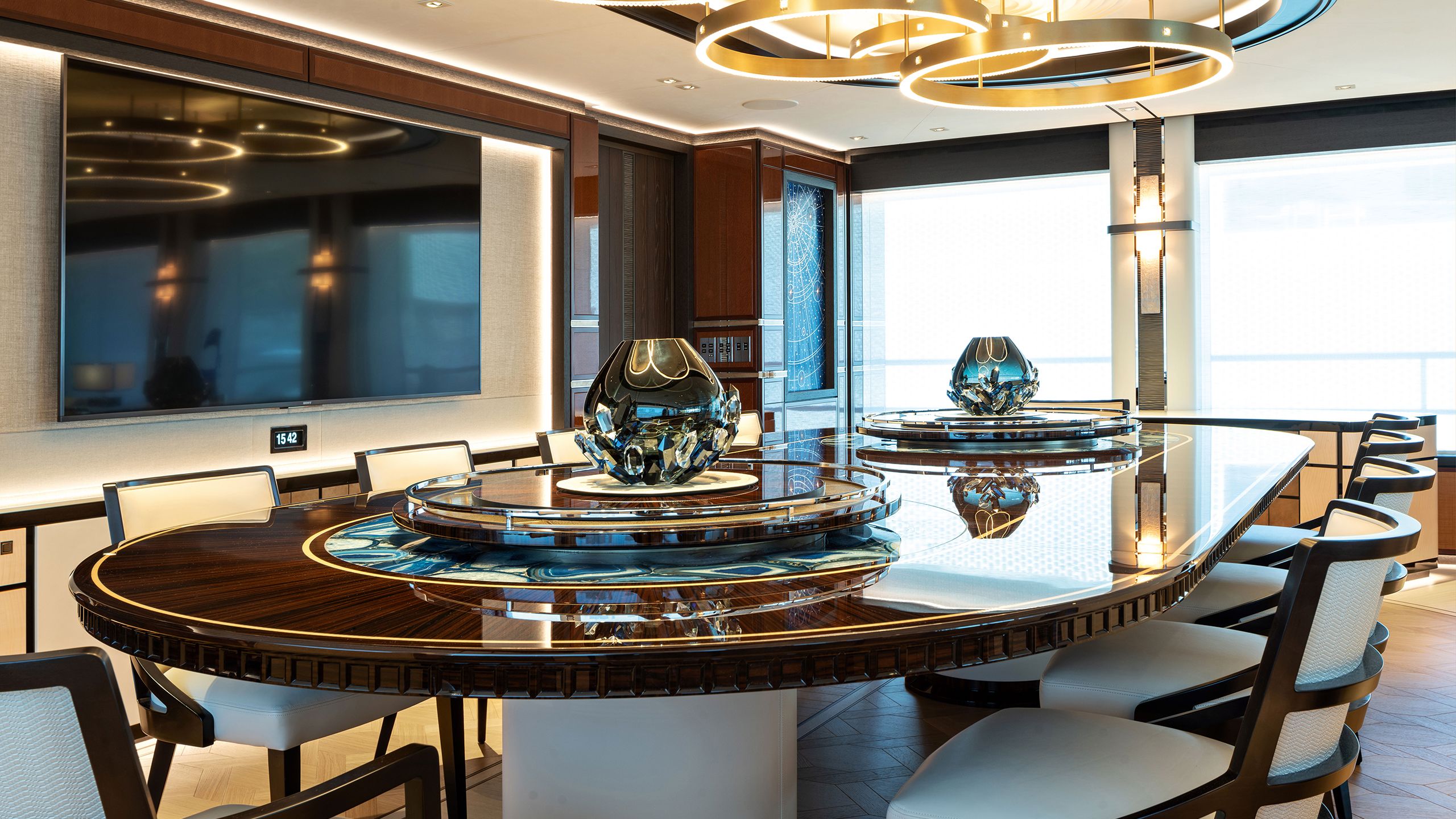 Item 1 of 5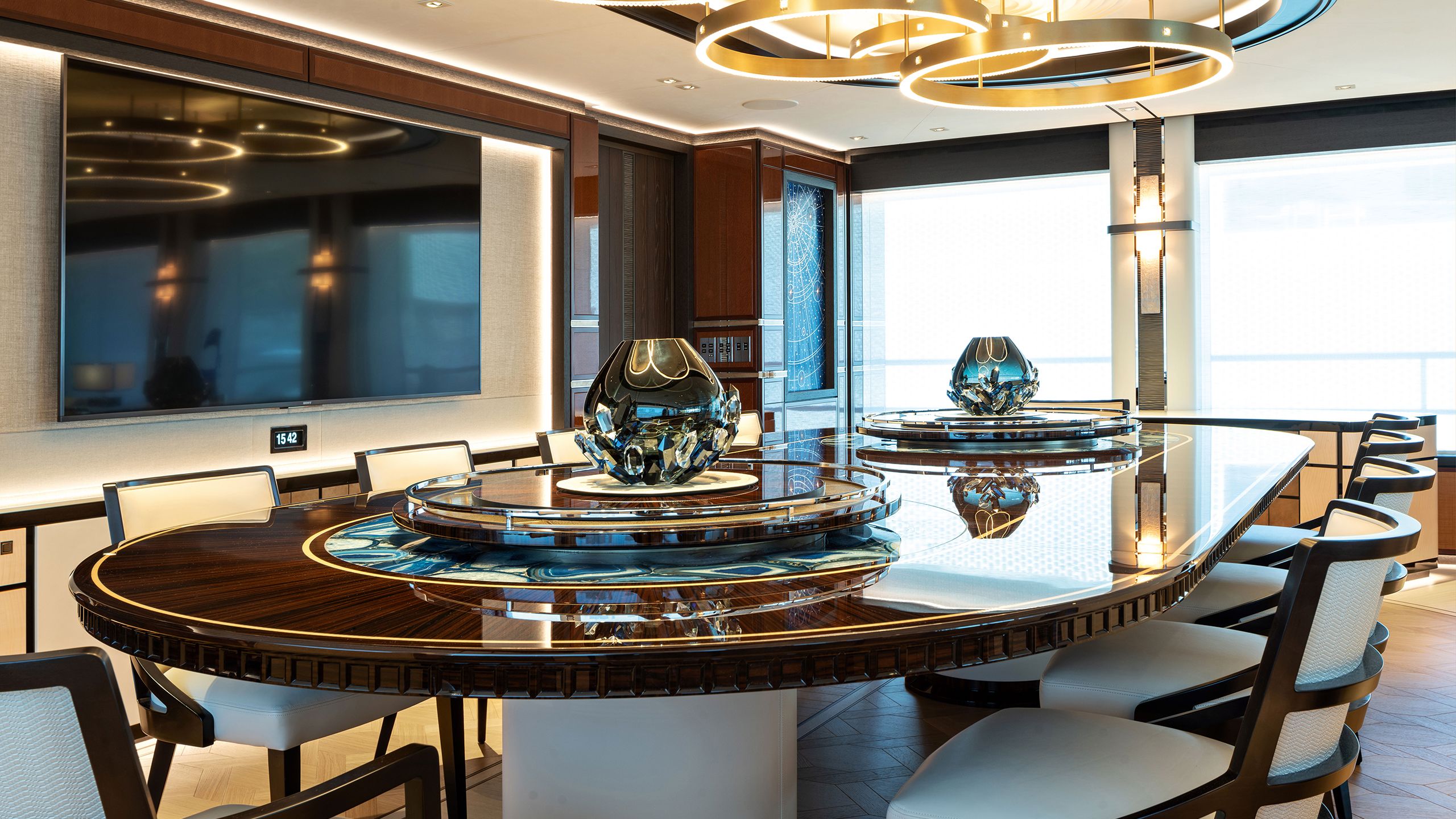 Item 1 of 5
There are a few standout artisanal pieces, including a cream cut-leather wall covering that snakes around the central stairwell. "It depicts the deep sea on the lower deck, with fish and coral, towards land on the main deck, with mountains and trees, and then into the skies, with birds. Ultimately, on the sundeck you enter outer space, and we have a big representation of the moon," says Costerus. 
"We purchased a slice of moon rock at auction, a little slab of meteorite, which has been proven to be made of the same material as the moon"
This is a running theme throughout Lusine, which means "moon" in Armenian. Even the letters on the yacht's nameplate run from thin to thick to represent the phases of the moon. Star constellations in straw marquetry, inlaid with palladium and studded with moonstones, flank the main saloon dining table and there are moons scattered subtly through the scheme, in lamps and even deck inlays. 
Item 1 of 7