HOME AND AWAY
How SilverYachts' 36m SpaceCat design offered the scope to create a floating home
How do you build a true "villa-on-water" yacht? Start off by designing an actual villa on the water, writes Andrew Johansson
This 36-metre was nothing more than a few sketches on my 2015 visit to SilverYachts' Western Australian facility. Since then, while she may not match the vast scale of the other yachts in the yard's portfolio – the 77-metre Silver Fast or 85.3-metre Wanderlust, for example – this hull has still developed into something of note. While Silver Fast is a speedy wave-piercing machine and Wanderlust a noteworthy explorer, SpaceCat provides a spacious and comfortable home on water — an impressive feat in under 40 metres. This is, in fact, a house that became a boat. 
Its roots lie in a conversation that designer Espen Øino had with SilverYachts' owner Guido Krass more than 10 years ago. The pair were discussing the large number of yachts that would spend an entire summer at anchor in Cala di Volpe, Sardinia. They were, effectively, floating homes. 
"You have so many choices as to where you want to hang out outside, which for a boat this size is just unheard of"
SILVERYACHTS The 36m SpaceCat is the first yacht to be built at SilverYachts' Jiangmen facility in China. A 22m and a 24m are to follow
SILVERYACHTS The 36m SpaceCat is the first yacht to be built at SilverYachts' Jiangmen facility in China. A 22m and a 24m are to follow
"We started looking at something quite radical, which was literally a houseboat," recalls Øino. "You find them in rivers or ports in Paris or Seattle in very sheltered waters. We then started toying with the idea of how we could design a floating villa." They decided a multihull would be best. "You have more deck space, which is more suitable for living areas than down in the hull," Øino adds.
As ideas bounced around and the practicalities came into focus – such as the need for water treatment, hotel loads, the ability to move the floating house structure in an emergency – the vision for the project evolved into a catamaran.
Historically, catamarans have occupied a small sector of the market. But at last they seem to be having a moment. After spending the summer on his own 14-metre cat , Øino has a theory about why this is – he compares them to highly popular SUVs. "The Range Rover was pretty much alone in the market for at least two, if not three, decades until the Porsche Cayenne came out," he says. "Then everyone got on the bandwagon and started making sporty SUVs, but it took a long time to gain traction." 
He also draws on the comparison with Volkswagen's Golf platform, which became a massive hit even though it wasn't the first of its type to be brought to market. Øino believes that, much like with the automotive industry, it has taken people time to warm up to the aesthetics of catamarans, but now the tide is turning.
A key objective for the SpaceCat series (the eponymous 36-metre is being offered alongside other potential models) was to achieve an abundance of living space, with large windows and easy access to expansive outer decks. The catamaran configuration delivers this along with better stability and fuel economy. It also makes it possible to include features such as the 5.5-metre by 2.8-metre pool on SpaceCat's main deck aft. The size of this water feature is simply not achievable on an equivalent-sized monohull without significantly sacrificing living spaces.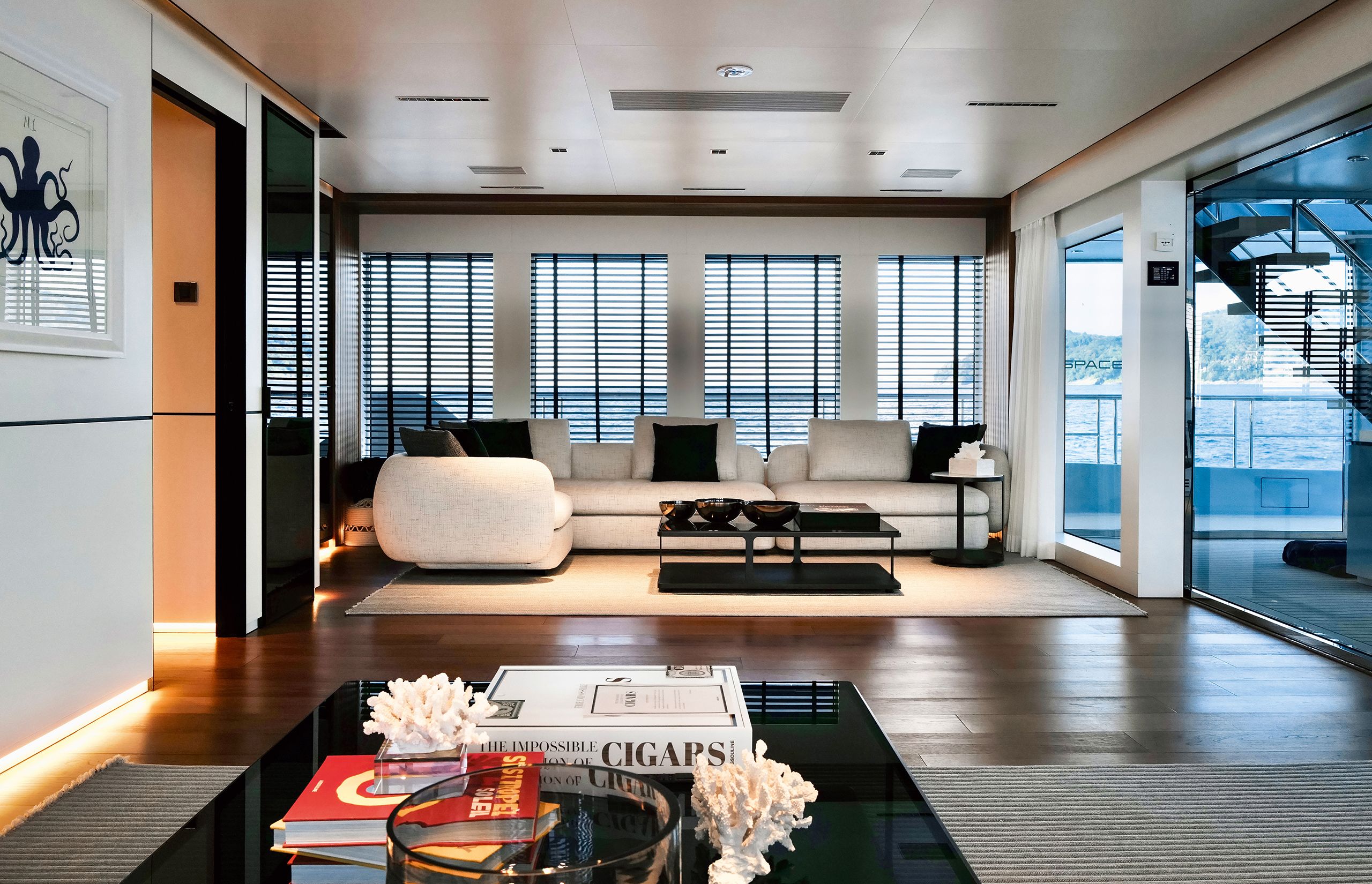 Item 1 of 3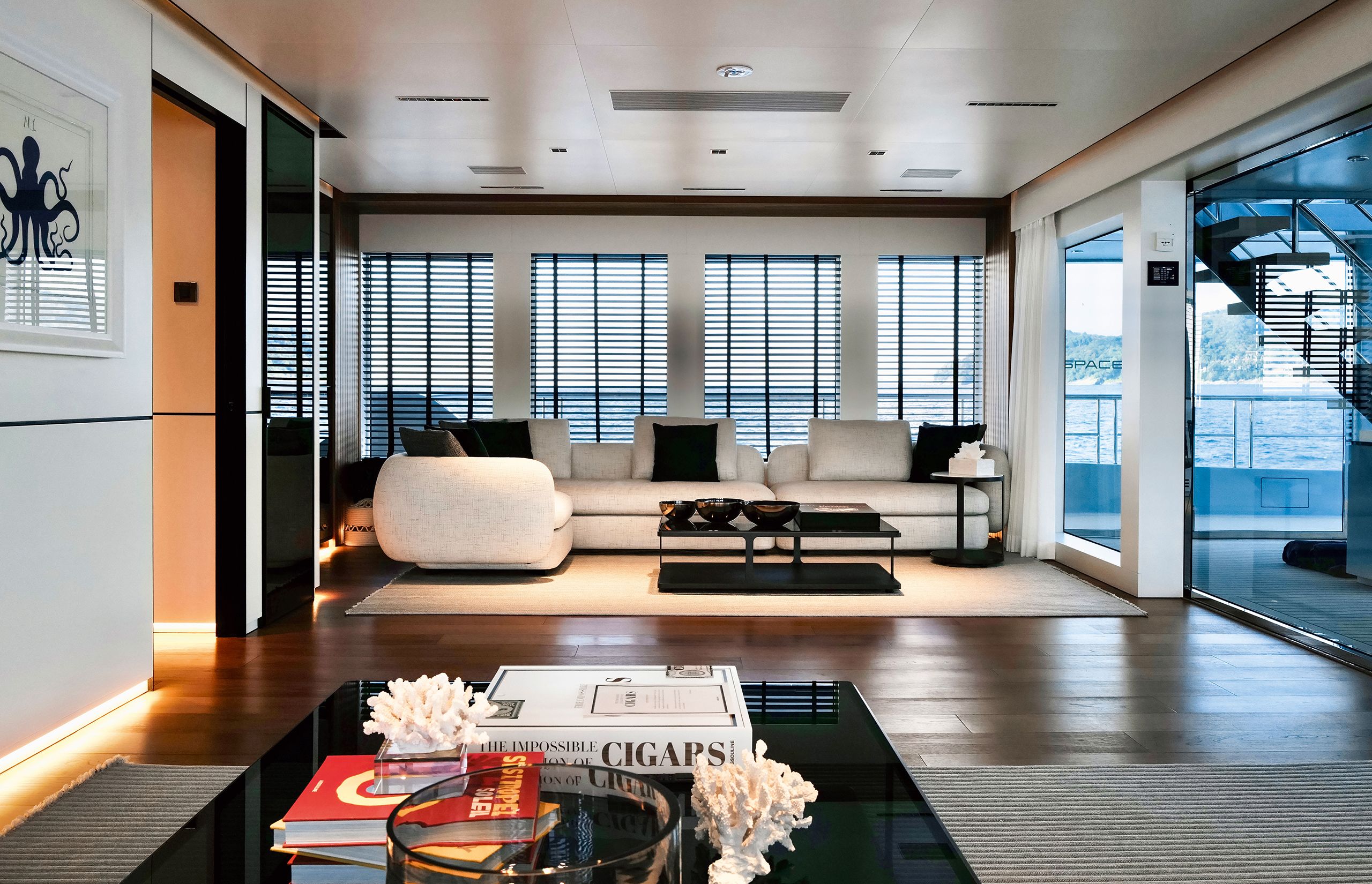 "The length-to-beam ratio is more like a house, which gives rise to a lot of interesting solutions," says Øino. "We've tried to do a logical layout that most people could identify with, as this was a spec build and therefore you can't be too crazy with the vision." The layout allows the owner to enjoy the full-width master suite on the main deck, which includes a seating area, desk, en-suite shower and direct access to the owner's foredeck terrace.
"The owner's cabin is our favourite area on board," reveals Alessandro Pulina, founder of Pulina Exclusive Interiors. "We enhanced the space by connecting the sleeping area, closet and bathroom. The ambiance was studied to celebrate open space through the thoughtful use of natural woods and clear mirrors to convey a continuous interaction between outdoor and indoor environments."
The minimalist open-plan interior design offers a modern and sophisticated finish, with teak flooring and panelling on walls, ceilings and furniture that bring warmth. These are contrasted with white walls brought to life with dark pinstripe satin stainless-steel inlays and textured leather wall panels. The use of mirrors and glass offer another dimension by playing with natural light and shadows as they penetrate the interior spaces. "SpaceCat's interior concept Explorer Refuge is based on biophilia – humans' innate need to connect with nature, and modern escapism towards a safe enclosed space," says Pulina. 
SILVERYACHTS The owners' suite is on the main deck (pictured); guests have use of two upper deck doubles, a main deck twin and a pair of singles with Pullmans on the lower deck
SILVERYACHTS The owners' suite is on the main deck (pictured); guests have use of two upper deck doubles, a main deck twin and a pair of singles with Pullmans on the lower deck
The same clean approach has been applied to all guest accommodation, which includes a twin cabin aft of the master suite, two double suites on the upper deck and a pair of single cabins with Pullmans on the lower deck – all in all accommodating up to 12 people. Guests can enjoy enclosed entertainment in the main and upper deck saloons, which make the most of the 13.3-metre beam. Al fresco dining and sunbathing is offered on every level above the waterline thanks to vast aft deck spaces, as well as an expansive covered sundeck with seating and a bar.
"There are a number of external areas that are covered, which I think is a trend, as people are getting more conscious about the effects of direct sunshine," says Øino. The designer points out how most of the exterior spaces offer shade, whether on the aft deck or foredeck, with the sundeck offering the most notable and permanent cover. "You have so many choices as to where you want to hang out outside, which for a boat this size is just unheard of," he adds. "In reality, that's where you're always going to spend your time when on a boat."
Within her collection of tenders and toys, SpaceCat features a Williams tender and two jet skis, one of which is housed on a submersible platform on the transom. When the jet ski is deployed, this structure bridges the hulls and extends the width of the swim platform. It can also be lowered into the sea to make it easier and more elegant for guests to come back on board after taking a dip.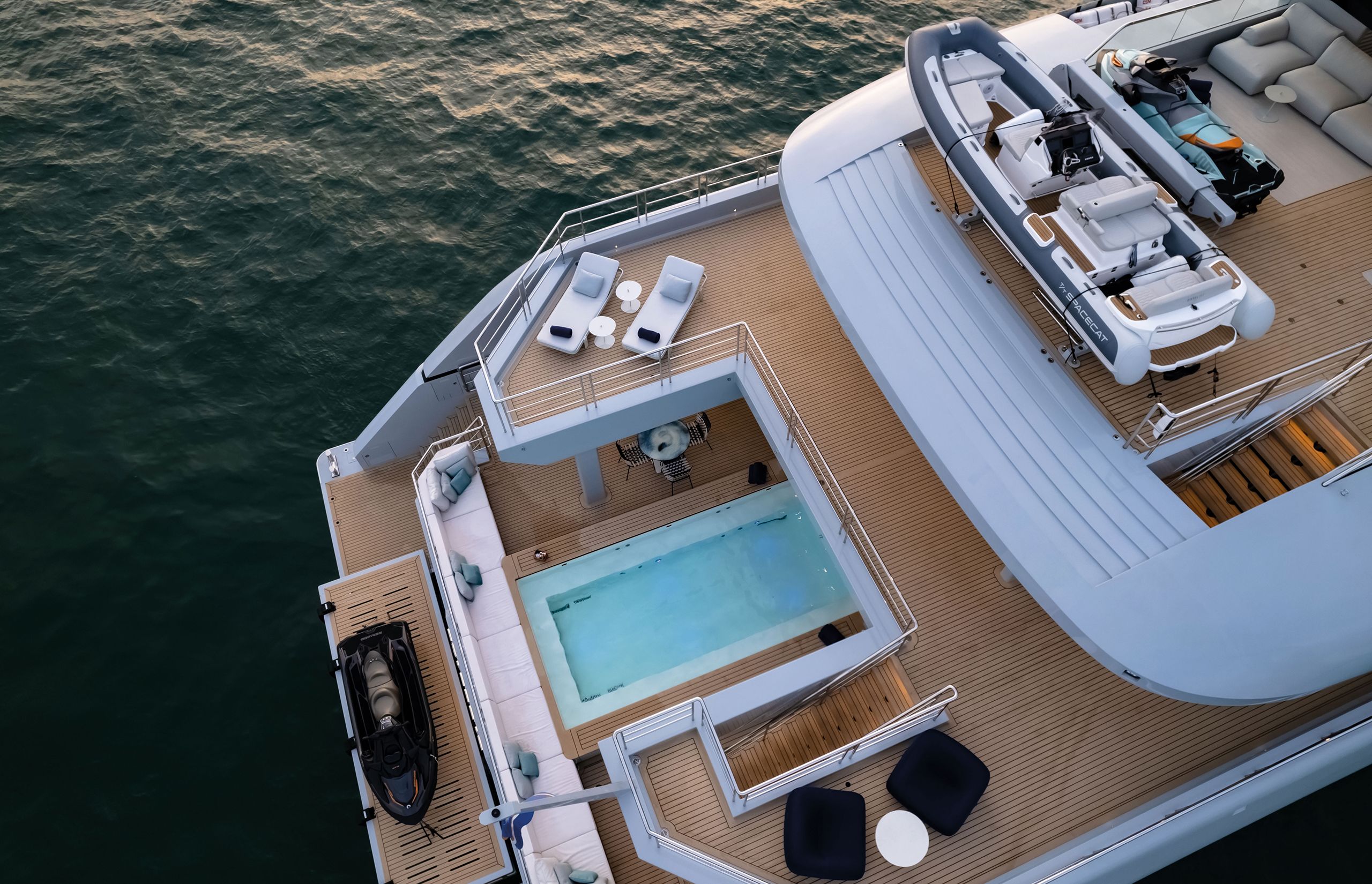 Item 1 of 3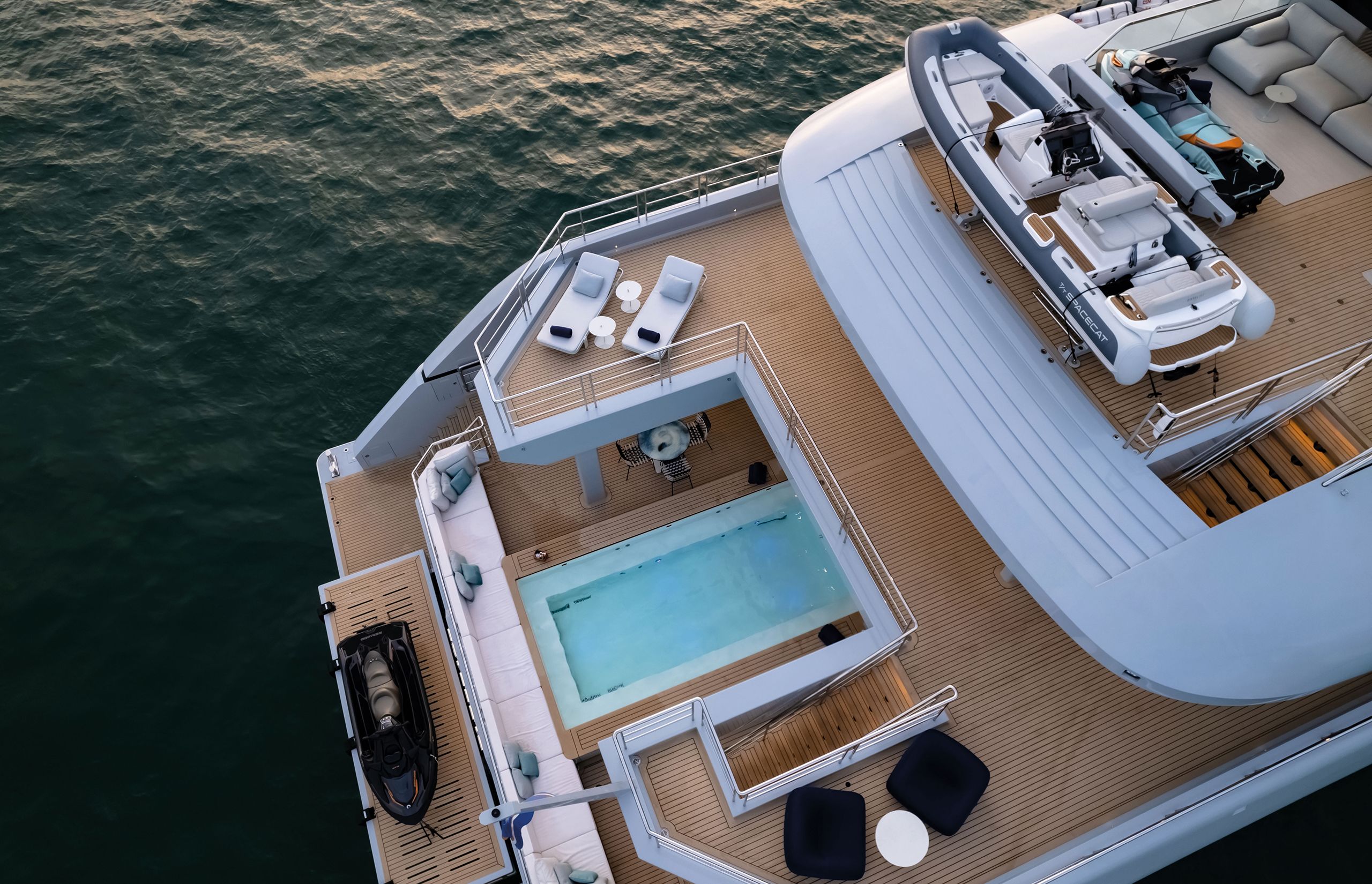 Like all builds at the time, SpaceCat was impacted by the Covid-19 lockdowns, which added complexities and logistical challenges to the project. The most significant for SilverYachts was in the supply chain. "Major equipment and system suppliers were not sourced within China," explains Rod Davies, chief operating officer at SilverYachts' Jiangmen facility in Guangdong Province in China, which is an addition to its original Western Australia site. "The lead time of these major equipment/materials were definitely affected by Covid-19." With a large majority of the leading superyacht suppliers being based in Europe and US – SpaceCat's Volvo engines came from Sweden, its cranes from the US, tender lift from France and furniture from Italy, to mention a few – this factor proved to be a significant hurdle for the shipyard. 
Davies highlights how the pandemic also impacted SpaceCat's owner getting access to the build and therefore demanded a close and trusting relationship between the client and SilverYachts. "It was very important to us that this yacht exceeded the expectations of the owner and the scrutiny the yacht would receive from the market given that it was our first yacht fully constructed in our China facility," says Davies. The SpaceCat line has expanded SilverYachts into a new area of the market. "It proves the capability of our new facility, which has increased our production abilities and competitiveness," says Davies. In light of the growing market for catamarans, SilverYachts is keen to meet demand with the development and construction of subsequent hulls in the series, including the build of a second 36-metre and other smaller-length multihulls.
"The SpaceCat is the springboard to increase our range, with the development and construction of the SC22M and SC24M SilverCat yachts now underway," says Davies. "We believe the demand for catamarans in the 22- to 40-metre range will continue to grow, and Silver Yachts, with our range of SilverCat designs, are well positioned to increase sales and expand our market share."
It will be interesting to witness how the catamaran landscape at this size range develops, how marinas will adapt to meet the needs of these vessels – and how quickly market demand pulls them from the drawing board to reality.
First published in the May 2023 issue of BOAT International. Get this magazine sent straight to your door, or subscribe and never miss an issue.