LET THE LIGHT IN
Sunreef 80 Eco: The comfy cat with solar panels galore
Sunreef's 80 Eco model combines catamaran comfort with an impressive list of green tech – including solar panels on every surface, says Sam Fortescue
There are those who seek their thrills in fast boats, but, perhaps surprisingly, Formula One driver Fernando Alonso is not among them. "When I'm in a boat, I want to be in slow motion, relaxed," he tells a throng of journalists jostling in the saloon of Sunreef's latest creation, the 24-metre 80 Eco. "I need to go fast in the car for the adrenaline, and in this I need to go slow. In life, you need both."
A murmur of agreement ripples over the press pack, which is somehow managing to make the cavernous interior of this sailing cat look full. Then again, we must be around 100 strong. It's not really the dynamic for which this yacht was designed: a dozen seated in exceeding comfort, 100 mingling across the two decks, cocktails in hand.
True to his word, Alonso is looking very relaxed. He has just bought his own Sunreef catamaran and is here to tell us about it. He actually went for the smaller 18-metre power cat, but nonetheless spent a holiday on the 24-metre sailing version and is enthusiastic about its capabilities. 
"The Sunreef 80 Eco proves sustainable yachts do not need to compromise on luxury"
"I'm in love with catamarans because of the space – it's like having a villa on the water," he says. "I like to spend time with my family and friends – and a cat gives possibilities that a monohull cannot offer. There's also the stability. I sailed the Sunreef 80 in Greece for 10 days; it was a little bit rough and we were the only ones out there. They were dream holidays and an outstanding experience."
But to dwell on the catamaran form of these Polish-built boats is to miss the point, as Alonso says. Renewable power is the name of the game here, and the 80 Eco generates its own electricity by the kilowatt, tapping the power of the wind, waves and sun.
"On a sunny day, the Sunreef 80 Eco owner doesn't need to use a generator at all" 
While any talk of a 24-metre carbon composite toy being "eco" should be taken with a hefty pinch of salt, these Sunreefs come closer than most. Besides the renewable power and the electric propulsion, founder and CEO Francis Lapp tells me that the yard has slashed waste, introduced more sustainable woods and fabrics and is experimenting with the use of natural linen fibres in its composite. It is even building a hydrogen-powered sailing yacht. "The Sunreef 80 Eco proves sustainable yachts do not need to compromise on luxury," he says. "The all-electric [catamaran] is a fully autonomous craft using revolutionary green tech for fuel-free cruising in total silence and luxury."
Just to be clear on what he means by autonomous, Sunreef says that the boat can run for days, weeks or even months without burning a drop of fossil fuel – enough to cross an ocean. Having sails is the biggest single factor here: a powerful 200-square-metre, fully battened main and a 155-square-metre jib. The boat is no lightweight flier, so top speeds of nine knots upwind and 11 to 13 knots downwind are the norm, but that is enough to cover 250 nautical miles in the course of a good day, for fast passage times.
Hydrogeneration – the harvesting of power from the water moving past the hull as the boat sails – is not new, and has existed in small sailing boats and ocean giants like Black Pearl for more than a decade. But it is the smart integration of this system that marks Sunreef out. The two large variable pitch propellers turn the prop shaft backwards, rotating the 180kW electric motors so that they act like giant alternators. "The energy obtained is used to power both the propulsion and the house appliances," says Lapp.
"The system will be able to generate more than 15kW while sailing above seven knots." That's a whopping 360kWh over 24 hours – far more than the efficient air con and mood lighting could consume.
Item 1 of 4
Solar panels are the other weapon in the renewable energy armoury, and Sunreef has pioneered a strikingly new approach by embedding the solar cells in almost every surface of the hull, superstructure and mast. If you go all out on solar, the cells cover 160 square metres with a maximum power rating of 34kW – far more than the average home solar array can manage. It's a theoretical figure that they will never reach, even though the sea reflects extra light into the vertical panels, but Sunreef says that 100kWh per day (equivalent to 10kW of power for 10 hours) is a reasonable expectation. "On a sunny day, the Sunreef 80 Eco owner doesn't need to use a generator at all," says Lapp.
Back to Fernando Alonso for a moment, because he put this theory to the test during his Greek jaunt. "The performance under sail was perfect for me – we didn't start the generator for 10 days," he says. "Then to sail with no noise... I could work out on the flybridge."
To manage and then store all this energy is no mean feat, and the Sunreef 80 Eco is packed with up to 550kWh of batteries – that's more than 2.5 tonnes. Naturally enough, they're no ordinary batteries – they're special, lean lithium-ion packs that have been engineered to save around 30 per cent weight compared to off-the-shelf varieties. And they contain enough power to motor for eight to 10 hours at eight to 10 knots on a single charge. 
When you're talking about batteries on this scale, you can't simply plug in to the shoreside power and recharge. And in any case, this is a boat that's designed to stay offshore for days at a time. Instead, it carries its own battery-charging system with it in the form of twin 80kW diesel gensets.
"I'm in love with catamarans because of the space – it's like having a villa on the water"
SUNREEF YACHTS The main saloon includes a full-size piano keyboard under the pop-up television
SUNREEF YACHTS The main saloon includes a full-size piano keyboard under the pop-up television
If you need to motor for longer than 10 hours, these would fire up automatically to replenish the depleted batteries. "When not under sail, you need the generators on for four hours per 24 hours in total. It might be two hours in the morning and two hours in the evening," says Lapp. "There is no need for the genset when not motoring." 
Attractive as they are, renewable power and silent cruising are not enough to sell yachts. The reason Sunreef has sold more than 40 Sunreef 80 sailing cats (including 10 of the 80 Ecos off-plan) is its understanding of comfort.
The styling for the 18- to 30-metre Eco lines is almost exclusively done in-house by Sunreef's 14-strong interior design team. All the joinery and upholstery is also typically done by the shipyard workforce, which has ballooned from 830 people to 2,000 in three short years as the order books have grown longer and longer. It is not the way most superyachts are fitted out. "We are open to any client enquiry, although we need to admit that it doesn't happen often," admits Lapp, when I ask whether Sunreef works with exterior designers. "Most of our owners decide to work with Sunreef designers, as they go to great lengths to make clients happy and support them with advice. Every single catamaran is uniquely designed to the wish of our clients."
"The configuration is down to the owner – a whole hull could be turned over to a large bathroom, walk-in wardrobe and private lounging area"
On the first hull, which was built for Lapp himself and used to tour the globe as a showboat, the styling is a grey scale study of light upholstery and headlining, with dark, moody joinery and silvery wall panels with lots of gleaming stainless-steel work. "The finishing materials are fairly dark," agrees interior design director Aleksandra Schade. "As guests will spend most of their time in the sun, the interiors are to provide a relaxing environment with a colour palette that will ease the senses. There are no natural leathers used and all the fabrics and furnishings are made of durable materials that will keep their visual appeal over the years."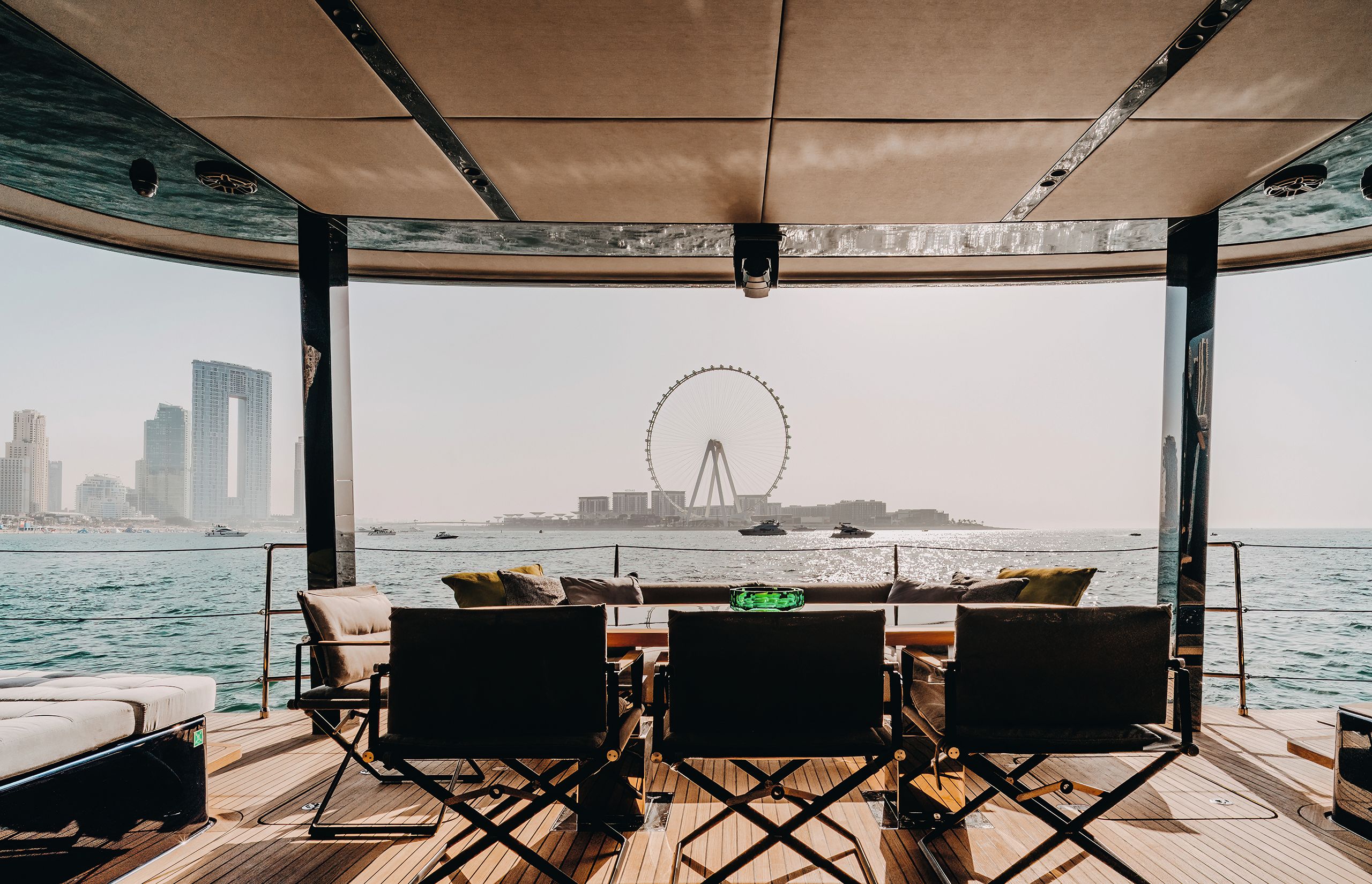 Item 1 of 4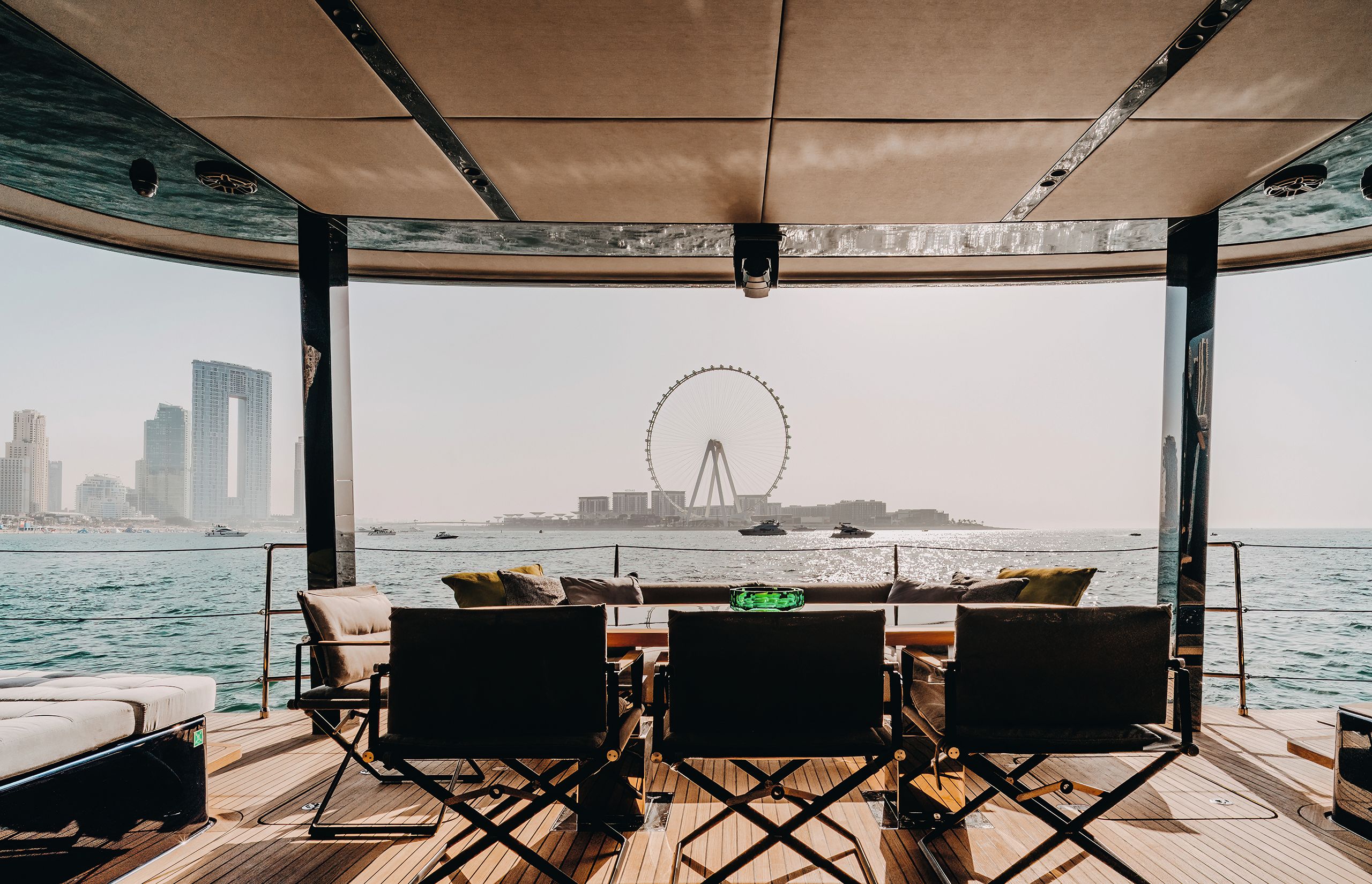 The finish quality is extremely good, but it is really the use of the space that is noteworthy. The saloon alone covers 54 square metres with flush access from the aft deck through doors that slide completely back into the bulkhead. The sheer spaciousness is impressive, notwithstanding the two U-shaped sofas lining the interior and pop-up television amidships.
Wide side decks lead forward to a spacious foredeck lounge. Like many of the smaller catamarans that fill Port Pierre Canto in Cannes, there are netting "trampolines" between the bows, which add a pleasing nod to early catamaran design, as well as being fun features in their own rights. 
But the 54-square-metre flybridge is the boat's natural hub. There's a sophisticated helm console here and access to the mast foot winches forward, without the impediment of any bimini supports. There's easy lounging and dining, potential for a bar, spa pool and grill, as well as plenty of space for gym equipment – all protected by a hard bimini.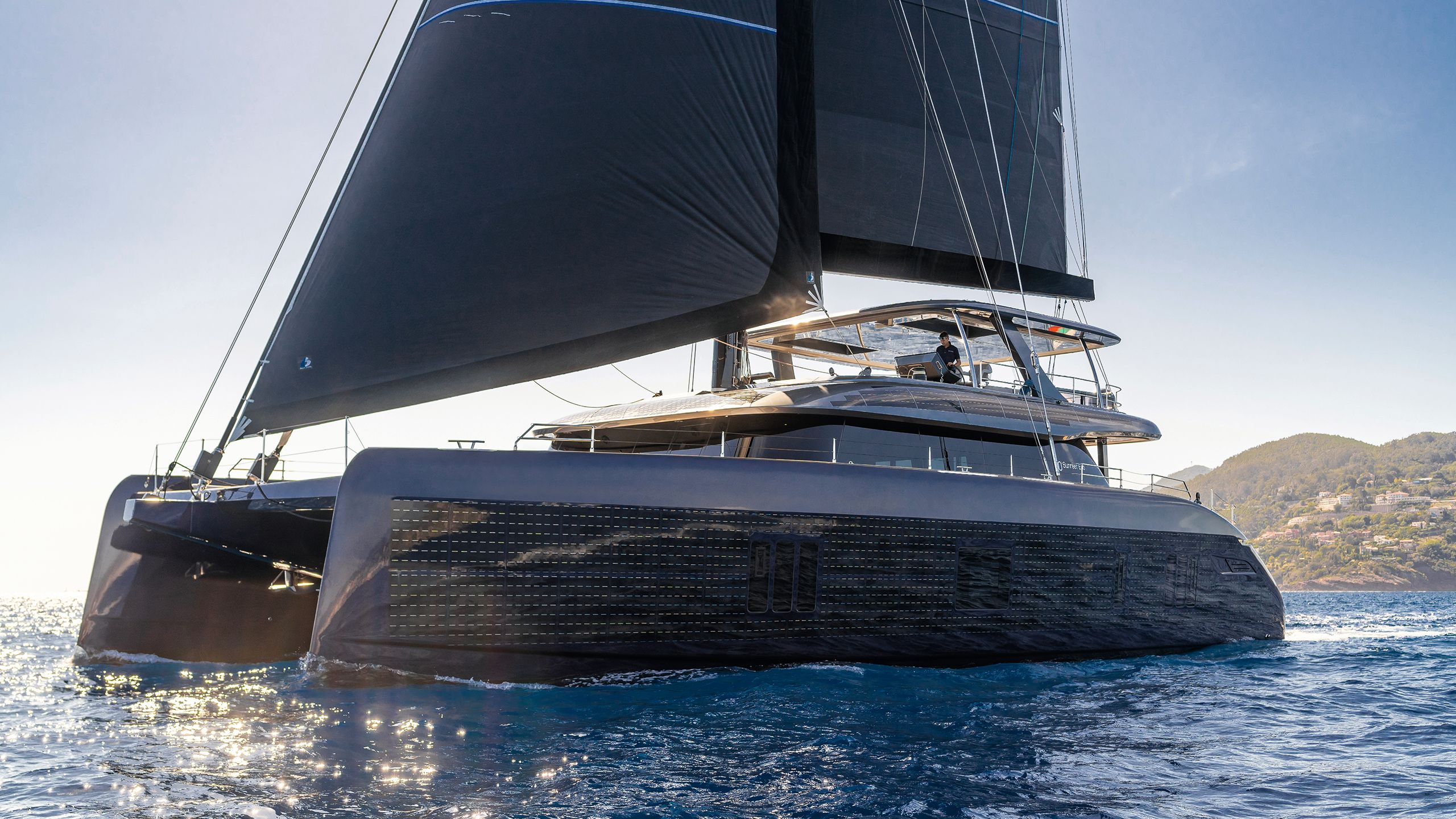 Item 1 of 2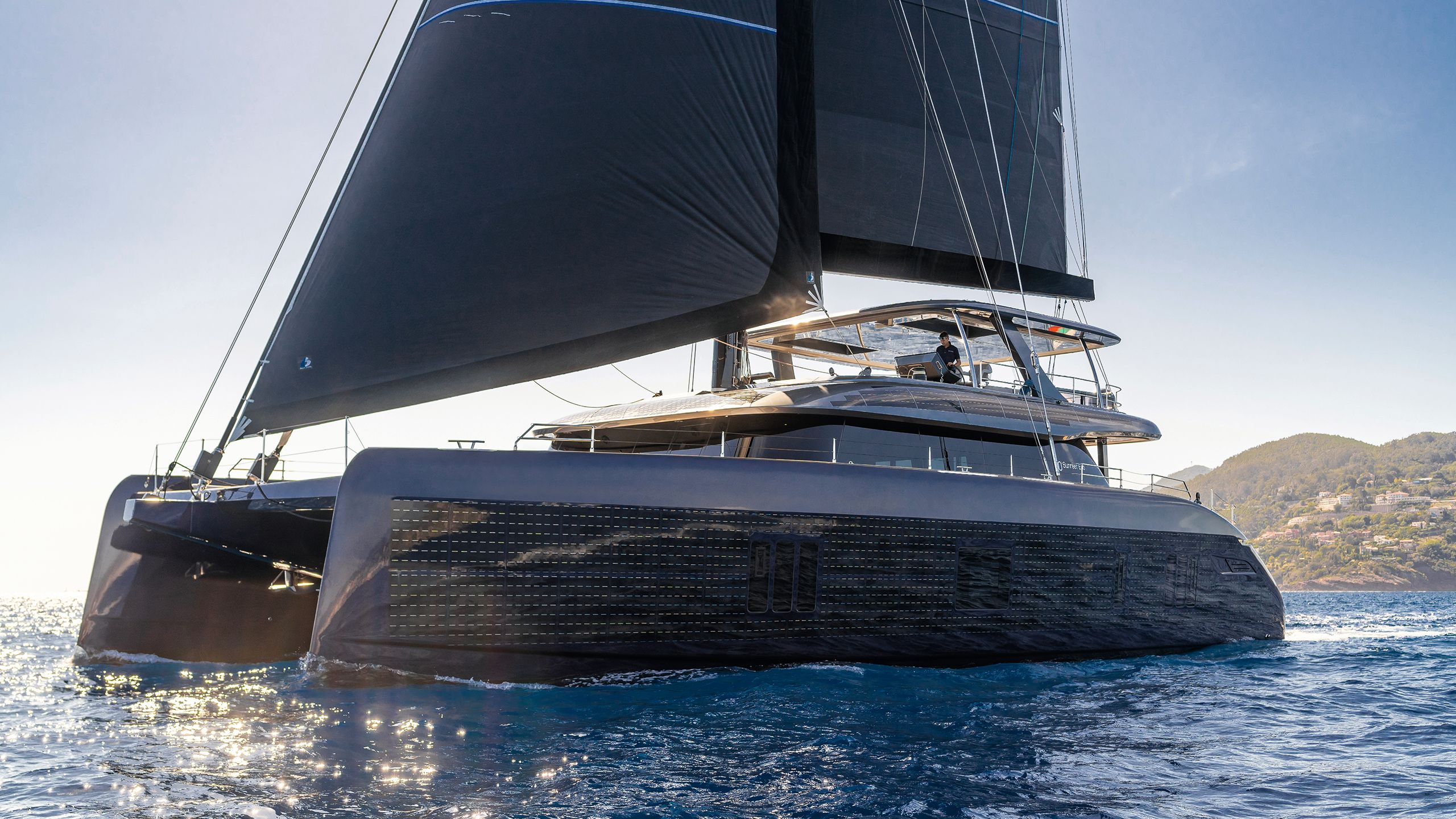 Four double en suite cabins provide accommodation in the hulls. The head of the bed is always oriented against the inner part of the hull for ocean views out through the port lights. Configuration is very much down to the owner, and a whole hull could be turned over to a large bathroom, walk-in wardrobe and private lounging area. Another option that has already been studied is to put the owner's cabin on the main deck. There is room for four crew – two in forepeak cabins and two aft.
Renewable power, silent motoring and luxurious volumes – it all adds up to a pretty compelling package. Sunreef has made this space its own over the last decade, now building a semi-custom 18-metre, 24-metre and 30-metre model in motor and sail varieties. Its superyacht credentials have been further buffed by the sale of two jaw-dropping 43M Eco sailing cats, and it has a 46-metre sailing project on the books with renowned designer Malcolm McKeon. 
The shipyard is located in Gdańsk, which is known for its boatbuilding skills, and Sunreef has harnessed this to engineer and produce almost every element of its boats in-house. And as Alonso says, there is real pleasure to be had in that. "It is an amazing experience to build a yacht," he says. "It was a new experience to be so much involved with small decisions, like plugs or lights – that was a nice surprise to have. You can build something unique."  
The 54m2 flybridge is replete with sunning and lounging areas

A pair of treadmills up top allow for
a workout with a great view
The saloon's aft doors open fully to make one large indoor-outdoor space
The galley is down on the first hull, but could be incorporated into a corner of the main saloon