JOIN THE CLUB
The rise of superyacht wellness suites
From Himalayan salt rooms and showers that rain snowflakes to laid-back lounges where guests sip smoothies, an impressive wellness suite is this year's must-have onboard feature, discovers Charlotte Hogarth-Jones
Read about superyachts in the mainstream press, and the lifestyle depicted is often one of excess – riotous parties, magnums of champagne and endless courses of rich food. The reality, however, is that these days you're as likely to be handed a green juice as you are a stiff gin. Yacht owners are prioritising their health more than ever before and, with it, giving rise to a new form of wellness space on board. 
Large areas – together on the same deck when space allows – that incorporate spas, gyms, spacious treatment rooms and lounge areas, these are places where guests are encouraged to linger between treatments, with facilities that are highly personalised. So why the sudden interest?
"Clients are super aware of the fact that they're not moving a lot," says Marnix Hoekstra, co-creative director of Vripack. "Even if you walk a 50-metre yacht up and down, that's 100 metres maximum. You're not going to hit your 10,000 steps a day on that."
"The spa has become much more a part of everyday social life on board"
BLUEIPROD Above: The bar area on Victorious. Top image: Ahpo's beach club is directly connected to the spa
BLUEIPROD Above: The bar area on Victorious. Top image: Ahpo's beach club is directly connected to the spa
He estimates that, four years ago, perhaps one in five clients would look at having a gym on board, whereas now it's a different story. "On nearly every boat, people are saying, 'We've got to have some form of health space,' and they are prepared to sacrifice other areas elsewhere to make that work." 
Jonny Horsfield, owner and design director of H2 Yacht Design, and the creator of health clubs on boats including 85-metre Victorious, 80-metre Tatiana and 77-metre Go, has also noticed the shift in his clientele. "Yes, some of these boats are party boats, but people are living on them now and they're not having crazy parties every day," he observes.

"I've had clients who've gone teetotal for weeks at a time because the problem is, when you treat it like a holiday over a long period, it's not sustainable." It's also, he believes, a consequence of owners searching for more and different ways to spend time at sea – much like installing a cinema, games room or loading up on toys. "People are concerned about what on earth they're going to do with their friends for more than two weeks at a time and, for an older crowd particularly, they're viewing wellness as a social activity," he says. 
Item 1 of 3
CEO of Luxury Projects Laura Pomponi, whose health projects include those on board the 90.1-metre Nero and 70-metre Alfa cites a recent refit meeting, where a client even requested that the yacht's garage be transformed into a spa and beach club, with a plunge pool going directly into the boat's hull, so keen were they to fit one in. "It's been an interesting exercise for us, because you have to work out how deep you can go before you compromise the structural beams," she says. In this case, the answer was 80 centimetres, leading to a total depth of around 140 to 150 centimetres.
She's also working on a 74-metre charter yacht for some European owners, which is currently in build in Italy, in which both the spa and beach club will be at the same level, placing them front and centre of the whole design. A similar feature can be seen on board the 72-metre Solo, where the beach club connects directly with the yacht's wellness hub, which includes a glass-walled gym, a sauna, hammam and chilled water shower, with a fold-out terrace balcony to bring the outside in. 
On a separate project that Pomponi is developing, the owners have requested a full spa at the entrance to the yacht, in place of a more traditional saloon and dining area. When guests step on board, they'll be checked in at a reception desk that doubles as the spa reception, and welcomed with cool towels and refreshing drinks on sofas in the spa lounge. "The owners think this new layout will create a really appealing feature, especially for the youngest charter clientele," explains Pomponi. "Of course, the actual spa area, with the gym and treatment rooms, has very intimate spaces, so it's not like you step aboard the boat and there are people running around naked or in their robes," laughs Hans Konings, who works with Luxury Projects. "Those spaces are all closed off with amazing panels."
NUVOLARI LENARD Gym and spa area concept by Valentina Zannier at Nuvolari Lenard
NUVOLARI LENARD Gym and spa area concept by Valentina Zannier at Nuvolari Lenard
Pomponi is so taken with the radical new arrangement that she's also incorporated it on a 46-metre explorer catamaran concept, where the main deck aft is likewise a spa, with guest cabins forward on the same deck. As it's an explorer, a large tender will be housed on the main deck, but, when out at sea, the space will be filled with loose furniture to transform it into a spa lounge, ahead of the big-ticket facilities, which include a massage room, sauna, hammam and steam room, plunge pool, "emotional shower" and hairdresser/nail spa area.
Enrico Lumini, co-founder of Hot Lab, is also working on a concept whereby the welcome area is, in fact, a large spa, incorporating a sauna, steam room, massage room, vertical shower and snow room. "Clients don't feel that they have to treat the spa as a 'service' area any more," he observes. "It's become much more a part of everyday social life on board and, as such, can take up some of the more luxurious areas, not just the lower deck or the beach club."
In fact, grouping together all wellness-related areas in the same space for maximum impact appears to be the latest trend. Although some designers are keen to unite rooms using clever design devices, others prefer to make more of a journey of the experience, with clearly defined zones for different purposes and moods.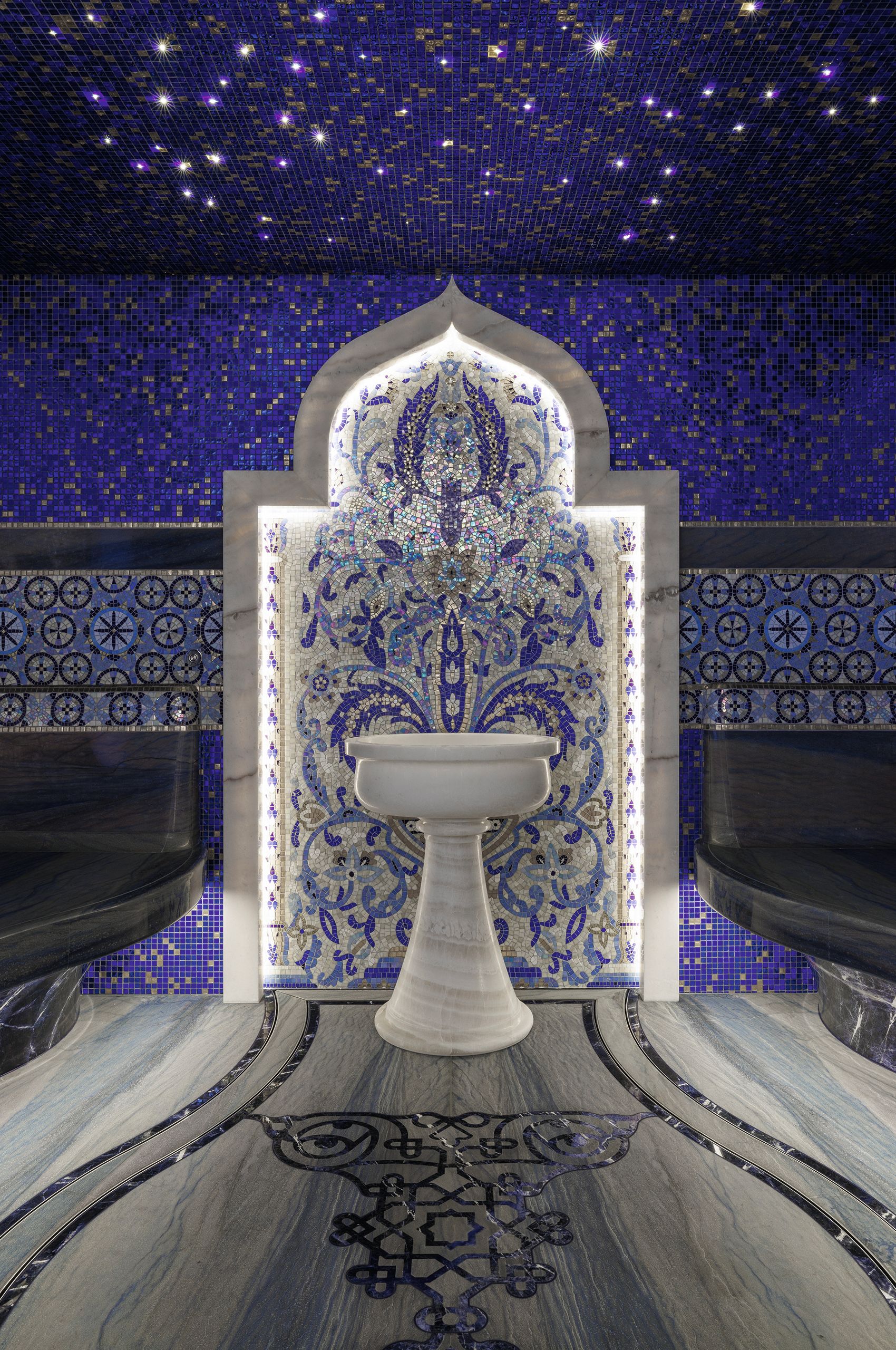 Item 1 of 4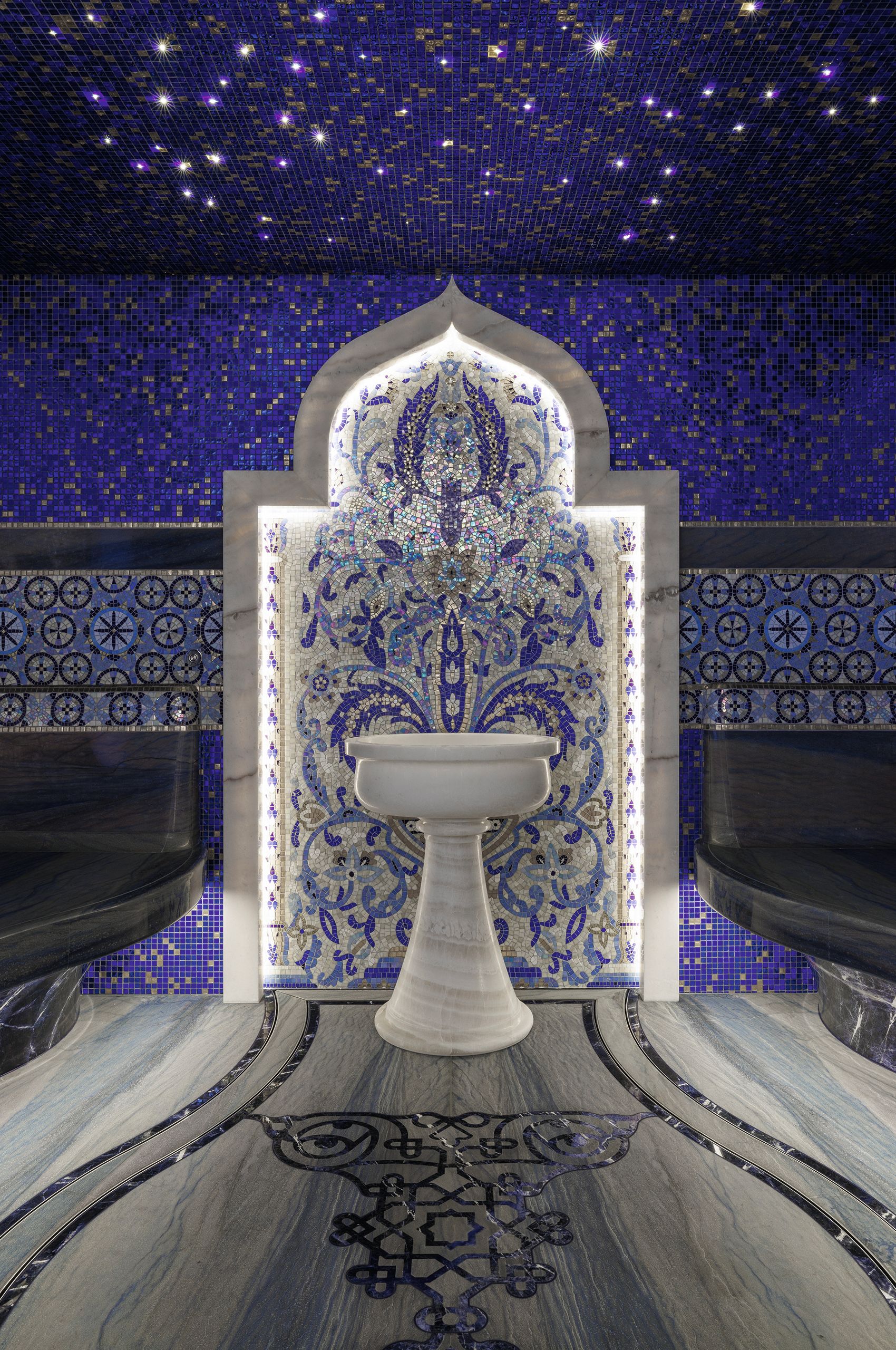 On the recently launched 85-metre Victorious, Horsfield found that dividing the yacht's extensive health club into three distinct areas made the best use of the space. "The aft end was geared towards daytime and had a pool where the kids could mess around with a bar and somewhere to eat. The port and starboard areas were very much more the spa, so we had the gym, treatment room and massage room all on the port side. On the starboard side was the meeting room, lounge and spa reception area. That's where you'd wait for your treatment, or where you'd relax afterwards, waiting for friends and having a coffee – almost like another beach club."
On a separate 80-metre project, one of the first things he did was to alter the general arrangement so that the gym, spa, massage room and treatment room were all on one deck. "It was all split up a bit, but I think it's nicer if they're all together, so you recreate a proper spa atmosphere as well as avoiding guests having to keep moving around the yacht looking for the facilities," he says. 
Of course, getting the flow between spaces right in these health clubs is no mean feat. Designers have to juggle different moods – for example, guests might be winding down in the massage room, but want to feel invigorated in a gym – with the privacy of those using the facilities, and the fact that, for each family or charterer, a workout might mean a very different experience, with very different equipment. 
"Clients ask for space so friends can sit and chat while having treatments"
VRIPACK In this Vripack concept, guests can socialise on sofas or in the spa pool
VRIPACK In this Vripack concept, guests can socialise on sofas or in the spa pool
On the 115.1-metre Ahpo, which currently has one of the largest superyacht spas in the world, designer Valentina Zannier of Nuvolari Lenard was particularly conscious of mixing wet and dry areas, and how that could be made to work. "There's a large area where guests can sit and have a conversation, with huge sofas and armchairs and a platform flipping down onto the water. Then there's a bar that very much gives the feeling of a relaxing area as the backlit wall is decorated with bamboo leaves, one of the most powerful details of the boat. The dry area is separated from the sauna, steam room, showers, toilets and a very nice plunge pool by a wall to make it private," she explains.
"You can either then leave here and go out onto the beach club or you can stay and relax in that zone on the armchairs or the sofas. The sounds of the waterfall between the two areas plays a nice role in creating an atmosphere – the owners particularly wished to have a place where they could feel 'zen' while hosting their guests."
Of course, few yachts have the luxury of more than 100 metres to play with, so convertible spa areas are increasingly popular. For those owners who aren't quite ready to hang up their stilettos, a health club by day, nightclub by night might seem a strange paradox, but Pomponi has found it effective on a 74-metre that is currently under construction for a client who wanted both. Specially conceived glass panels can be transformed at the touch of a button to change opacity, lighting and design, transforming the beach club and detox bar into a fully fledged liquor bar. All yacht crew need to do is activate the special setting and restock the bottles.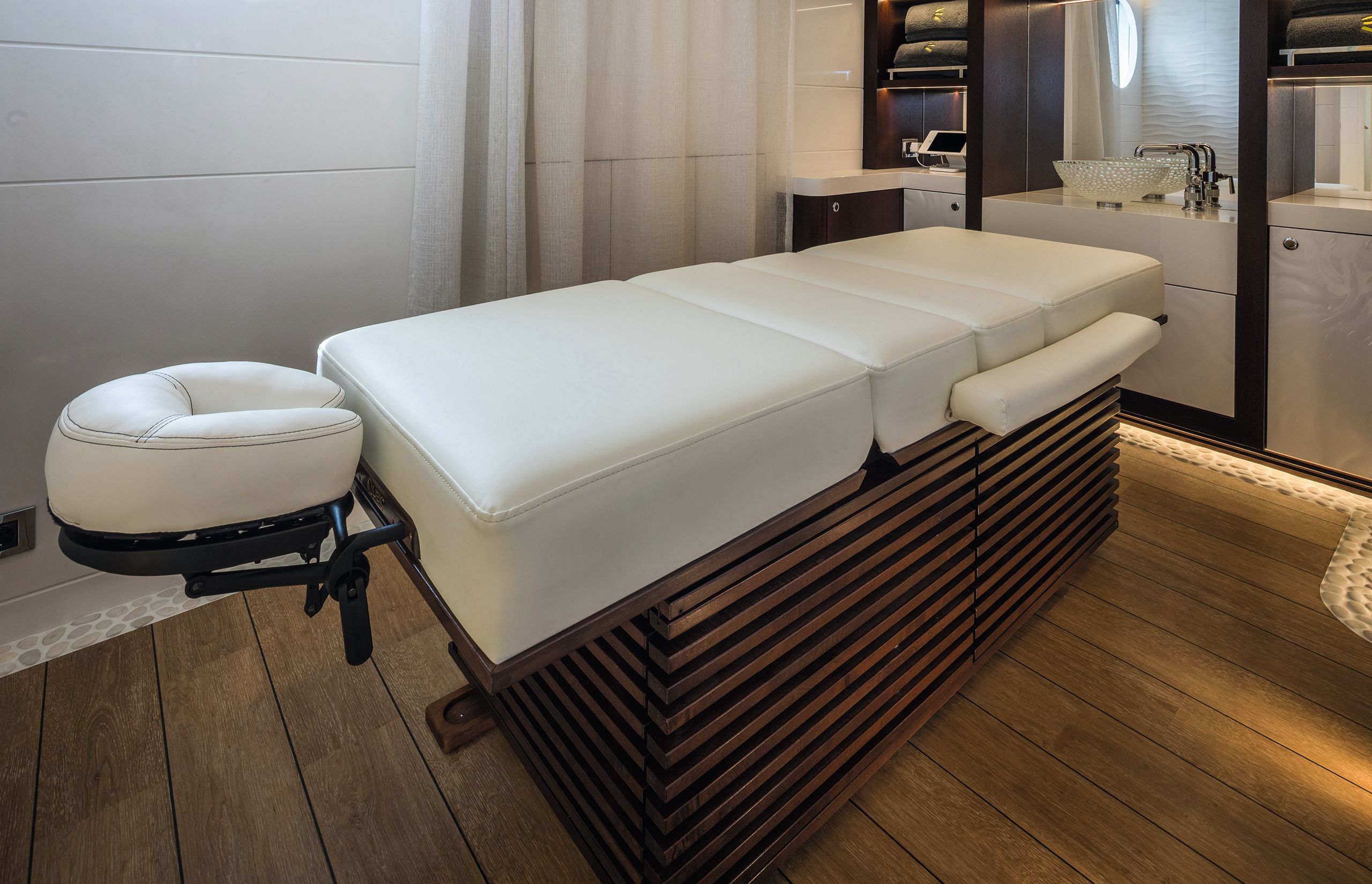 Item 1 of 4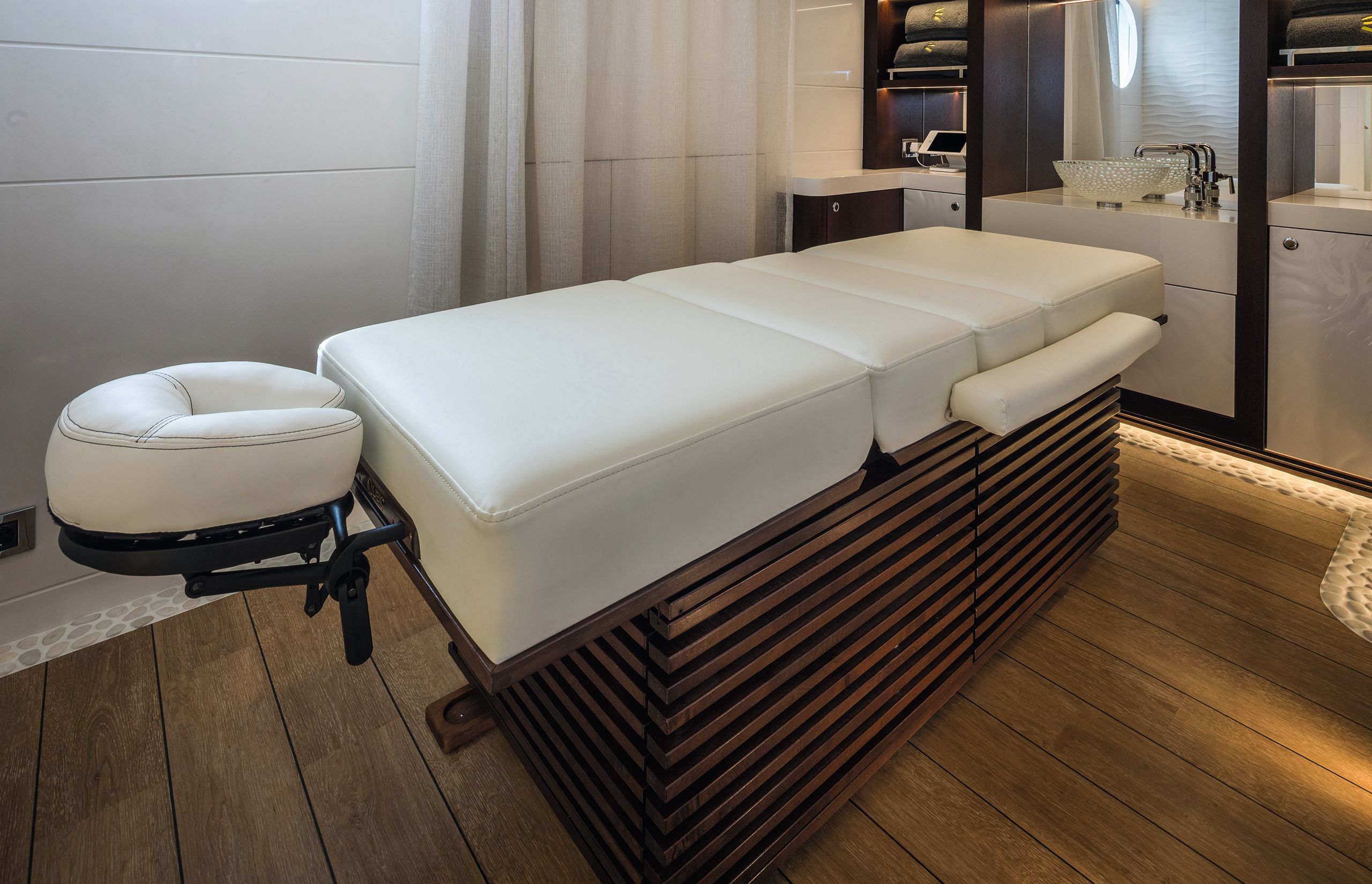 It's not just bigger wellness areas that are dominating upcoming yacht designs – the individual rooms themselves are growing, too. Take the humble hair salon, once a miniscule, likely unloved cabin, often with a sink flush up against the wall. No longer. As the world's best hairdressers are finding themselves more regularly flown in to work on superyachts, they're pushing harder for facilities that are closer to what you'd find on land.

"We had a special request recently where our client had been speaking with their hair stylist who'd said that the standard arrangement wasn't appropriate. We had to change everything so that they could wash the client's hair from behind, rather than the side as is common practice currently, even on very large yachts." It meant a whole new layout for the room and a very different configuration for the infirmary, which the space also doubled up as. 
On a second 100-metre project, Pomponi faced a similar request, which meant yet more major changes. "At least this time I did get a very good hair treatment for free," she laughs.
Similarly, Horsfield has reported clients asking for spaces that can accommodate at least four guests at one time, with space for a sofa so that friends can sit and chat while having treatments, be it blow-dries, manicures or pedicures. On a recent 87-metre project that he's working on with Turquoise yachts, the client requested an especially large pedicure suite in onyx, pink and white, suited to spa days with friends.
JEFF BROWN/ BREED MEDIA Scout's guests are sure to be inspired by the view as they work out
JEFF BROWN/ BREED MEDIA Scout's guests are sure to be inspired by the view as they work out
"The level of treatments has kicked up a notch – if people want their nails done before dinner, then it's got to be done properly," he reports. "We're no longer looking at temporary kit or things that can be folded out or dismantled." 
Ah yes, the kit – an area where surely the superyacht shines. When it comes to high-tech, bells-and-whistles facilities, the latest health clubs are true shrines to what can be achieved at the very limits of marine engineering. Take, for example, an enormous 142-metre project that Zannier recently completed. The client had asked for a snow room – a cave with icicles on the ceiling and atmospheric, banya-like benches – except that the machinery needed to create vast quantities of snow simply couldn't be housed in the available space.
Instead, together with a specialist company, she devised a series of seasonally themed showers: a winter shower, lit in blue, complete with gently falling snowflakes; a spring shower, lit in pink, with water rushing from a tippable bucket overhead; a summer shower, lit in yellow with a solarium light inside to tan the user; and an autumn shower, lit in brown, with a high-pressure massage jet.

Elsewhere on the same project is an enormous water installation, featuring a central, small spa pool, flanked by a Kneipp hydrotherapy pool, a circle of chest-height ice-cold water with pebbles underfoot for users to walk around to cool off. A fine mist surrounding the feature added to the atmospheric effect. 
The same yacht also houses a cryotherapy room and a dedicated Himalayan salt room. Here, guests are encouraged to deeply inhale the dry, salt-enriched air, with the aim of clearing their lungs and improving their sleep quality. The salt itself is rough to the touch, so, on this yacht, the room included floor cushions for guests to lay down on. On Ahpo, Zannier was able to install salt bricks inside the sauna, making it a dual-use space.
Impressive technology can also be installed in surprisingly small spaces. On a 38-metre explorer yacht, Hoekstra recently installed a Bikram yoga suite that could heat up to 40°C, while Pomponi has found that spa equipment is shrinking, expanding the possibilities for what can be achieved on board smaller yachts, as well as offering more elegant design solutions. 
"Take the machine that produces the steam for a steam room," she explains, "that used to be one metre cubed. Now, it's 50 centimetres cubed, so it's much easier to hide it behind a seat bench, or even somewhere in the structure, together with the lighting and the air-conditioning grids – things that used to be unsightly, and also make the user experience slightly uncomfortable." 
It also means, says Lumini, that space can be devoted to statement accessories – an ice fountain within a sauna area is a common request.  Statement water features that are part-spectacle, part-pool also continue to be in vogue. On a recent 90-metre for a young family, Hoekstra devised a spa pool with a water slide whooshing down into the main pool. Made from carbon-fibre composite, but with the appearance of rock, the slide resembles a waterfall. "At night, when there's a fire pit there and it's all lit up, it looks really beautiful." 
In a similar vein, Pomponi is working on a concept with Oceanco in which the whole beach club is encapsulated in a giant glass ball, and waterfalls run down from the ceiling. "It has different effects, so sometimes the water feels like rainfall and other times it's like a real waterfall," she explains. "But for something like this to work, you need to have a ceiling height of at least 2.3 metres."
One area where less is more, however, is the gym, with many yachts choosing to pare down the equipment while amping up the amount of space devoted to exercise, in order to suit the recent trend for bodyweight exercises and more minimal styles of workout.
"Nowadays, most people are more concerned with flexibility and muscle toning," notes Hoekstra. This often means a selection of beautiful free weights out on display, coupled with one or two elegant machines, rather than a whole line-up of them – "actually, if you're into that kind of stuff, you don't mind having a glass of wine and looking out at it" – or some kind of built-in equipment wall, such as the Technogym Kinesis. "A running machine is fairly essential," says Horsfield, "as is plenty of mat space for yoga and different exercises. But as for everything else, increasingly, my clients are saying, 'I don't want that'. Especially on projects that are over 70 metres, where they increasingly have a crew member who is also a personal trainer on board." 
Lumini also mentions mirrors that can monitor the way a user is exercising and correct their movements. Importantly, this sophisticated piece of equipment is "totally invisible when not in use" and is especially common inside master and VIP cabins.
In fact, one great irony, it seems, is that although gyms are becoming larger and more impressive, many owners are seeking to get away from them entirely. "Often, an owner will want a smaller gym near their bedroom with a running machine and a few weights, because they don't necessarily want to go to the gym where all their friends are. They want to work out by themselves, and I get that," says Horsfield. 
Next time you find yourself on board a yacht with an impressive health club and turning green with envy, remember that it's just as likely that you'll find the owner beautifying themselves or doing press-ups in their personal cabin, as you will in those palatial surroundings.
Also on the health club hotlist
Going up
The spa lounge
Today's new water-cooler moments are happening just outside your sauna.
Super salons
Treatment rooms are vying for space on board – the bigger, the better.
Powdered-marble wallpaper
Thin and flexible, it's perfect for a spa's curves and corners.
Himalayan salt bricks
Add an extra dimension to your sauna with this simple addition.
Next-gen resin
From delicate finishes to
light-reflecting wonders. 
Metal and stone
Move to more dramatic stones and metal in deeper shades.
Going down
Spotlights 
The bright white, Swiss clinic look is out, while ingeniously hidden invisible lighting is the new big thing. The best systems are easy to access for repairs, too.
iPads 
Designers and crew have had one too many issues with Apple's tricksy interface – most now plump for an alternative tablet when it comes to controlling high-tech environments on board.
High-gloss finishes
A satin or matt effect is more contemporary.
Real leather
With so many realistic, and greener, alternatives on the market, faux is just as fabulous.
Tiled seats
Loafing about on mosaic-covered benches can leave an embarrassing imprint on unsuspecting users. Today's top designers plump for smooth surfaces on anywhere you're likely to linger. 
First published in the February 2023 issue of BOAT International. Get this magazine sent straight to your door, or subscribe and never miss an issue.