ALCHEMY
A look inside Rossinavi's latest launch
Clare Mahon discovers the bold decisions that led to the open-plan, spa-like Rossinavi Alchemy, the 66-metre with serenity and common sense built in.
The project was ready, the team was at the starting blocks, but before the contract on this new Vitruvius yacht was inked, the owners had a specific request: when they walked out of their main deck cabin, they wanted to see all the way down the length of their 66-metre yacht to the water. They wanted to rip up the classic yacht layout, let the stairway out of the closet and ditch the lobby. It is a mark of the boldness of the yard and designers involved in this project that they agreed to this kind of radical thinking.
"It was our biggest design choice," the American owner says. But what may seem like common sense to a layman can create headaches for a builder. "It was 100 per cent their idea; the owners wanted a central stairway in the middle of the saloon: no case, no trunk, no lobby. Not in a compartment, just there," says Federico Rossi, COO of the Rossinavi shipyard, recalling his panic moment. "We have never built a stairway like this before, but it was the owners' first request and our starting point. It was an essential. I started working the phones, calling RINA and other rating and classification associations to see what we could work out because stairways are the route that fires take to spread between decks. In the end we had to rethink our entire approach to fire prevention, adding extra detectors and sprinklers but the owners got their open staircase, integrated into the yacht's layout. It's one of the things that makes this yacht so special," Rossi concludes.
Sometimes it just happens like this: a couple of owners who see things differently find a project, a builder and a designer that create a yacht that is greater than the sum of her parts. It's a kind of alchemy that stands somewhere between science and magic – and it's the story behind this boat, built by Rossinavi with interiors by Enrico Gobbi of Team for Design.
After chartering for 15 years the owners began to think about building their own yacht. "We have a long history of constructing everything from homes to buildings to restaurants," the owner says, unfazed by the prospect of building a 66-metre steel and aluminium yacht with diesel-electric propulsion. For their first custom build, the owners were attracted to designer and naval architect Philippe Briand's affinity for slim, clean lines. With his Vitruvius brand, Briand has brought a sailor's sensibility across to his motor yacht designs. His Vitruvius series of superyachts range in size from 50 to 73 metres and include an Ice Class-certified explorer, but no matter the size, builder or expected area of use, all these yachts have slender, efficient hull shapes and low superstructures. "Here we found the most beautiful exterior lines combined with sailing yacht efficiency, and we found a new point of view on motor yachts that won us over," the owner says.
GIOVANNI MALGARINI The glass sides of the central staircase are sandwiched around a weight-bearing central core manufactured by DuPont. Even if the glass were to shatter, this core layer can hold the weight of the entire staircase and keep the glass fragments in place
GIOVANNI MALGARINI The glass sides of the central staircase are sandwiched around a weight-bearing central core manufactured by DuPont. Even if the glass were to shatter, this core layer can hold the weight of the entire staircase and keep the glass fragments in place
"Alchemy's silhouette exudes tranquillity," says Briand. "The lines express the essence of what I believe: perfection only exists when there is nothing left to take away." Those lines are, he says, "long, stretched and the baseline is the sheer line, which defines the yacht. This aspect combined with the height of the superstructure creates a smooth effect, hence the reason for the three decks and not four."
With the design in hand, it was time to find a builder. To date, Briand's Vitruvius yachts have been built by shipyards including Picchiotti and Feadship, but owners of the Alchemy project were most impressed by Rossinavi, the Viareggio-based shipyard that specialises in custom builds. "In Rossinavi we found the best European quality and creativity, plus they were very open to collaborating with us as owners," the owner says. Not only was the Rossinavi team open to collaborating, they were also generous with the contacts in their little black book, the most important one being that of their frequent collaborator Enrico Gobbi and his studio, Team for Design. After viewing several Rossinavi/Enrico Gobbi Team for Design collaborations, the owners were won over by a depth of design that they found "amazing" and the breadth of the experience that binds this shipyard and designer, frequent collaborators on a broad range of vessels.
Avoiding the compartmentalisation that comes with the usual division of onboard spaces was a key part of the owners' vision for their yacht and, along with liberating the staircase, they also wanted to avoid the "dorm effect", choosing instead to have the yacht's six guest cabins distributed across three decks: the owners' and two guest cabins on the main deck, two guest cabins on the lower deck and another on the upper deck.
In addition to these changes, Alchemy's owners were, in their own words: "always shocked how small the galleys are, even on the largest boats. We wanted something professional and of scale, given how important food is to the yachting experience." Which explains the 28-square-metre galley by Marrone that accommodates three chefs.
"You give up one knot of speed but burn 1.3 megawatts less energy to get underway, and that saves fuel"
But these hands-on owners were involved in much more than just layout suggestions. The contract was signed in late December 2019 and the owners, the shipyard and the designers had many meetings, virtually at first and in person as soon as it was possible. "The yacht has been designed for an active family, and the focus was to maximise outdoor and wellness space," says Briand. That translated to 332 square metres of outdoor space on three levels, as well as a jam-packed toy garage, and tenders and mountain bikes to explore on land.
Enrico Gobbi recalls: "The owners wanted the same mood, lighting and feeling throughout the yacht. Their brief was for a 'spa mood' themed around water which worked well for me since I was born and raised in Venice." As a native Venetian, Gobbi was also the perfect guide when the owners toured Venice and Murano looking for water-themed art – like the Tony Cragg sculpture in the saloon – and sourcing glass blowers to make custom pieces. "I have to say that this was the most involved owner I have ever worked with," Gobbi says.
To achieve a relaxing mood the designer went for a palette of beiges, whites and soft greys, spicing up bleached oak and travertine with textured leathers ranging from cowhide to shagreen. It appears simple until you look more closely at pieces like the main saloon's dining table, which is inlaid with laser-cut marquetry that looks so similar to drops of water you have to run your hand over it just to make sure . "We went with a look that is calm and clean with craftsmanship expressed in details," Gobbi says.
"This is a yacht that puts its luxury in small things, not in violent 'wow' points. I avoided using shiny materials and only used marble in the stairs, for example, because our intent wasn't to bowl guests over, but to draw them in."
Boarding the yacht, guests arrive at a huge well-shaded aft deck with built-in furnishings, a choice made with an eye to durability. In the main saloon there isn't a television screen in sight. "The owner said right away, 'I don't want to watch TV when I'm aboard; I want everything connected and flowing,'"
Gobbi recalls. "But since he's planning to charter on top of using the yacht personally, I used rollable OLED screens that disappear inside furniture with no need for the anchored up/down elevator you usually find."

As much as Gobbi says he avoided the wow effect, it's hard not to say just that word when you walk through the saloon and find that central staircase: generously wide with steps lined in marble, steel and leather seeming to hover between transparent glass walls. "I expect it will be a design pivot for the rest of the industry," the owner says of Alchemy's lobby-free layout. "It totally changes the feeling aboard, the quality of the light. It opens up unique spaces and puts the main and upper deck saloons into direct contact with each other."
The owners made good use of the new-found spaces lateral to the stairs by placing a custom wine wall for more than 200 bottles to one side and an informal bar to the other. Flow between the yacht's two saloons is just as they wanted it, assmooth as water, and the owners can look all the way down the yacht and out to the water aft when they step out of their cabin.
"This is a yacht that puts its luxury
in small things, not in violent 'wow'
points. Our intent wasn't to bowl
guests over, but to draw them in"
For the owner's cabin, forward on the main deck, the yard built a mock-up to make sure that the distances between the bed and other furnishings were correct; every centimetre was carefully measured. While the owners let their central staircase out of the closet, so to speak, they let their closets come into their cabin, building them with back-lit stone shelves that remain open to the cabin space so that they can decide what to wear without even getting out of bed. Integrating the wardrobes and cupboards into the cabin space also means that this can do double duty as an office space.
A galley large enough for three chefs and a wine cellar that can hold hundreds of bottles make food and wine a large part Alchemy's onboard experience, but a full-beam gym on the lower deck and a lazarette full of water toys also allow you to work it off again. For those hoping that nothing more than a good massage will take care of everything, there's an open-air wellness room right by the beach platform and a panoramic spa pool on the sundeck, which is also the deck where the owner enjoys watching movies under the stars on a large outdoor screen – and there's a second kitchen up here for preparing light lunches, hors d'oeuvres and sushi.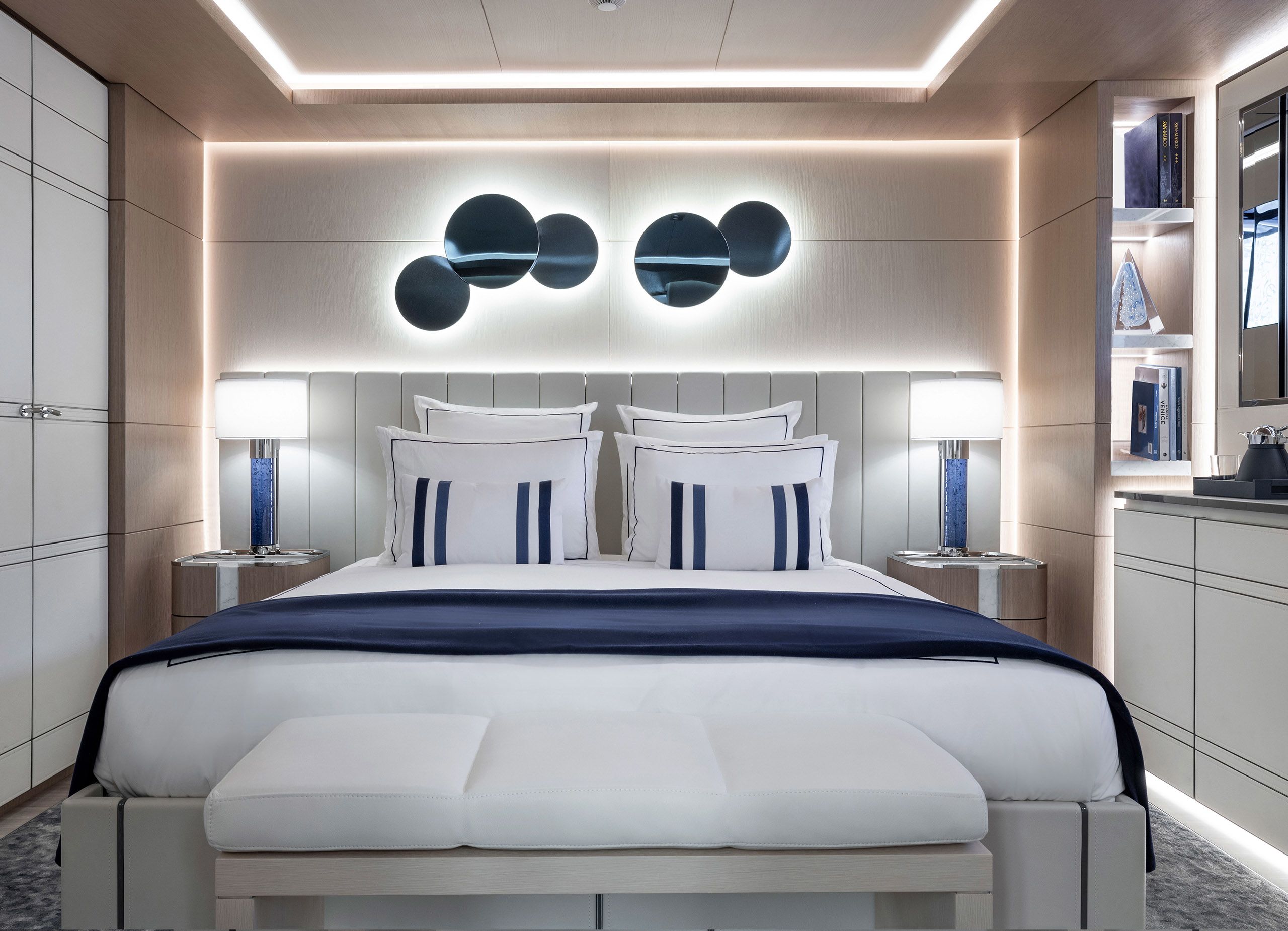 Item 1 of 4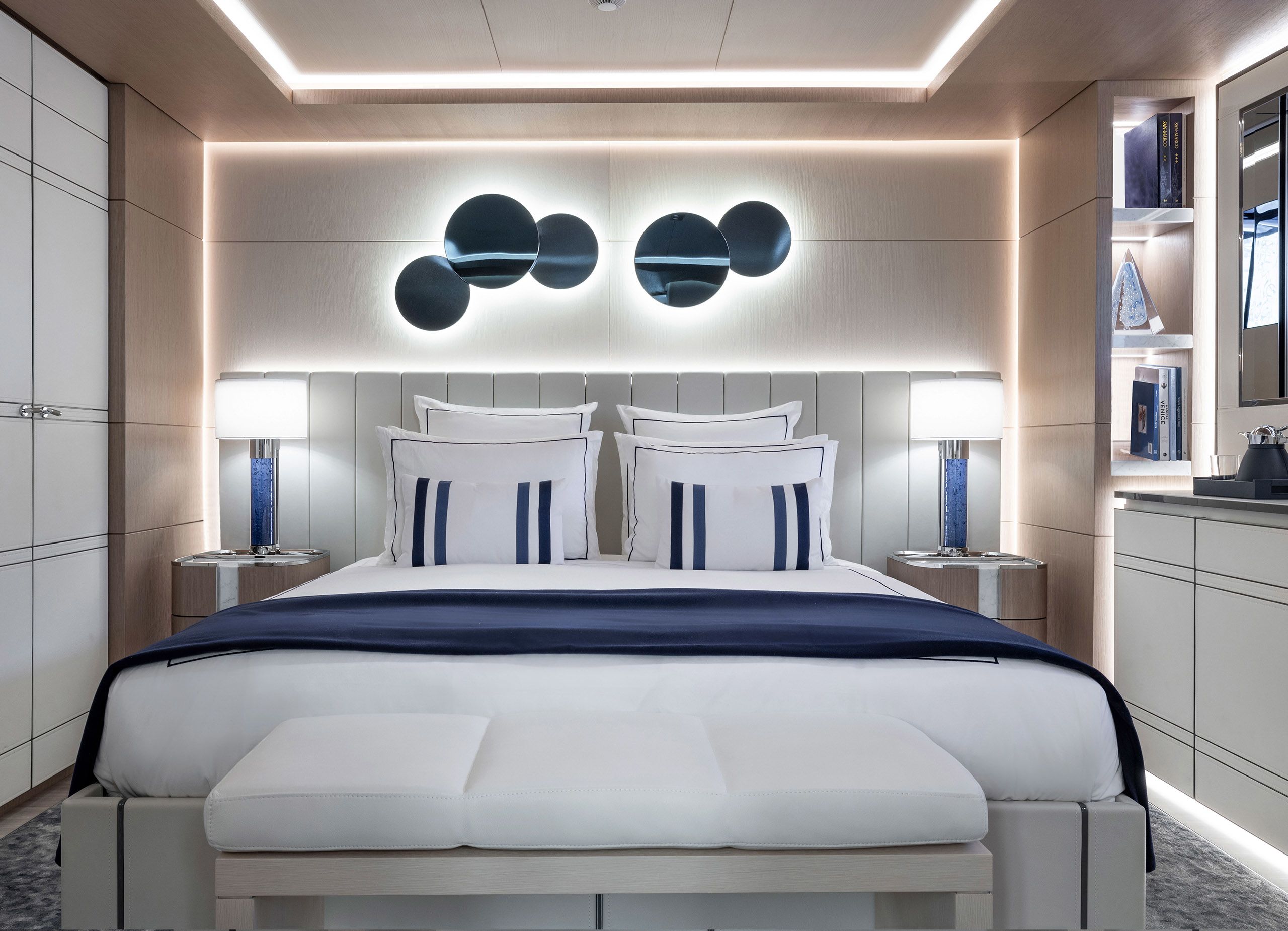 Out on the large foredeck all mooring equipment and the rescue tender are concealed so the space can be used purely for enjoyment. Alchemy's diesel-electric propulsion system only contributes to that illusion by running silently. "We mounted Alchemy's twin C32 Caterpillar engines, twin 9.3 Caterpillar modular generators and twin Veth pods with our Zero Noise technology to get up to five decibels less noise than usual, a very high number," Rossi says. "Diesel-electric propulsion is already quiet, but installed the way we do, cutting off vibration coming from the engines, it's even better. The engines and their shock absorbers aren't anchored directly to the yacht; we put them on a double cradle that weighs as much as the engine does so it absorbs the vibration. Basically, it's layers: shock absorbers, base, another set of shock absorbers then the engine.
Pod propulsion also helps a lot because the pods are farther from the hull and don't push cavitated water back against it. Plus they're more manoeuvrable – this yacht turns on a dime," Rossi says.
All of this works with Briand's uncompromising approach to naval architecture. "Alchemy evolves through the water naturally, without pushing through the waves, just sliding. That is why for us naval architecture and design cannot be dissociated; one is an extension of the other and combined together they create harmony," says Briand.
"To be green and efficient, a hull has to be thin like sailing yachts are," Rossi adds. "Alchemy has that hull shape; the Vitruvius philosophy stands behind it. Add that Alchemy's low superstructure gives her a low centre of gravity and you get a yacht that is 66 metres long with 11 metres maximum beam and only needs 2.7 megawatts of energy to move. Alchemy doesn't navigate at 17 knots, but she does 16. So you've given up one knot of boat speed but need to burn 1.3 megawatts less energy to get underway, and that saves fuel and emissions. This yacht shows that if you calibrate the project correctly you can save a lot."
Simple and sensible, it's the owners' vision for a different way of living at sea, and the shipyard and designers' ability to make it happen, that make Alchemy such a successful experiment.
First published in the October 2023 issue of BOAT International. Get this magazine sent straight to your door, or subscribe and never miss an issue.
A dayhead is conveniently placed up top
The sixth guest cabin enjoys a lofty location
The owners can see all the way to the aft deck from their cabin's entrance

At 28m2, the galley is arguably one of the largest on a yacht
The central staircase is a defining feature of the design
The full-width gym features
Technogym equipment
The sauna and massage room are well placed next to a side opening platform
LOA 65.7m

Gross tonnage
1,194GT

LWL 65m

Engines
2 x Caterpillar C32

Beam 11.31m

Generators
2 x 9.3 Caterpillar

Draught 3.11m

Speed (max/cruise)
16/12 knots

Range at 12 knots
4,000+nm

Owners/guests 12

Fuel capacity
100,000 litres

Crew 15

Freshwater capacity
27,000 litres

Construction
Steel hull; aluminium superstructure

Tenders
Novurania Chase 27;
Castoldi Jet Tender 23

Classification
Lloyd's @100A1 SSC, Yacht,
Mono, G6 [@] LMC, UMS

Naval architecture
Rossinavi; Vitruvius

Builder/year
Rossinavi/2023
Viareggio, Italy
+39 0584 384227
sales@rossinavi.it
rossinavi.it

Exterior design
Philippe Briand –
Vitruvius Yachts

For charter
burgessyachts.com

Interior design
Enrico Gobbi –
Team for Design