TWO IN ONE
Half monohull, half catamaran, Lady Fleur is one of a kind
Big pool, big tender, 33-metre boat: an ambitious list of requirements led Holterman to a revolutionary yacht design that combines monohull and catamaran characteristics. Sam Fortescue explores the spectacular result
This is a tale of two yachts. And one yacht. It is the tale of a small Dutch shipyard that combined catamaran and monohull into a single vessel. They call it the X-treme 105, and for once, the term feels like an apt description. Extreme engineering lies behind this intriguing creation: a 33-metre yacht that can carry an enormous 11-metre custom tender from Skipper.
" We always welcome owners with innovative ideas at Holterman Shipyard, but it's fair to say that the Lady Fleur project pushed us well beyond the norm," says yard owner Robert Holterman. "The design and construction challenge for this 33-metre yacht was to meet a seemingly contradictory request from the highly experienced clients: 'We want to carry an 11-metre tender on the aft of our yacht while also having a swimming pool for the grandkids.'"
- The Skipper 34NC tender is built for speed. The four-step hull gives it impressive stability, while twin 400hp outboards can push it to 85 knots
- The Skipper 34NC tender is built for speed. The four-step hull gives it impressive stability, while twin 400hp outboards can push it to 85 knots
The client in question was a Dutchman and a friend, and he asked Holterman to build him a yacht with offshore range that could welcome the whole family in comfort, provide a saltwater pool on the aft deck and also wet launch and recover a huge tender. It is not an equation that was easy to balance, but the answer lay in some really slick engineering. The whole central section of the long aft deck lowers into the water hydraulically so that the tender can be driven carefully in or out. With the tender bobbing safely astern, the deck is raised once more, revealing a five-metre by two-metre pool.
The transformation takes a matter of seconds. "How this came about is related to our desire to share more time on board with kids of all ages," explains the owner, who has had a string of Pershings in the past. "We used to have a chase boat to complement our mothership but now wanted to carry an 11-metre RIB. There was again a dual purpose here – to take us to inshore destinations and shallow bays at speed while meeting our adult children's love of waterskiing and wakeboarding.
"But – and we knew it was a big but – we also wanted the aft deck to contain a swimming pool for the grandchildren. The solution of lowering the middle part of the deck underwater so we can dock the tender and then fill that platform with seawater for a pool was an act of genius by everyone involved. They even managed to still find room for the jet skis and toys while offering two engine rooms that are incredibly easy to access when needed."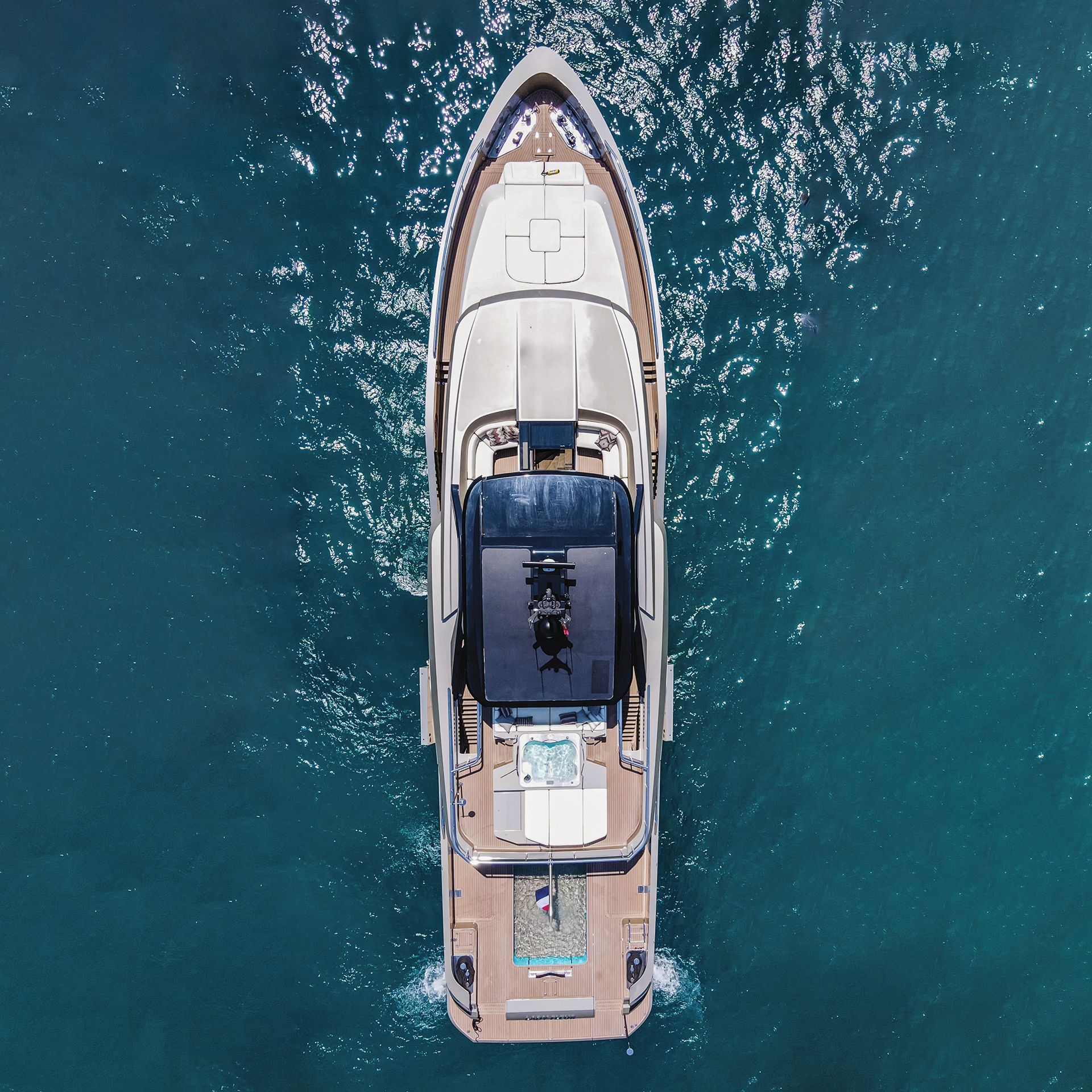 Item 1 of 4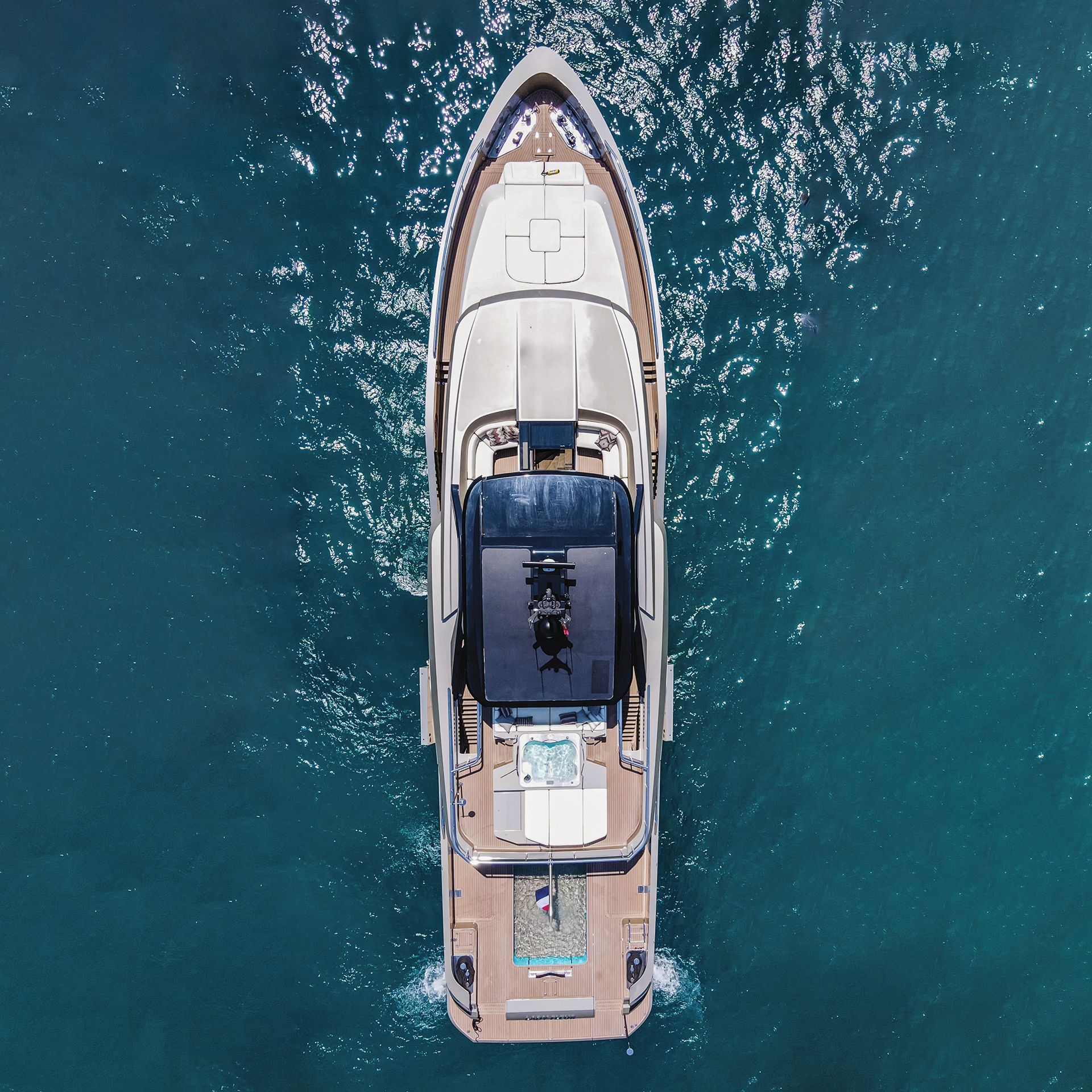 Diana Yacht Design had to do some creative thinking to make this approach possible. Its solution was to split the aft part of the yacht into two hulls – effectively a catamaran welded onto the aft bulkhead of the more familiar monohull that forms the forward section of the boat. Each hull is autonomous, containing its own engine and steering system, as well as providing most of the technical space for other yacht systems. "This may sound simple but it took months of teamwork to develop," says Hans-Maarten Bais, creative director and naval architect at Diana Yacht Design.
"Such an idea had never been attempted before, so we started talking with the class society and flag state to ensure the construction would pass their regulations. Finite Element Method (FEM) analyses were made of the entire hull construction to eliminate the risk of vibration and make sure the legs wouldn't flex, never mind break."
"The solution was to rewrite the rulebook by creating two boats in one"
Now you see it, now you don't
Many yachts have pools, but Lady Fleur's approach is radical. In order to have the aft deck double as a tender bay, the whole central section lowers a metre below the surface on four long hydraulic arms fixed to the outer hulls. This makes it simple to launch or recover the tender, and this same motion fills the pool with seawater, so that when it rises again, the pool is ready for use. A moveable floor allows the pool to vary in depth from 30 to 150 centimetres, so it can serve for infant paddling or grown-up swimming.
The figures involved are mind-boggling. The pool is five metres long, 2.5 metres wide and 1.5 metres deep, which means that it contains almost 19 tonnes of seawater when full.
The system can actually lift 30 tonnes, with each individual hydraulic cylinder exerting 160 tonnes of lift. Hydraulic arms fitted to the outer hulls lower and lift the centre section.
"Four bespoke rotor arms move the pool safely in a gently swaying motion to avoid sloshing the 14 tonnes of seawater – all part a totally custom-made system that we believe is unique in the world," explains Holterman. The full range of movement of the platform is 2.5 metres.
Holterman is more poetic. "The solution was to rewrite the rulebook altogether by essentially creating two boats in one," he says proudly. The design also accommodates the hydraulic passerelle in the port quarter and allows for a full-beam toy garage amidships, just before the hull splits into two. Hatches on either side give access and there is room enough for two jet skis and a smaller tender, plus various other watersports toys.
Bernd Weel is the designer responsible for translating this long list of requirements into a seaworthy, liveable form, and it has to be said that he has done a phenomenal job. A high, powerful bow and raised wheelhouse provide plenty of volume forward, while the styling encircles each level with a broad strip of champagne-coloured superstructure floating on a dark sea of black glass. It makes a dramatic sight.
There's nothing timid or slim or delicate about these lines. They are bold and masculine; hunched and powerful. Far from the automotive or architectural references that designers often evoke in their yachts, there is something almost organic here. "Taking inspiration from nature and attacking predators, we wanted to create a design that looks muscular, powerful and ready to attack any sea," says Weel. "Look at the muscled shoulders and forward-leaning wheelhouse – it wants to move forward. Robust and strong, this go-anywhere explorer vessel displays an active character."
Item 1 of 1
If yachts are always female, then Lady Fleur looks like an Amazonian warrior. And perhaps it is not surprising given the owner's previous penchant for Pershings, with their top speeds in excess of 40 knots and growling masses of horsepower. But the X-treme 105 is nonetheless a very different beast.
To start with, her souped-up 750-horsepower Volvo Penta engines can only muster a top speed of around 15 knots, with cruising pace around 10 knots, giving a range of 2,400 nautical miles. She is designed for manoeuvrability and low draught rather than pure speed. "A rotatable steering nozzle around the propeller increases efficiency by directing thrust in a controlled way, dispensing with the need for a rudder," adds Holterman.
The styling is laid-back and informal; the design firm describes it as,"not a typical yacht interior, but more airy with the feeling of coming home"
"Further efficiency benefits were accrued by moving the propeller aft-wards, allowing us to create a more horizontal shaft angle." It's perfectly respectable – not the stuff of white-knuckle rides.
But then again, the owner's priorities have clearly changed. "We felt the time was right to deploy all the experience gained to ensure we could still continue to sail for many years with our children and grandchildren," he says. "This meant placing comfort and relaxation first while also making sure we had the facilities to accommodate the diverse wishes of three generations."
Item 1 of 5
Safety was a key factor, so there are high bulwarks all the way around the deck. Every major system exists in duplicate, from air con and stabilisers to chargers and water pumps, so that a system failure doesn't bring a cruise to a premature end. And the electric stabilisation system from Waveless Marine helps keep feet little and large firmly planted on the deck. It uses proprietary software to enhance stability, while consuming less energy and producing minimal noise. In fact, parent company CMC Marine dares to call it "silent". This also bolsters the comfort element of the brief, which was also translated into interior styling by Trimm Design.
Leeuwarden-based Trimm sought to create a pared-back, warm and modern interior by using natural materials in neutral tones. Cabinetry and flooring is in dark, matt walnut, while the walls employ lighter upholstery, wallpaper and paint. The styling is laid back and informal; Trimm describes it as, "not a typical yacht interior, but more airy with the feeling of coming home"
True to that homely feel, the galley is positioned opposite a long bank of sofas in the saloon, and a six-person table in the corner. With its open plan living area, this is a boat where the owner and his family might just as soon cook dinner as one of the four crew. The floor is laid in a herringbone pattern, but though it looks like wood, it is an easy-to-clean vinyl. Meanwhile, the composite work surface looks like heavy slate.
Occupying the forward part of the main deck, the owner's full-beam cabin with its his-and-her's bathroom is exceedingly bright and comfortable. More parquet-effect floor combines with white furniture, pale upholstery and sharp back lighting to give a cosy feel, which is replicated in the four guest cabins on the deck below. They are not large, but they each have their own bathroom and offer flexible berths, with two slide-together twins and two doubles.
The amidships crew quarters are generous. "Because we are hands-on owners, Lady Fleur only needed room for a crew of four in a captain's cabin and two bunks," says the owner. "We did everything possible to make this accommodation have a high standard. This has ensured that the quality of the teamwork on board the yacht mirrors the exceptional teamwork involved by everyone concerned with the build."
And we haven't even reached the glorious sundeck yet, with its full duplicate helm station, spa pool, sofas, dining and bar areas. One of the more extraordinary aspects of this extraordinary project is that 33-metre Lady Fleur is by far the largest yacht ever built by Holterman, which is better known for its worthy Dutch motor launches from 15 to 18 metres.
"We had to adapt our facilities in order to build a boat of this size and sophistication. It was an ambitious rearrangement which – now that we see the result and the way people react to Lady Fleur – was well worth the effort," says Holterman. In fact, the project has sparked a new X-treme range, with a similarly rugged-looking 16- and 23.6-metre available, although you shouldn't expect to get an 11-metre tender onto either of those.
You might struggle to cross an ocean with the X-treme 105, but that's not really the point. This double-act of a yacht can certainly go remote if you want it to, off the beaten track. What makes it extreme is really what it allows you to do once you reach your destination.
First published in the August issue of BOAT International. Get this magazine sent straight to your door, or subscribe and never miss an issue.
The flybridge helm station
replicates the one in the pilothouse
The owners enjoy a private cabin away from the guests
Stairs access the pilothouse a half level above the main deck
When carried on deck, the tender noses all the way up to the aft deck sofa
The table lowers to convert into an additional bed in the crew quarters
The amidships garage opens on both sides
There are twin engines rooms and duplicates of every system, even two bow and two stern thrusters
LOA 32.65m

Gross tonnage
198.5GT 

LWL 31.5m

Engines
2 x Volvo Penta
D16 MH, 550kW

Beam 7.84m

Generators
2 x Onan 27 MDKDU

Draught 1.85m

Speed (max/cruise)
15/10 knots
Range at 10 knots 2,400nm

Owners/guests 10 

Crew 4

Fuel capacity
19,000 litres

Construction
Steel hull; aluminium
superstructure

Freshwater capacity

2,100 litres

Classification
Lloyd's hull certification
and REG LYC Part A
Naval architecture
Diana Yacht Design

Builder/year
Holterman Shipyard/2022
Meppel, the Netherlands
+31 (0)522 25 44 33
sales@holtermanshipyard.nl
x-tremeyachts.com
holtermanshipyard.nl

Exterior design
Bernd Weel Design

Design

Trimm Design